Beach volleyball player April Ross made her Olympic debut at the 2012 London Summer Games, but she's been bumping, setting, and spiking for more than 20 years. During her time at the University of Southern California, Ross led the women's indoor volleyball team to back-to-back National Championship titles, while also training with the indoor US Women's National Team. After graduation, she took her talents to Puerto Rico, where she played for three years and suffered serious injuries in her knees and shoulders. She returned home to Orange County, CA, in 2006, and traded in her indoor volleyball shoes for sand and a two-piece. The rest is history.
Ross spent the next six years dominating beach volleyball alongside partner Jennifer Kessy. Together, they won 30 International Volleyball Federation (FIVB) medals, 10 of which are gold. The duo went on to compete at their very first Olympics in 2012, where they took home the silver. In 2013, their partnership ended and Ross teamed up with three-time Olympic gold medalist Kerri Walsh Jennings. At the 2016 Rio Olympics, they won bronze.
The 2021 Olympics in Tokyo are around the corner, and Ross is in full preparation mode. She'll be hitting the sand this summer with Olympic newcomer, Alix Klineman, who she began playing with in 2018. In the short time they've been partnered, Ross and Klineman have proven that they're a force to be reckoned with. We're excited to watch the pair compete in Tokyo, but until then, keep reading for some fun facts you may not know about this two-time Olympic medalist.
01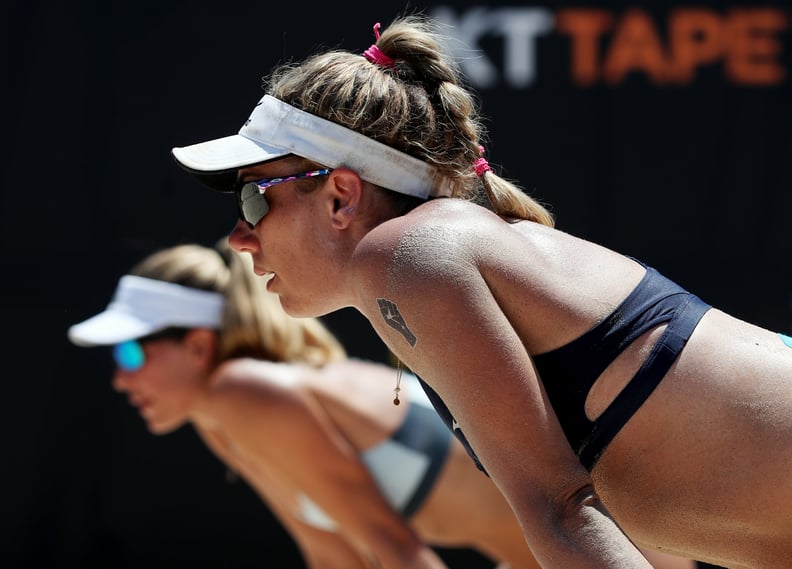 She's a Big Proponent of Meditation
Ross has had her share of hardship, including losing her mom to breast cancer in 2001. She told ESPNW that self-reflection and meditation have always helped her stay focused and grounded when things get tough. "I think meditation is huge," Ross said. "Just stop for a second and recognize thoughts and fears and learn to be OK with all that. Realize the things you're stressing about, and not judge yourself for it. Let them go."
02
She Has a Large Collection of Coffee Mugs
For years, Ross collected coffee mugs from all around the world. The beach volleyball player told AVP that her "motley collection" of coffee mugs is "one of my most prized possessions." (Her favorite is a baroque mug she bought in Vienna, Austria, after medaling at the World Championships.) However, the collection has grown so large that Ross had to scale back. "I have too many mugs so now I collect art from my travels," she told NBC Olympics.
03
She Prefers the Mountains Over the Beach
While Ross grew up in sunny southern California and considers the beach her office, she has said that she feels most at home in the snow and mountains. Her family often vacationed on the slopes, memories she holds close to her heart. Ross still snowboards regularly and hopes to make the mountains a more permanent fixture in her life someday.
04
Yoga Is Her New Favorite Pastime
"You guys, I've fallen in love. With Yoga. I used to HATE it. I'm officially a convert," she wrote on her blog back in 2019. Ross, who was a longtime yoga skeptic, attempted to hop on the yoga bandwagon a few times, but it was never her cup of tea. Then, a new friend introduced her to hot yoga and her life was forever changed. "There is nothing I feel better after than hot yoga," she wrote.
05
She Has Described Her Life as the Plot of New Girl
Ross told NBC Olympics that she lives with two men's volleyball players, along with her dog Roo, who's a bull mastiff and German shepherd mix. "My boyfriend also spends a lot of time at the house," Ross said. "It's a real life version of the New Girl TV show."