11 Black, Body-Positive Influencers You Should Be Following Right Now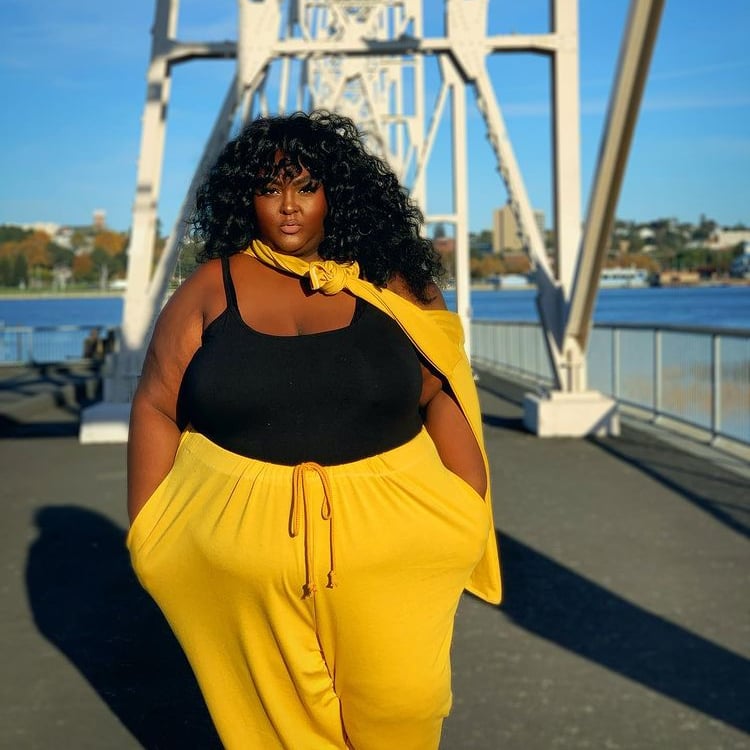 Body positivity was created in the 1960s by Black, queer women looking for a space to celebrate their marginalized bodies, a space where anyone who didn't fit society's strict beauty standards could belong. Like many other parts of feminist history, the movement was eventually hijacked by average-sized white women with hourglass figures, whose focus on the aesthetics of body positivity diminished the true meaning.
Nevertheless, there's an abundance of Black women still leading the way on this issue — and in doing so, they're inspiring hundreds of thousands of followers to proudly own every aspect of their existence. So, we're celebrating them and returning body positivity to its roots. Here are 11 Black activists you need on your Instagram feed.
01
Tiffany Ima (@tiffanyima)
Having suffered from bulimia for years, Tiffany Ima is an advocate and voice for eating disorder recovery, encouraging her followers to "ditch body shame" and "feel at home in the body you have now." Ima exercises to be healthier, not skinnier, and coaches others to do the same.
02
Stephanie Yeboah (@stephanieyeboah)
A plus-size style blogger, fat-acceptance advocate, freelance writer, public speaker, and author, Stephanie Yeboah uses her platform to address issues like body confidence, mental health, and self-love. She urges followers to live their best lives, wear what they want, and do what makes them feel good.
03
Jessamyn Stanley (@mynameisjessamyn)
Jessamyn Stanley is an award-winning yoga instructor, body-positive advocate, and writer based in North Carolina. Stanley incorporates body acceptance and female empowerment into her yoga classes, coaching participants to worry about how they feel instead of how they look.
04
Ashley Wall (@simplycurvee)
05
Simone Mariposa (@simonemariposa)
Using the hashtag #WeWearWhatWeWant, model and Fashion Nova Curve ambassador Simone Mariposa urges followers to wear what makes them feel good, instead of what society says they should wear — and she leads by example.
06
Saucyé West (@saucyewest)
07
Nao (@na0__)
Naomie Chaput (who goes by Nao) rose to fame on Instagram after going to war with rapper Future after he allegedly requested "no fatties" be allowed in a Miami club where he was partying. She's known for her curvy body and plus-sized advocacy.
08
Nyome Nicholas-Williams (@curvynyome)
Jamaican-born model Nyome Nicholas-Williams built her platform as an advocate for mental health and embracing the skin you're in. Recently, the model made headlines for challenging Instagram's nudity policies, alleging that the app frequently censors Black bodies. She won, and Instagram has since updated their policies.
09
Kellie Brown (@itsmekellieb)
Content creator, speaker, and writer Kellie Brown is a one-stop shop for all things curvy, Black, and beautiful. Whether she's hosting her Fat Icon Podcast, sharing interior design tips on @aigdhome, or celebrating other women with @andigetdressed, Brown has made it her mission to advocate for larger bodies and challenge brands when they fall short on inclusivity.
10
Carolina Contreras (@miss_rizos)
Born in the Dominican Republic and raised in the US, Carolina Contreras is an activist and entrepreneur who encourages Dominican women and people of all backgrounds, shapes, and sizes to love themselves as they are. Outside of her work on social media, Contreras owns a hair salon dedicated to treating curly hair without harmful chemicals or heat.
11
Lauren Leavell (@laurenleavellfitness)
Lauren Leavell is an NASM-certified personal trainer and body liberation advocate who understands that fitness is not one size fits all. Leavell made her way into the wellness space in 2017, and since then, she has built her brand on helping people "move their bodies" and "find their emotional zen."