Surfing will make its Olympic debut this summer in Tokyo, and American pro surfer Carissa Moore is ready. Moore has said that the addition of surfing to the 2021 Olympics is "a really big moment" for the sport, adding that competing at the Games is something she never even imagined for herself.
"The Olympics wasn't ever really on my radar as a young girl as it didn't seem like a possibility, so it was only when it became a reality a couple of years ago that it became something I wanted to strive for," the 28-year-old surfing champion said in an interview with Red Bull. "In the 10 years that I've been competing on the Championship Tour, I've seen so much progression of the sport and it's just great to see surfing rise to that Olympic level."
Or maybe the Olympics have finally risen to Moore's level. The Hawaii native began surfing on Waikiki Beach with her dad when she was just 5 years old. She racked up 11 amateur titles before qualifying for her first season on the World Surf League championship tour in 2010. The following year, when she was just 18 years old, Moore became the youngest athlete to ever win a surfing world championship. But her success didn't stop there: Moore won the title again in 2013, 2015, and 2019, and was a 2014 inductee into the Surfing Hall of Fame.
Olympian — or even better, Olympic medalist — seems like a natural next step for someone who has already made such an indelible mark on her sport. Before Moore vies for a spot atop the podium, here are six things you should know about her.
To learn more about all the Olympic hopefuls, visit TeamUSA.org. The Tokyo Olympics begin July 23 on NBC.
01
She's Married to Her High School Sweetheart
In 2017, Moore married Luke Untermann — whom she had dated since high school — in a beach-y backyard wedding ceremony. The star-studded guest list included pro surfers Stephanie Gilmore, Coco Ho, and Bethany Hamilton.
02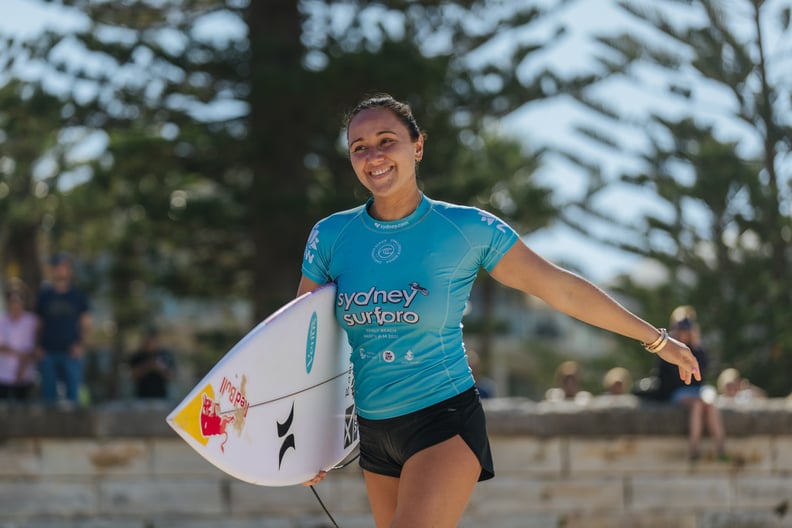 She Has Struggled With Body Image
Throughout her years in the spotlight, Moore has been incredibly candid about her journey to body acceptance. Moore told ESPN that she has been to some "dark places" and once struggled with disordered eating behavior. "Now I've gotten to a place where I don't feel imprisoned by food anymore," Moore said. "I'm just really comfortable and happy in my own skin at this point."
03
She's a Self-Described "Dog Mom"
As a teenager, Moore told Teen Vogue that her family had a combined six pets: four dogs and two cats. Now, she and her husband own two adorable dogs, Maya and Tuffy, who frequently make appearances on her Instagram.
04
She Founded a Nonprofit to Empower Young Women
Moore isn't afraid to speak up about the issues affecting the surfing industry and the world as a whole — especially as they pertain to women. In 2018, Moore and her father founded Moore Aloha, a charitable foundation that uses surfing to bring girls and young women together, with the goal of fostering self-confidence, positive body image, and more.
05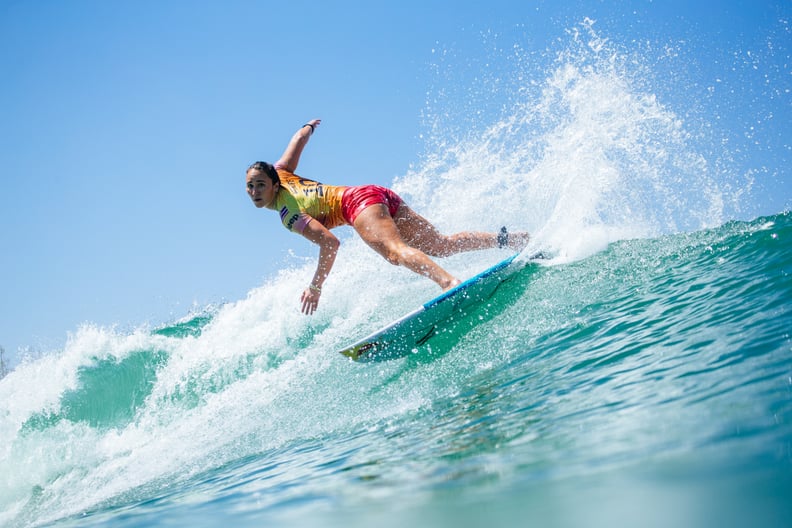 She's Fearless in the Water but Afraid of Heights
It's hard to imagine that a world champion surfer who regularly encounters waves that are dozens of feet high is afraid of anything, but Moore openly admits that she's afraid of heights. It turns out that Olympic surfers are more like us than we think!
06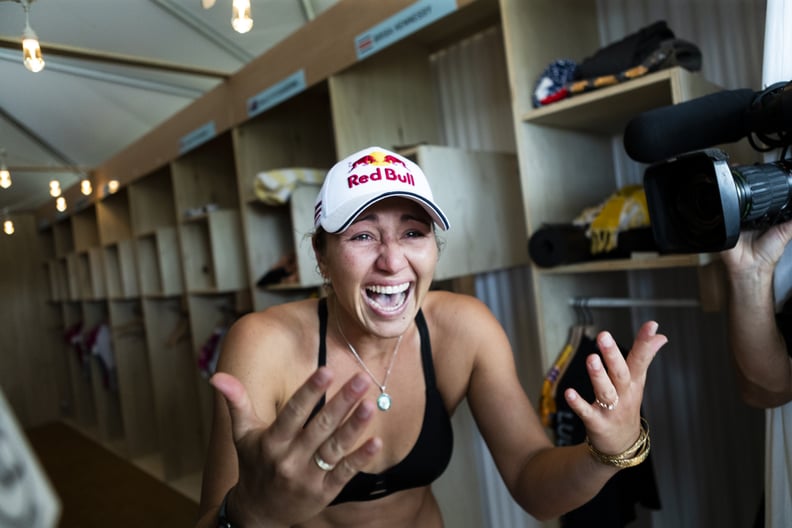 She's the Subject of a Film That Follows Her to the 2019 World Championship
Red Bull's short film about Moore, called RISS, came out last year and is full of excitement, suspense, and personal revelations. The documentary touches on her beginnings in surfing, her struggles with self-image, and her fight for a comeback at the 2019 World Championships after a tough few years of championship losses. It's an amazing way to see Moore in action!