Watch Carly Woodard's Perfect-10 Beam Routine
Carly Woodard's First Perfect-10 Beam Routine For Oklahoma Gymnastics Is a Must Watch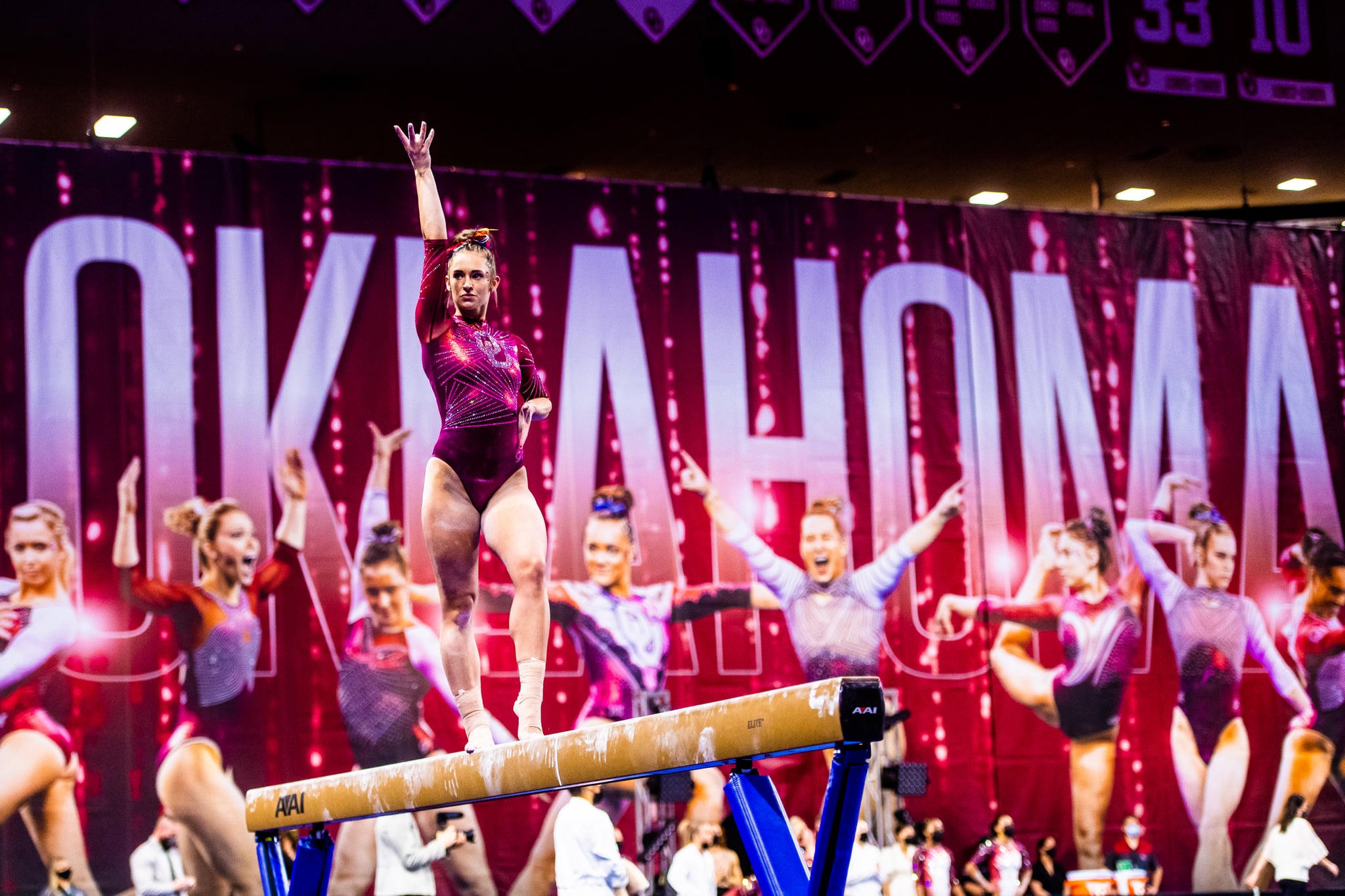 Image Source: Courtesy of OU Athletics
Never in Carly Woodard's NCAA gymnastics career had she scored a perfect 10. She was close, with a few 9.95s on beam — but the University of Oklahoma fifth-year senior finally earned that elusive 10.00 in a home meet against the University of Denver on Jan. 30.
In the video ahead, you'll see Woodard's gorgeous beam routine, featuring side aerial to back-handspring step-out and front toss (or kickover front) to beat jump combos. Watch her keep her toe point throughout the entire performance and flow through the choreography. The stuck aerial to full-twisting back-layout dismount is the exclamation point this routine needed to make it perfect on paper.
"Going into the routine, it's the same thing that I think every week. It's 'trust your training,'" Woodard said in a press-conference statement sent to POPSUGAR. "I do this so many times in the gym, so many times a day, and just relying on that to come out in the competition. During the routine, it's one skill at a time. I think about doing one skill, hitting that, moving on to the next skill. And then afterwards, it was obviously really great — landing it was a good finish, and so I was super excited. And it was just a hit routine for me, and it was the best one I've done, obviously, for me to get that ten — but it was a surreal experience."
Carly Woodard with a PERFECT 10.0 🙌✨ @carlyw_19#ThatsaW | 📺 ESPN pic.twitter.com/fhcToGlY8s

— espnW (@espnW) January 30, 2022
This isn't the first time Oklahoma gymnasts have earned perfect marks this season. Sophomore Katherine LeVasseur and senior Allie Stern racked up back-to-back 10.00s on vault in their season opener against the University of Alabama (watch a video of those vaults here). This is, however, Oklahoma's first 10.00 on beam in 2022, and getting a perfect score in that event is arguably the most difficult feat in the collegiate sport. After all, the beam is just four inches wide, and the judges have a clear view of gymnasts' skills while they flip and twist with precision, trying not to wobble and relinquish 10ths of a point. It's the tightrope of gymnastics — and Woodard has shown it who's beam queen.