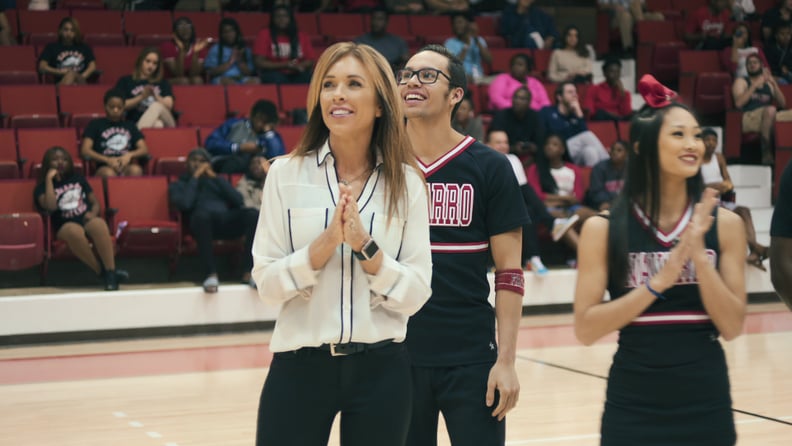 Courtesy of Netflix
Courtesy of Netflix
The Navarro College cheer team got through 41 full-outs — entire competition-level routines from start to finish — before Daytona 2019, which we saw play out in Netflix's hit docuseries, Cheer. This year, the team reached 25 ahead of the devastating news that the NCA & NDA Collegiate Cheer and Dance Championship in Daytona, FL, was canceled due to the novel coronavirus (COVID-19) pandemic. In an interview with coach Monica Aldama about her partnership with Objective Wellness's saffron- and GABA-infused Fast Asleep chocolate mints, she told POPSUGAR that the team had a great routine planned and had been aiming for 51 full-outs this year.
In 2019, when Navarro was going for its 14th national championship title, "we flipped the numbers and said we'd do 41 full-outs," Aldama said. (It's a superstition.) Choreographer Andy Cosferent suggested that they do the same thing for 2020, so they flipped their attempted 15th championship win — hence, 51. "That's a lot of full-outs, but we were definitely even ahead of ourselves a little bit because we still had enough time to get to that number," Aldama noted.
The group looked "really good" before Daytona got canceled; so good, Aldama said, that when they wrapped up their spring break practices, they felt like they could have gone out and performed if they needed to. Unfortunately that wasn't the case. Aldama, though, has some fantastic news for all of us: tumbler and flyer Gabi Butler will be returning for another season — after she told us in May that it was a possibility — and so will tumbler Lexi Brumback.
Both cheerleaders confirmed their returns to Navarro on Instagram. "This next year is going to be iconic and I'm so excited," Brumback wrote. Butler shared images of herself cheering at Navarro. "I can't wait to be back at the place that makes me happiest," she captioned the post.
Butler and Brumback are still eligible to stay on the community college's team because Daytona was canceled. "You don't use your eligibility unless you actually compete, and we only get the opportunity to do that one time during the year," Aldama explained. She further told Us Weekly, "For NCA, which is the company that we compete with for competition, you have five years of eligibility and three of those can be at a junior college."
The third-years all have eligibility left, but Aldama told POPSUGAR that the "other three," whom we can safely assume are Cheer cast members Morgan Simianer, La'Darius Marshall, and mat-talk royalty Jerry Harris, did in fact graduate. (Who knows, though! Maybe they'll choose to come back since they're still eligible.) Earlier this month, Harris revealed to POPSUGAR that he's undecided about returning to Navarro.
Aldama said that it's ultimately up to the students. "I did have some kids that were graduating that, because the season got canceled, they wanted to come back and compete again next year," she said. Many Navarro students get "general studies degrees" and take core classes, but those who are returning could work toward a more specific degree plan, like business, which they can transfer to a university down the road.
As for what to expect at Daytona 2021, Aldama said they will most likely use some of the unique stunts they had planned for this year's routine. It'll be a new group of athletes for the most part, so they'll have to go by those cheerleaders' strengths, but the elements they were excited to have and weren't able to use in 2020 could get a place in the 2021 routine.
When asked about a potential season two of Cheer, Aldama couldn't confirm anything, but she said there's always an interesting journey to document at Navarro. "The ups and downs of making it through any season is, I think, worthy of a story to be told."