Common Reasons For Giving Up on New Year's Resolutions
4 of the Most Common Reasons For Giving Up on Your New Year's Resolutions — and How You Can Stay Committed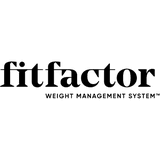 We've partnered with
The Vitamin Shoppe®
to help you achieve all of your health and wellness goals, with a little help from the fitfactor Weight Management System™ brand.
Who among us hasn't started January with a long list of goals only to give up a few weeks into the month? Abandoning your New Year's resolutions is almost as common as making them in the first place.
That doesn't have to be the case, though. If you know a few of the common pitfalls that often lead to giving up on your resolutions, you can get smarter about setting — and sticking to — your health and wellness goals. Ahead, read up on a few of the top causes of resolution drop-off and how you can avoid them.
Deciding this will be the year you run a marathon when you don't remember the last time you ran a mile is setting yourself up for failure. Sure, you might feel excited at first, but it's all too easy to get discouraged by the distance you have to cover to achieve those lofty goals.
Rather than swinging for the fences, start with smaller, more manageable goals. Maybe you train for a 5K instead of a marathon, or limit sweets to just once per week instead of giving up sugar altogether. Once you achieve your smaller goals, you can work your way up to a more ambitious project.
Another common contributor to abandoned resolutions? Going after your goals without any kind of real plan. Whether you're trying to commit to meditating daily or start eating a more balanced diet, winging it isn't going to work — you're going to need a step-by-step plan.
Start by doing your research. What baby steps can you take to work up to your goal? How can you integrate your resolution into your usual routine? You might also want to consider reaching out to experts for help. If you're ready to commit to a healthier diet, take advantage of free nutrition coaching from The Vitamin Shoppe. Their qualified nutritionists will help you come up with a meal plan that works for you, including top-quality, scientifically formulated products like protein shakes and bars from the fitfactor Weight Management System™ brand that can help you reach your goals.
As cheesy as it might sound, having a positive outlook really can make a big difference. If you're constantly thinking you can't do it, you won't do it — but having a little faith in your abilities might just give you the push you need to keep going.
When you're struggling to stick to your resolution, try to reframe your thinking. Simply telling yourself you can do anything — and really believing it — can make a big difference. Next time you want to give up halfway through a tough workout or want to abandon your healthy dinner plan for pizza delivery, take a deep breath, reset your attitude, and see if that changes your mindset.
It's tough to stick to your health goals when you're the only one committed to them. That 5 a.m. wake-up call to squeeze in a workout before work seems a lot more difficult when everyone else in the household is sleeping in.
Instead of going it alone, try to recruit an accountability partner with a similar goal or mindset. The whole family might decide to follow the same healthy diet to keep each other on track, or you might set up a text system with a friend to make sure you're both sticking to your exercise plans. You can even join an online community for support and inspiration, like the Eating Healthy With The Vitamin Shoppe group on Facebook. Finding someone else who understands what you're working towards can be a game changer.
Each of these tips might seem easy, but taken together, they can totally change your outlook on New Year's resolutions. Who knows? That might be all you need to push yourself across the finish line.
Shop the fitfactor Weight Management System™ Brand