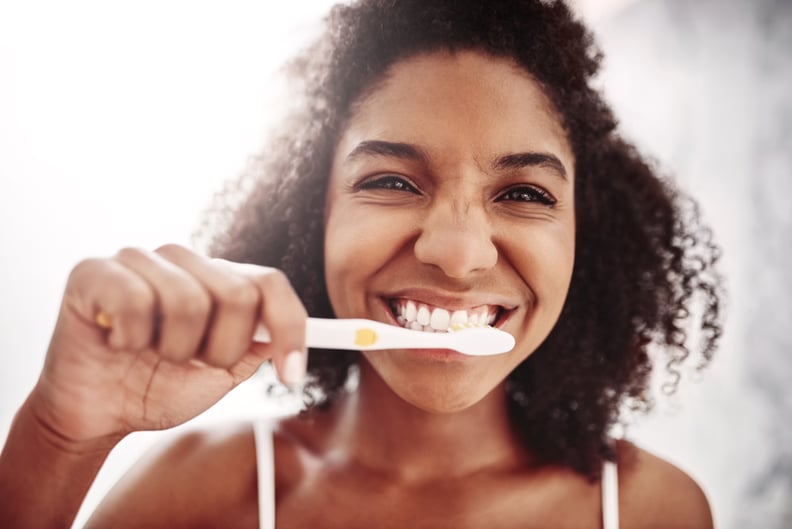 Getty Images | PeopleImages
Getty Images | PeopleImages
This spring, my routine dental cleaning was cancelled due to the ongoing pandemic. It was a necessary and recommended appointment change, but it did leave me wondering if I should be caring for my teeth any differently in order to prevent cavities before my rescheduled appointment.
After all, I've also had to push appointments in the past due to calendar conflicts, and I actually ended up with some sensitivity and a cavity by the time I got into the dentist's chair. It wasn't great.
According to Sophya Morghem, DMD, MS, a general dentist at Sunset Dentistry in San Francisco, a few changes should be made in order to keep your gums and teeth healthy before meeting with your dentist.
First, if you're hesitant to go to the dentist due to health and safety concerns, Dr. Morghem recommends patients ask all the questions needed in order to feel safe coming into the office. You'll also want to follow any personalized advice and health protocols recommended by your doctor and/or dentist.
However, if you do need to reschedule (or have already rescheduled), you might need to amp up your brushing and flossing routines. For example, Dr. Morghem recommends brushing after each meal.
Flossing is nonnegotiable, too. "The best time to floss is before bed, or after the last meal of the day," Dr. Morghem told POPSUGAR. And you'll want to pay attention to the type of floss you're using, too.
"You'll want to use a thick woven floss that will act like a loofa, cleaning the sides of the teeth as you go," Dr. Morghem said. "If you are prone to getting food stuck between your teeth after meals, you should consider flossing after meals as well."
This might be the time to reevaluate what type of toothbrush you're using as well. Dr. Morghem recommends a small electric toothbrush with a small toothbrush head. "This will make your tooth brushing at home more efficient and clean off more plaque. It also helps to compensate for poor brushing habits."
A water flosser isn't an essential, but Dr. Morghem said that if you have dental restorations, you might want to consider investing in the tool. However, she made it clear that using a water flosser doesn't take the place of traditional floss.
"While the water flosser can help eliminate large debris, the traditional floss is still the gold standard for removing plaque that is attached to the tooth surface."
For mouthwash, Dr. Morghem recommends an alcohol-free version so it won't disrupt oral flora. "Remember there are good and bad bacteria in your mouth — you want to maintain a healthy balance."
It might also be a good idea to just be mindful of foods that typically cause dental problems. I don't know about you, but I'm forever terrified of cracking a tooth on a popcorn kernel.
"The most common foods that cause dental problems are sticky chocolates, candies, and popcorn," Dr. Morghem said. "Popcorn hulls have a tendency to get lodged between teeth and creep under the gums — this can lead to a painful gum infection."
Sticky candies also have the potential to pop off crowns or break dental restorations, so be mindful when snacking on them!
Be aware of the signs of cavities, too. "While oftentimes small cavities are pain-free, larger cavities will give you common symptoms to look out for," Dr. Morghem said. "Pain on chewing, sensitivity when eating sweet foods, and tooth discoloration may all be signs that you may have a cavity."
And if you're experiencing heat sensitivity, say when you're taking a sip of coffee, call up your dentist as soon as possible.
Finally, Dr. Morghem said there's no rule for how long it's acceptable to delay a cleaning, though some people are more prone to gum disease and cavities. For those who do have gum-disease concerns, Dr. Morghem does not recommend postponing your dental cleaning for more than four months.
"This is because the changes to your gum health can become irreversible," she said. "For others, I would strongly encourage you to not extend your dental cleanings for more than six months."
Your dentist can also give you personalized guidance on when appointments should be made or rescheduled in a timely manner.
Click here for more health and wellness stories, tips, and news.