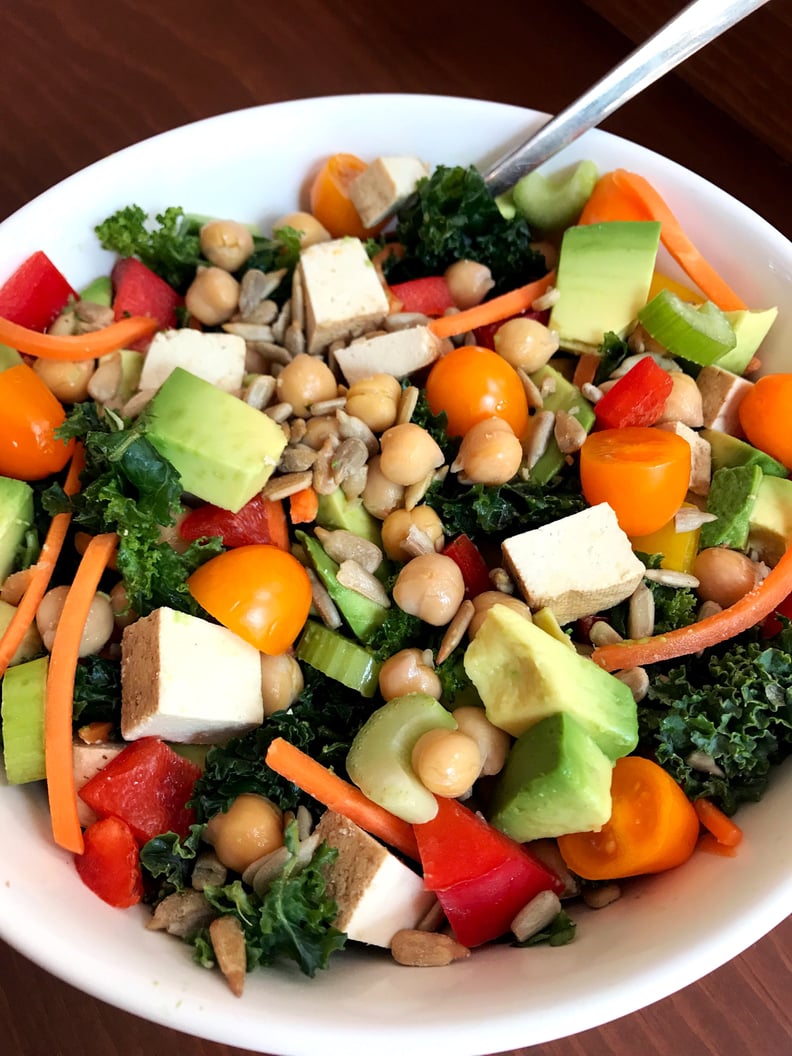 I Was Only Eating 60 Grams a Day
When I tracked my macros for a week on my primarily plant-based diet, I realized I barely broke 60 grams per day! Here's an example of a normal day of eating:
Lunch: huge kale salad with tofu, chickpeas, and sunflower seeds — 27 grams of protein
Snack: banana with almond butter — five grams of protein
Dinner: Buddha bowl with quinoa, black beans, roasted sweet potato, edamame, steamed broccoli, hemp seeds, and peanut sauce — 24 grams of protein
Snack: raspberries with a big handful of dried fruit, nuts, and Trader Joe's dairy-free chocolate chips — three grams of protein
Total: 59 grams of protein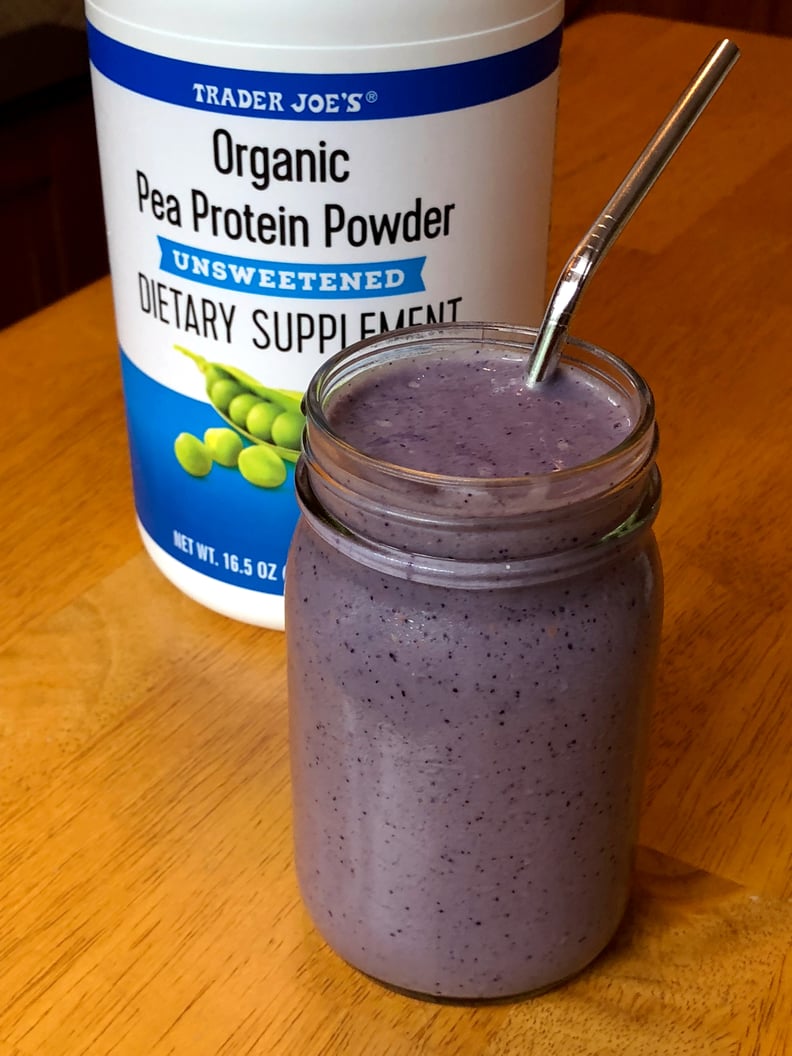 Here's How I Added 40 Grams of Protein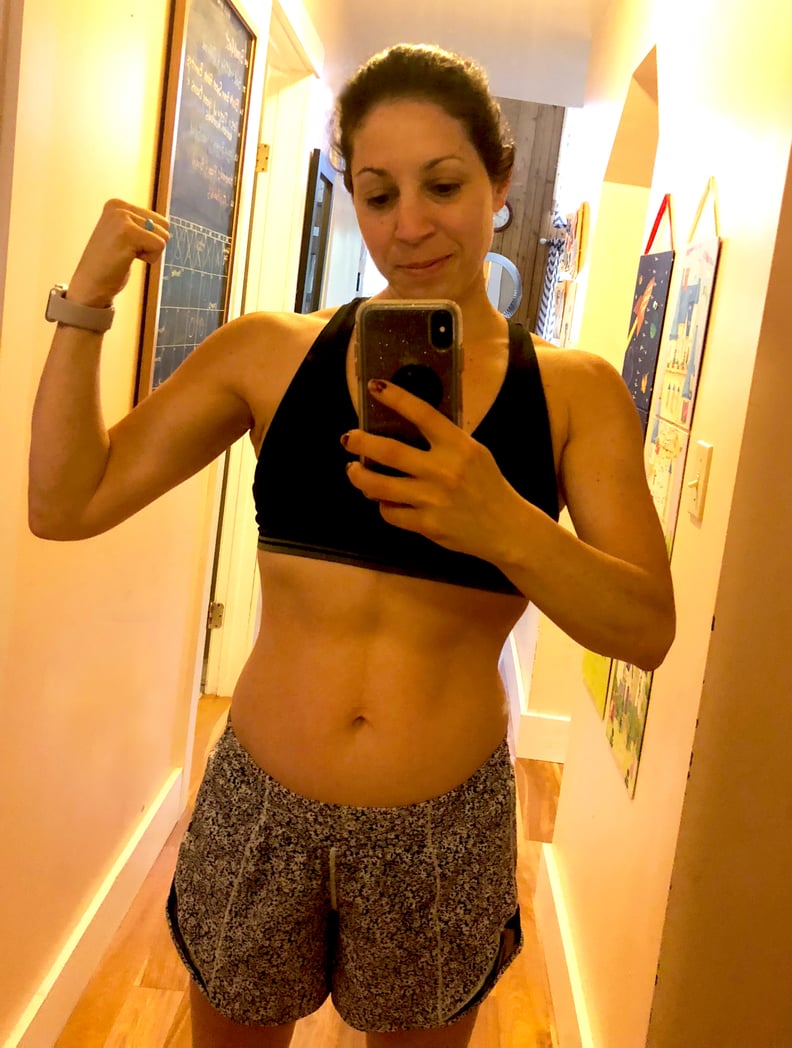 What I Noticed
After even just one day, I noticed a difference in my hunger levels at dinner. Normally by 5 p.m., I'm ready to inhale my meal, but when I sat down to eat, I wasn't even hungry! I listened to my body and waited until 6 p.m. or 7 p.m. to eat. And when I did eat, I filled up quickly and felt satisfied. Sugar cravings usually kick in big time after that last bite of dinner, but I felt so satisfied, I didn't even crave chocolate. (I know — shocking!)
That satisfied feeling carried over until the morning. I felt pumped and energized for my workouts, and my hunger was curbed all morning. I practice intermittent fasting with an eating window of 12 p.m. to 8 p.m., and often after grueling workouts, I'll feel hunger around 11 a.m., but this week, there were several times that it was well past noon and I realized I wasn't hungry yet for lunch.
I also noticed that I lost a pound, which obviously isn't a huge difference. But I do track my weight and have been the same weight for months, so this was a little surprising that one little dietary change would affect my waistline. I was even eating 220 extra calories a day!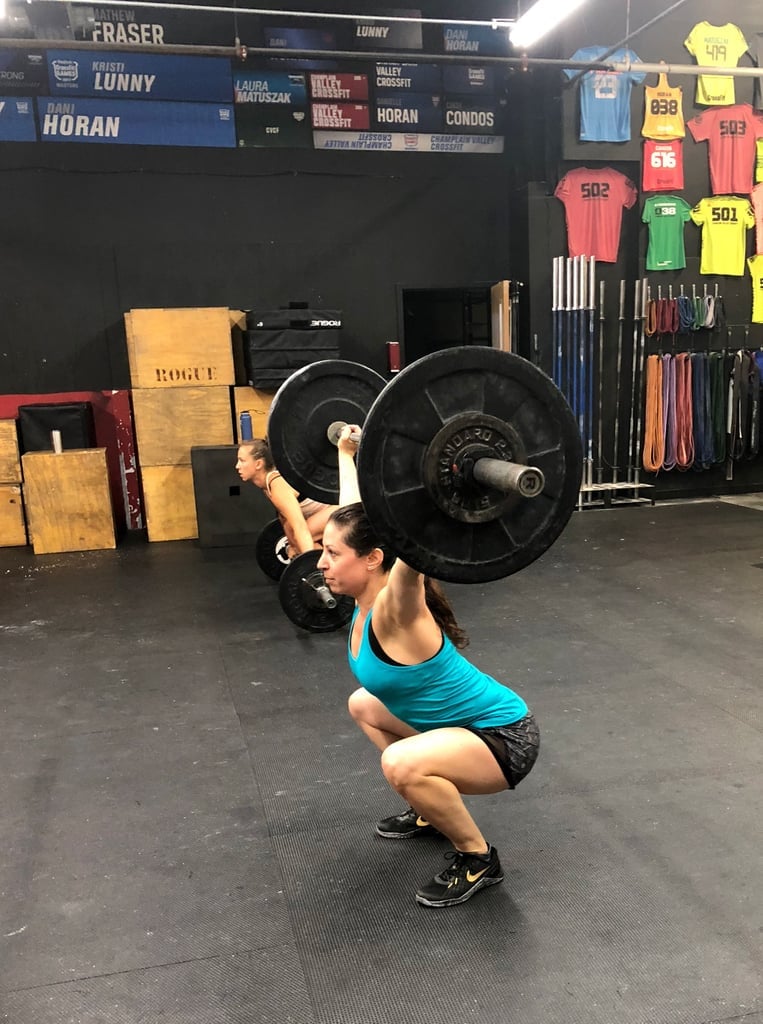 Will I Keep Going?
Adding 40 extra grams of protein to my daily diet made a huge difference — I wasn't expecting that! I felt less hungry and more satiated, and I had more energy during my workouts and reduced sugar cravings.
I'm definitely going to stick with this, but I will try to find more whole foods sources to increase my protein intake. Protein powder may be quick and easy, but it's also more processed than I'd like.
I can make my snacks more protein-packed by blending a smoothie with tofu and Kite Hill unsweetened almond milk yogurt. I'll also aim to up the protein in my meals by adding more beans, tempeh, seeds, and nutritional yeast. I'm excited to see what happens in the next few weeks!