Best Vegan Foods at Trader Joe's
The 12 Best Vegan Finds at Trader Joe's
Whenever I walk into Trader Joe's, I feel a sense of excitement because I am always discovering a new vegan item on its shelves. It's hard not to do a little inner dance when I skim the list of ingredients or see the little "V" for "vegan" on the package.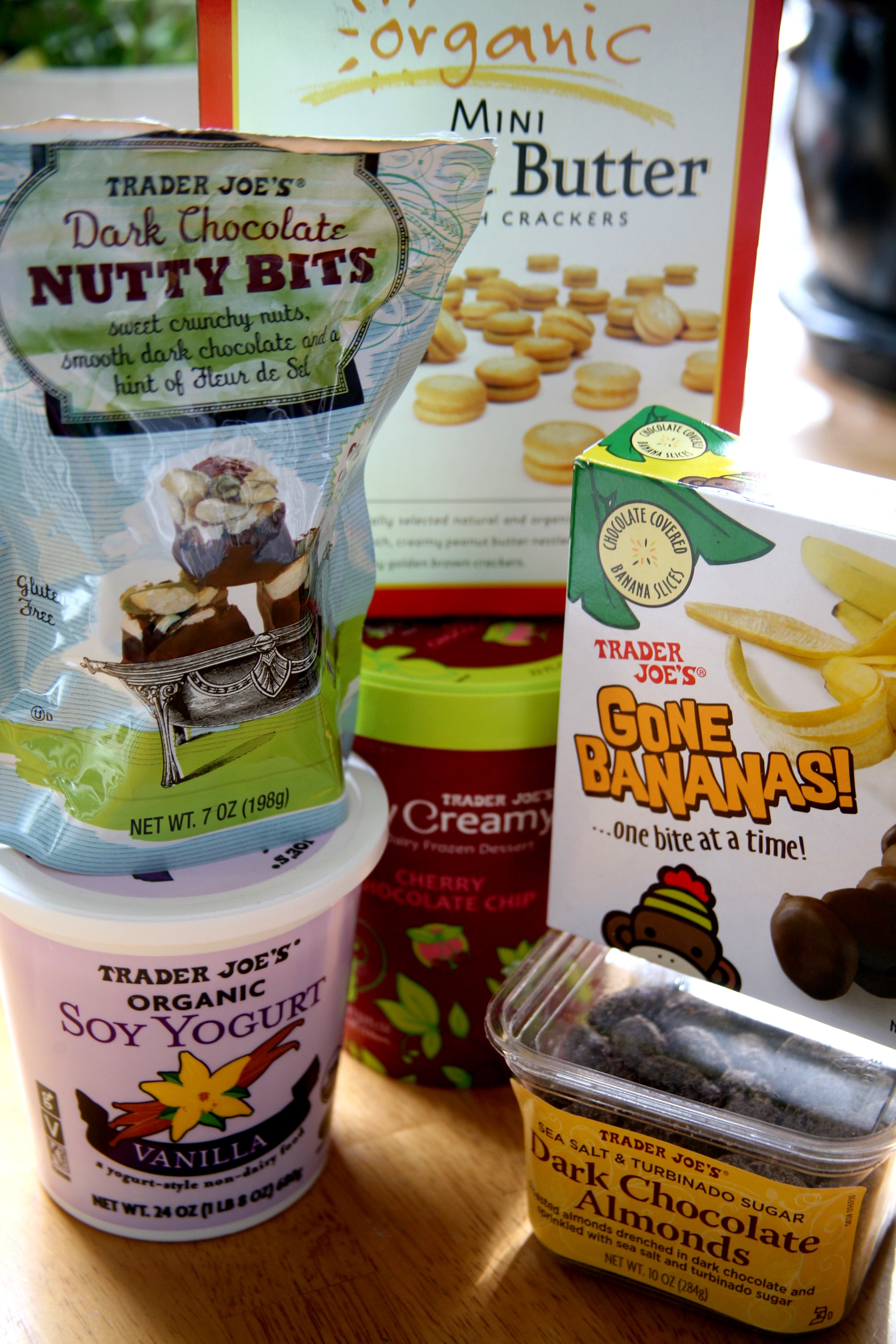 From almond milk and hummus to its creative dried fruit and nut mixes and all the (fresh and frozen) fruits and veggies, Trader Joe's is full of vegan options.
Vanilla soy yogurt tubs: Many companies sell individual six-ounce containers, but if you eat these every day, or like to use them in smoothies or baking, having larger-sized tubs is awesome.
Dark chocolate nutty bits: Not all their dark chocolate is dairy-free, but these chocolate covered nutty gems are! Their sea salt and turbinado-sugar dark chocolate almonds are pretty delicious too. For baking purposes, their semi-sweet chocolate chips are vegan, too!
Dark chocolate almonds: The perfect amount of sweetness and crunch, a handful of these is sure to satisfy your sweet tooth.
Gone bananas: A simple frozen treat of chocolate-covered sliced bananas, these are perfect when you're craving a little something sweet.
Cherry chocolate chip soy ice cream: Forget Ben & Jerry's Cherry Garcia — this is way better. It's creamier, fruitier, and dairy-free!
Frozen falafel: Bake these in the toaster oven instead of frying to save on calories, pop them in a pita with diced cukes, cherry tomatoes, and a drizzle of Trader Joe's Goddess Dressing (also vegan!), and you've got a quick and tasty lunch or dinner.
Frozen pakoras: For a quick appetizer or dinner, these potato-filled pakoras have a peppery spice that hardly tastes like you found it in the freezer section.
Vegetable masala veggie burgers: I love that the Indian spices add a twist to the basic boring veggie burger. These even stand up to grilling.
Chicken-less mandarin orange morsels: While I'm not usually a fan of fake chicken, serve this over rice, and you'll feel like you ordered Chinese takeout. It's very tasty!
Chicken-less crispy tenders: These are great on their own or chopped up on a salad or in a stir-fry. Three pieces offer a quick 12 grams of protein.
Meatless meatballs: I'm also not a huge fan of products that mimic beef, but after two different salespeople at Trader Joe's suggested them, I had to give these soy meatballs a try. I'm so glad I did, because I pick up a bag of these every time I'm there now. An awesome substitute if you crave spaghetti and meatballs, these are so flavorful and so perfectly spiced with herbs. They also taste delicious all on their own.
Curry simmer sauce: These are totally dairy-free. Add a few spoonfuls to a can of coconut milk in a saucepan. Simmer with a cup of crushed tomatoes, a can of chickpeas, some diced sweet potato, red pepper, and mushrooms, and serve over rice. This is one of my favorite go-to vegan meals at home.