Perfection in a Mask: UC Berkeley Gymnast Emi Watterson Gets a 10 on Bars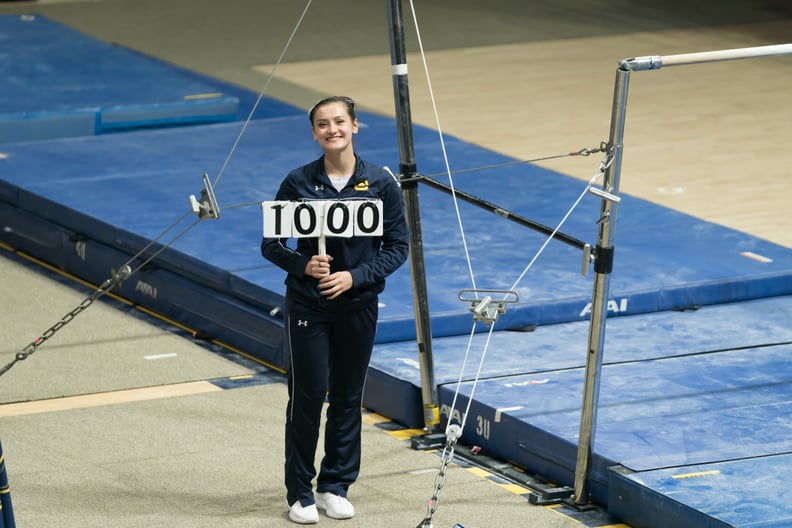 Courtesy of Peter Fukumae | DakinePics
Courtesy of Peter Fukumae | DakinePics
Emi Watterson, a 20-year-old senior at the University of California, Berkeley, scored a career-first perfect score on the uneven bars on March 6 against UCLA — and she did it while wearing a mask. It's the second time that someone on the team scored a 10.00 for their bar routine; the last gymnast to do so competed back in 1992, according to the team's Instagram.
The Cal women's gymnastics program leaves it up to each gymnast to decide whether or not they want to keep their mask on during competitions (at meets throughout the pandemic, collegiate gymnasts wear masks whenever they're not competing, but they're not required to mask up while performing). When asked why she prefers to compete with a face covering, Watterson, who was an elite gymnast in her home country of Australia and considers herself to be a beam and bars specialist, told POPSUGAR that she's used to wearing one at practice and didn't want to mess with what she has grown accustomed to; after all, if you practice like you compete, you want most, if not all, of the conditions to be the same when you actually step out on the competition floor.
"I thought since I was practicing with it on all the time it might feel a bit weird or uncomfortable if I took it off," Watterson explained, adding that it was initially an adjustment to have to do gymnastics while wearing a mask, especially on beam. Regardless of whether or not she's masked up, bars, she said, "is the closest you'll ever get to flying." See her straight handstands, impressive release moves, and a high-flying double tuck dismount ahead.
Watterson, who received an All-Pac-12 uneven bars honorable mention last year and was just recognized as the Pac-12 specialist of the week, said she's learning to enjoy her senior season. She admitted to being stressed recently about her gymnastics career coming to a close — the sport has been a major part of her life since she was 4 — but when the team sat down and discussed goals for the rest of the season, hers was to let go and have fun. That's what she did before her perfect-10 bar routine on March 6.
"My bars coach pretty much just said, 'Whatever you're thinking right now, just let it go. Just remember who you are, remember that you've been doing this for so long and that you're so great at this event that you don't need to really think,'" Watterson recalled. "I don't want to look back at my last few months of gymnastics and regret that I didn't have fun and I was stressing myself out too much, so that really did contribute to my success over the weekend."
As for what's in store for her after college, Watterson, a psychology major, hopes to one day further her education in clinical psych at grad school and potentially later get her PhD. She also wants to stay on the West Coast. "I love it here," she said, comparing the weather and San Francisco Bay to Australia. "And I really like the people in California."