One Editor's Honest Thoughts on Whether the F45 8-Week Challenge Is Worth It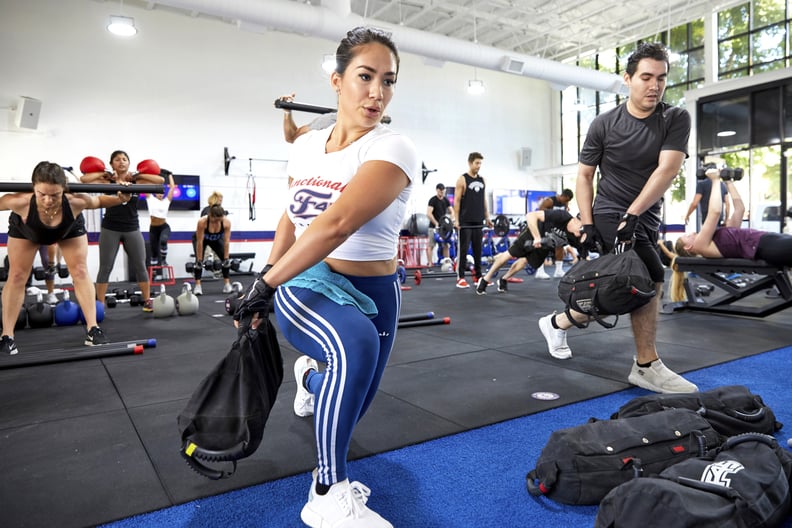 F45 Training
F45 Training
When I hear about a fitness challenge that focuses on achieving more than just weight-loss goals, I start listening. The F45 8-Week Challenge has shown up on my Instagram for months; the universe was clearly trying to tell me something. After an overseas move a year ago, and therefore a complete shakeup of my entire routine and day-to-day life, I decided it was time to give the damn thing a go.
The F45 8-Week Challenge is exactly that: an eight-week program that combines the company's signature 45-minute circuit workout classes with a detailed meal plan and a lot of motivation along the way. Sure, one of the big motivators for challenges like this one is often weight loss, but the trainers at my gym — F45 Brixton in South West London — made it clear to everyone taking part that the eight weeks were about creating healthy habits through small lifestyle changes that will have a big impact on your mental and physical well-being in the long term.
Going into week one, I thought I'd have to give up coffee, carbs, and all the joy in my life while training six days per week. None of that was true. At F45 Brixton, they emphasize that consistency is key, so if that meant still drinking my coffee in the morning and training three times per week, consistently, then that's a win. Success is measured in a few different ways during the challenge: with a fitness test called The Playoffs, a full-body scan that measures your body composition, and before-and-after photos.
Of course, the price will always be a consideration as well. For existing members, the challenge is free, but if you're signing up to F45 for the first time, then the cost of a monthly membership (which gives you unlimited classes at your chosen F45 gym) ranges from £140 (Greater London) to £220 (in Central London). In New York City, that price ranges from $99 for a week of unlimited classes to $399 for a monthly membership, and prices may be cheaper at other F45 locations in the US (it's best to check with your local studio to be sure).
So if you are looking for a new challenge in the gym or want to create some new healthy habits (but don't know where to start), then the F45 8-Week Challenge may be what you're looking for. Keep reading for my thoughts and to figure out whether you should sign up for the next round.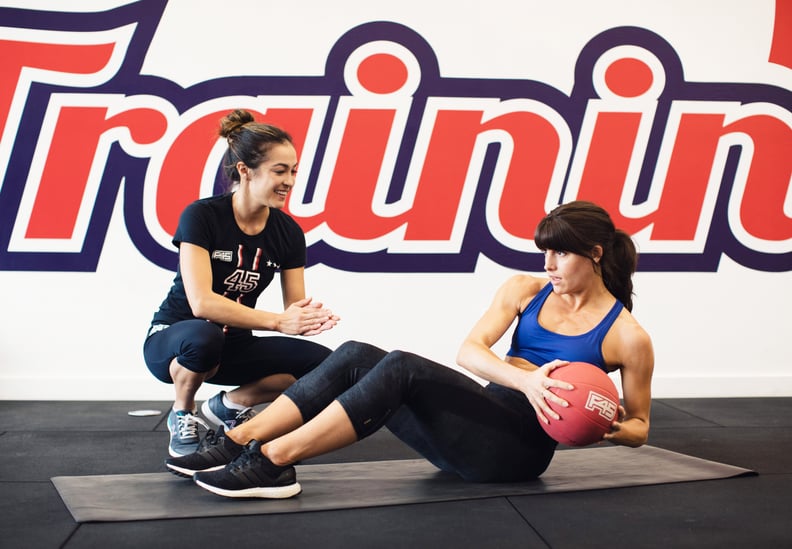 Week 1
I kicked off week one of the F45 8-Week Challenge with a mixture of apprehension and smugness. Apprehension because starting new things is always a bit scary, and smugness because I'd meal prepped an entire week's worth of breakfast and lunch meals before the challenge had even begun. Which brings me to my first tip: the easiest way to survive week one of the F45 Challenge (in my opinion) is to get organized on the Sunday before the challenge kicks off by meal prepping. For me (a vegetarian), my meals were a huge frittata filled with loads of vegetables that gave me a week's worth of lunches and little pots of overnight oats to take for breakfast. I also kept a bag of almonds in my desk drawer at work, which were great, if not boring, for 3 p.m. snack time.
As for the workouts, I focused on resistance sessions for the first week, as recommended by the trainers at F45 Brixton, which meant my muscles were sore for much of the week but in a good, it-feels-like-I-actually-exercised way, rather than an oh-god-what-muscle-have-I-pulled way. By the end of the week, I'd clocked up four workouts, which was a huge win for me; I did two resistance classes and two combination cardio and weights classes.
Week 2
If I felt proud for surviving week one of the challenge, then I was bordering on obnoxiously pleased with myself by the end of week two. The only real deviation from the meal plan I had in week one was the pint of beer I drank while out to dinner with a friend (sue me) and two Thai dinners during the week — a vegetable green curry and a tofu stir-fry, both with a small scoop of brown rice (in case you were curious). I made a couple of small changes to my meal prep this week, and it made a huge difference. I added cinnamon to my bircher muesli (obvious, but also life-changing), and I added loads of Mexican-style spices into my lunch frittata to jazz it up a bit.
I really felt like I hit my stride with the workouts in week two of the challenge. I exercised five times. Five. The breakdown looked a little something like this: two resistance classes, a cardio class, and a combination class (Hollywood), then I went to a non-F45 gym on Sunday to try a new workout class, which was half treadmill sprints, half weights. By the end of the week, I felt like a goddess, albeit a tired one.
Week two was also when I started noticing changes in my body. Not huge changes, but changes nonetheless. My face looked slimmer, which I put down to changing my diet from consisting of mainly the big P's (pasta, potatoes, and — to a slightly lesser extent — pints) and including more vegetables, healthier snacks, and almost no booze at all. My clothes also fit a bit better, especially in the afternoon, when I'd usually be rocking a postlunch bloat, which was basically nonexistent following my healthy frittata.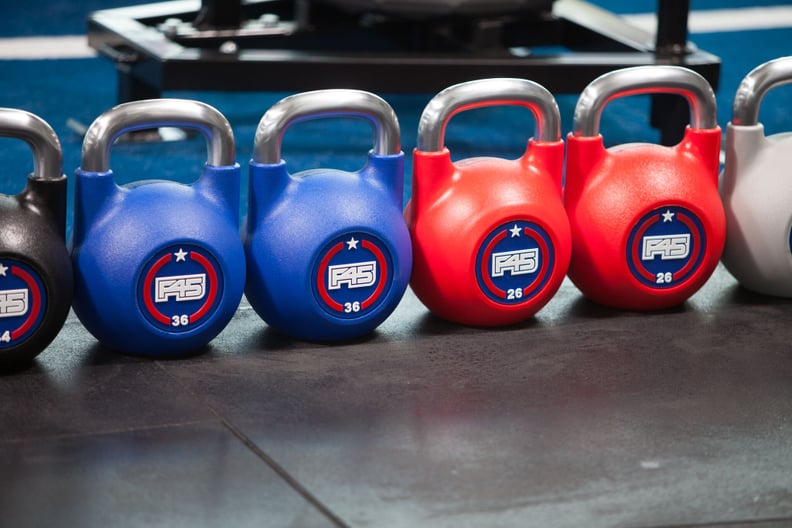 Week 3
I'll just get this out of the way real quick: week three was rough. It wasn't the challenge's fault really but rather the perfect storm of events that resulted in my missing multiple workouts. First, I skipped my regular Monday workout because I'd worked out HARD on Saturday and Sunday and desperately needed a rest. Then I got my period on Tuesday, so I spent the week trying to keep my stomach cramps at bay, then my alarm didn't go off properly on Thursday morning — so I missed another session. Add the fact that I flew out Friday night for a week in Italy (more on that later), and it's safe to say I had a rocky week.
All was not lost, though. Hurdles aside, I still stuck to the meal plan, which was made possible by my Sunday food prep, and I still did one resistance session and one cardio session. Not bad. On my first day in Italy, which technically fell in week three, I also did an hour-long hike in 85-degree heat, which definitely counts as a workout. This week was a good lesson for me that being "fit," "healthy," and "balanced" doesn't have to mean perfect.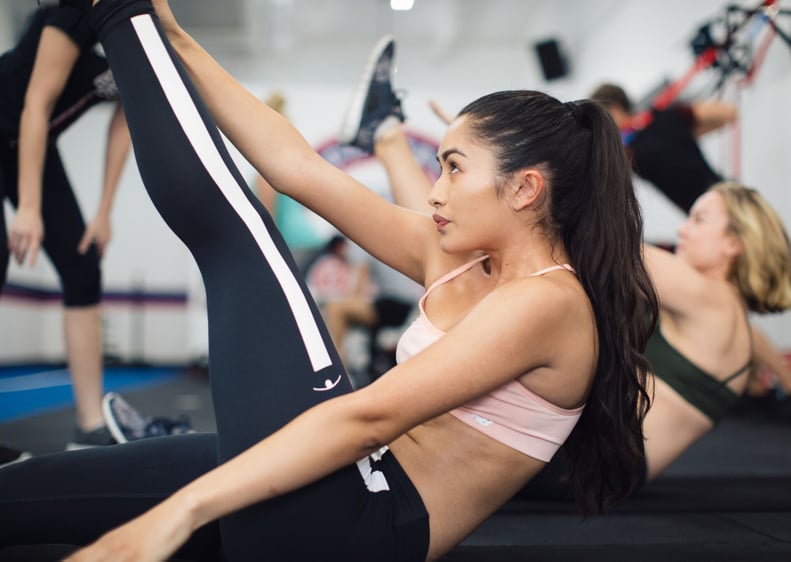 Week 4
There were a few hurdles relating to the challenge while I was on holiday in Italy during week four. Firstly, I almost didn't sign up for the challenge at all because I knew I would be away for a week right in the middle of it, but — hard truth time — there will never be a convenient time to start a new healthy routine. Never. The hard part is ditching the excuses and the perfectionist mentality (ahem, guilty as charged) and doing the best you can.
I took it pretty easy while on vacation but did lots of walking, hiking, swimming (more like frolicking in the ocean, but that counts, surely?), and relaxing. I also ate a lot of pasta and bread. Bliss.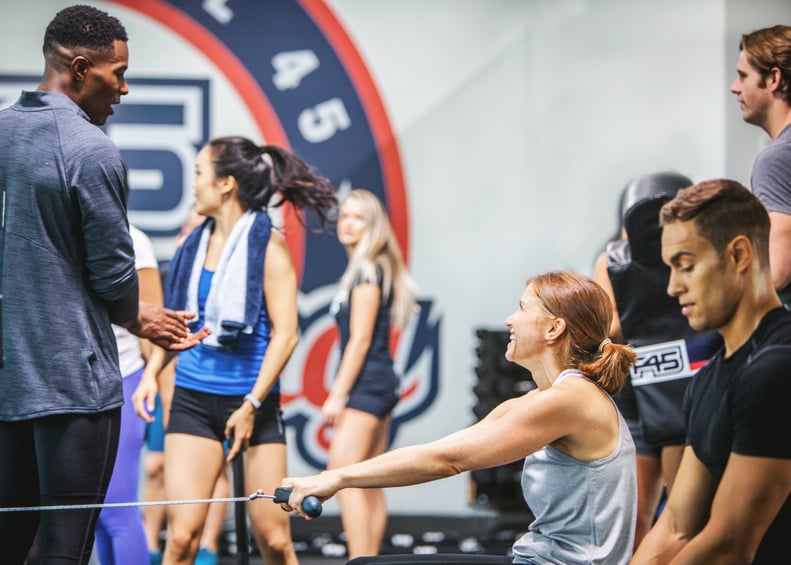 Week 5
I won't lie to you and say getting back into the swing of things after vacationing it up in Italy was easy. In fact, week five was pretty tough. Between my carb withdrawals (those are a thing, right?) and adjusting to life back in the real world, I found it challenging to even make it to the gym. I'd sum up this week as imperfect: I ate out most days but opted for healthy options (like eggs for breakfast and salads for lunch) and made it to three F45 classes — two resistance sessions and a combination class on Saturday. The biggest challenge, though, was learning to cut myself some slack. By the end of the week, I'd decided that doing three gym classes in the week following an indulgent holiday is something to be proud of.
We'll just classify this one under the "I survived" and "that's just real life" categories and move on, shall we?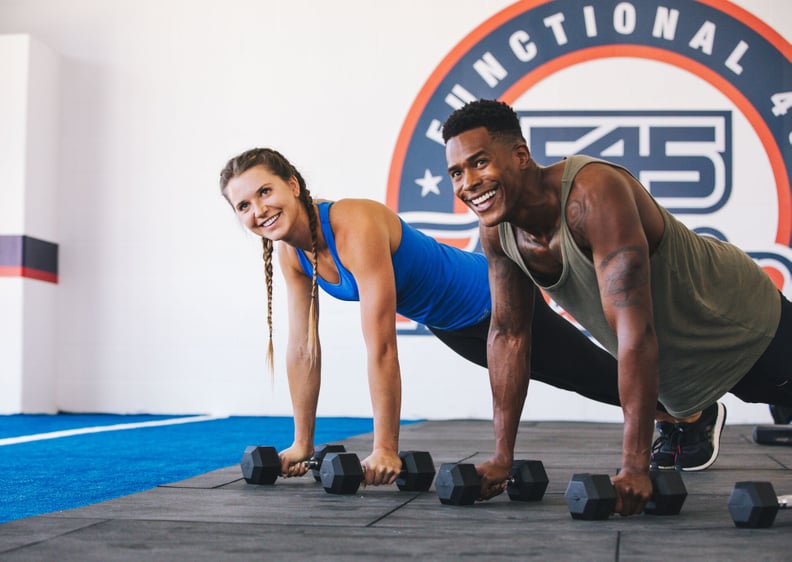 Week 6
Week six of the challenge was fairly unremarkable. I worked out at F45 three times and decided that is an achievable number of gym visits I can maintain each week, even if I'm having a busy week at work. This week was also the week that an afternoon snack consisting of almonds and fruit wore real thin. So I went on the hunt and stocked up with delicious snacks that had minimal ingredients. In the end, my favorite go-to snacks were the Smoked BBQ Crunchy Corn by Love Corn and Ape Crunchy Coconut Bites, which only have five and three ingredients, respectively.
I also finally got my act together postholiday, so it was back to meal prepping my breakfast and lunch meals, which really helped with staying on track.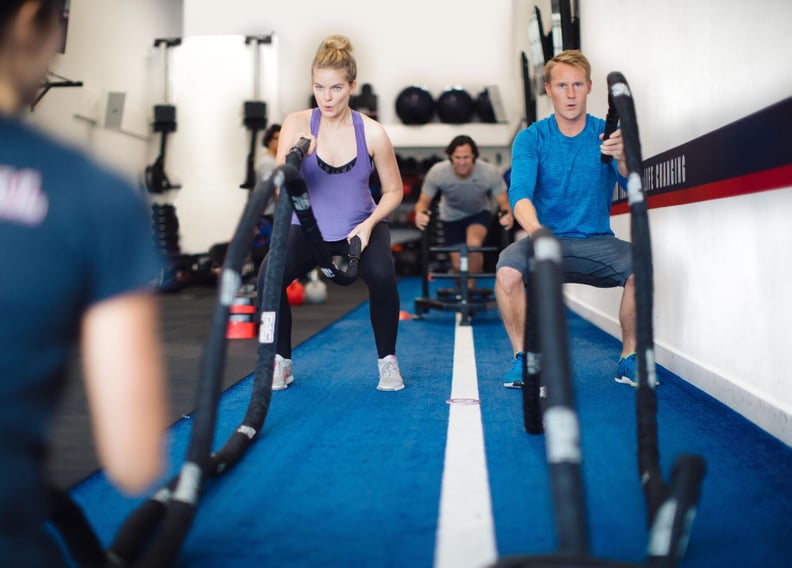 Week 7
OK, so I have a confession to make: although I developed some solid gym habits in the first six weeks of the challenge (pats self on the back) and was now working out three to four times per week, I still hadn't braved a cardio class at F45. Honestly, I was scared. I thought I'd be in for a hellish 45 minutes of constant burpees — so when I was looking down the barrel at a packed week-seven schedule and wasn't sure when workouts would fit into my schedule, I decided it was time to brave a Monday night cardio class. I enlisted my boyfriend to come with me, so I showed up at the gym after work prepared for the worst . . . and it was fine. I definitely pushed myself during the class, but I also made a conscious effort to not beat myself up when I felt tired and had to take it a bit slower on a couple of the exercises. I felt like a total legend afterward.
In week seven, I worked out three times: one cardio class (pats self on the back again) and two resistance classes.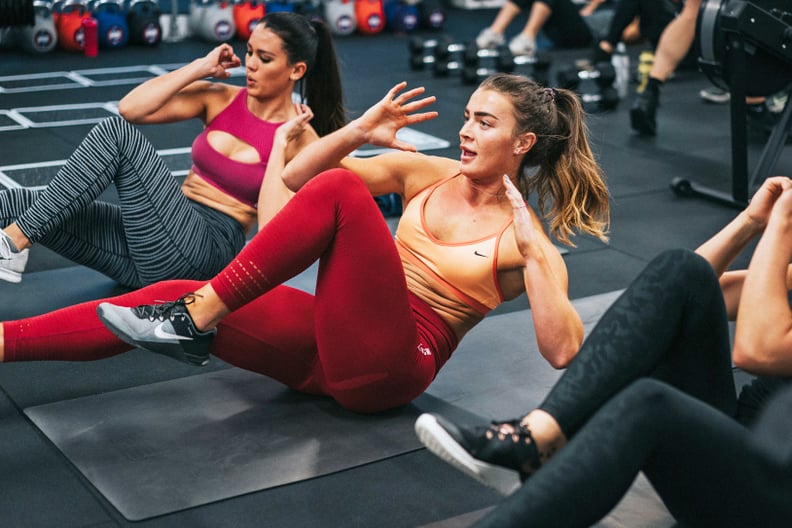 Week 8
By the end of week eight, I was pretty chuffed with my efforts. I'd definitely regained any motivation lost during my holiday in week four and felt like I'd developed some new, healthy routines. Specifically, I was easily (and consistently) fitting three gym sessions into my week.
In the nutrition department, my breakfast and lunch meals stayed much the same for every day of the challenge, with the slight changes I mentioned in week six. Some people might find eating the same thing day in and day out boring — I'd be lying if I said I was excited for every meal — but I also found it to be the easiest way to maintain a clean diet throughout the eight weeks. That said, the F45 Challenge app has loads of recipes for all dietary requirements, so if you're the kind of person who needs variety at every meal, it's got that covered.
For the most recent challenge, the company also released preprepared meals that you can have delivered weekly, with each meal portioned in single-use plastic containers. Which option you choose just depends on your own personal preferences.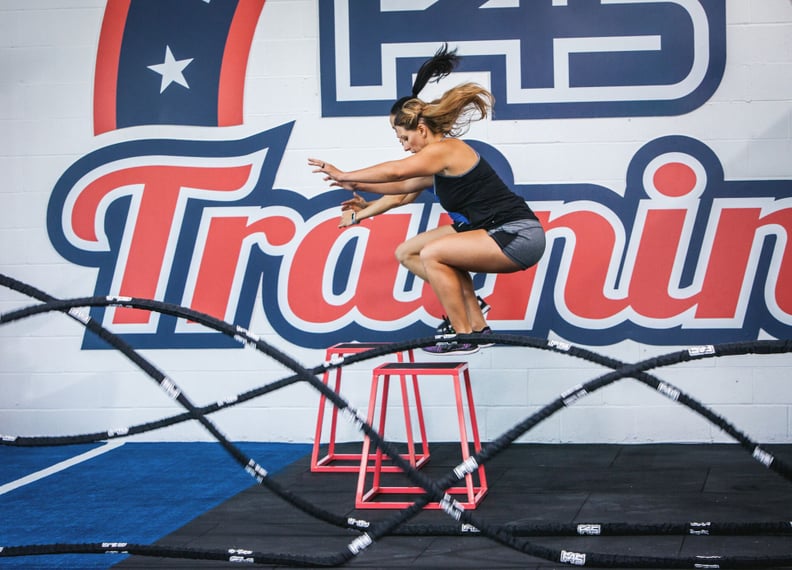 My F45 8-Week Challenge Results
At the end of each F45 8-Week Challenge, there is an option to do a fitness test (The Playoffs) and a full-body composition scan (for an additional cost). The Playoffs is a 10-minute fitness test, which is essentially a circuit involving 10 common gym exercises (the rowing machine, bench hops, and sit-ups, for example), and is a helpful tool used to measure progress made throughout the challenge. You'll take the test on day one of the challenge and again at the end of the challenge. This was a really helpful tool for me, because I was able to clearly measure my goals that weren't weight- or aesthetic-related. The bottom line? I was a little bit stronger and a little bit quicker and could do a few more reps than the first time around, which felt really good.
I also opted to have the full-body composition scan, which showed that I didn't lose any weight on the scales over the course of eight weeks, but my body fat percentage decreased and my lean muscle mass increased. Those results were in line with my goals going into the challenge, so I was happy, especially since I felt like I was less bloated overall and had gained more confidence in the gym.