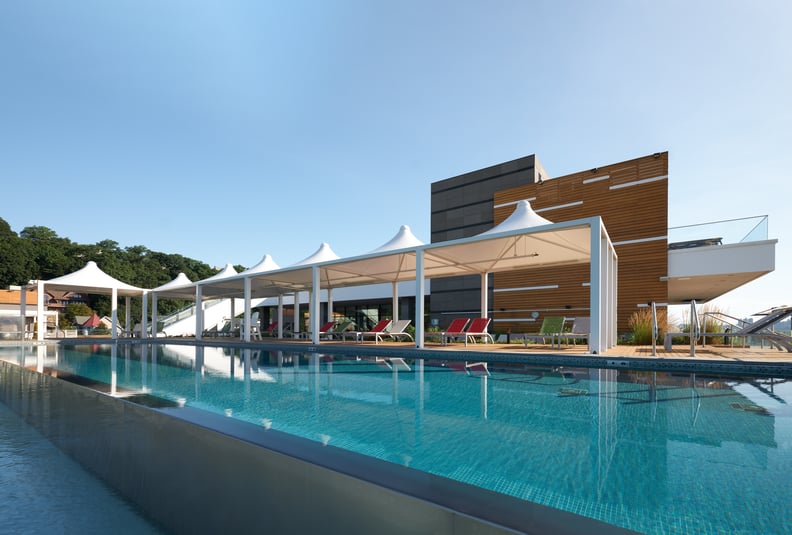 SoJo Spa Club
SoJo Spa Club
Recovery post-workout can be a few stretches in a corner, but wouldn't you rather have access to a full-service spa? Then you might want to sign up for a membership at a health club spa. These wellness destinations house fitness centers, group classes, dining areas, and full-service spas, and some even have coworking spaces. With so much under one roof, why WFH when you could WFHCS (Work From a Health Club Spa)?
Ahead are five health club spas from across the United States (and one in Canada) where you can get away while you get in your workout.
SoJo Spa Club
One of my favorite places to go to get away from the city is SoJo Spa Club. Located in New Jersey, this spa is a great way to take a break from New York City without having to travel too far.
This oasis has several saunas (in the locker room and the common areas), indoor and outdoor pools, a coworking space, a spa, a hotel, and more. Under the umbrella of "more" includes its fitness center, which features a wide range of equipment to target every area of your body. That way you can take the ultimate spa-like cooldown after your workout.
Equinox Hudson Yards
While a number of Equinox clubs have spas within their fitness centers, the Hudson Yards location in New York City practically has a spa within a spa. This location's fitness center has a wide array of fitness equipment, group fitness classes, dry and steam saunas, four pools (including a rooftop pool), and an outdoor lounging area with complimentary towels.
Equinox's actual spa (run by Equinox Hotel) has a list of varying hair, face, and body treatments for needs ranging from scalp treatments to sports massages. Did I mention there's also a dry sauna in that section of the fitness club?
Midtown Athletic Club
Midtown Athletic Club embodies all things wellness. It has locations in New York, Illinois, Florida, and Georgia and even up north in Montreal. Each location has (at minimum) a fitness center, boutique, full-service spa, and bistro — equipped with an array of food and beverage options to enjoy in its indoor and outdoor spaces. Pictured above is its Chicago location (opening July 15), which houses four pools, 55 hotel rooms, and a large number of fitness programs.
Plus, it has a current club traffic section on its site so you can schedule your visit whenever you feel comfortable going.
Worldgate Athletic Club & Spa
Located in Virginia, Worldgate Athletic Club & Spa is 110,000 square feet of fitness and wellness. Some of the services include a full-service spa and salon, a large fitness center with group classes, three indoor tennis courts, and aquatic fitness. With so many ways to work out and recover under one roof, Virginians know this is the destination for all of their wellness needs.
Los Angeles Athletic Club
If you ever find yourself looking for an all-in-one wellness haven in Los Angeles, then the Los Angeles Athletic Club is the destination you need to go to. Like the other locations on this list, it has a fitness center and a full-service spa, but it also houses a hotel, five eat and drink venues, an event space that can hold up to 700 people, and three workspace options. With so many options available, you can hop off the plane at LAX, stay at the hotel, get back on the plane, and be able to tell your friends you had a fulfilling vacation.