When a doctor first confirmed that I had symptoms of the novel coronavirus (COVID-19), I was a nervous wreck. My husband Nathan and I live in a small, one-bedroom apartment in New York, and I had been coughing — at times, violently — for a couple days, though I tried to keep my distance and always buried my head in my sweatshirt. I feared Nathan had already been exposed to the virus, but I took the doctor's advice and immediately went into isolation to try to protect him as best as I could.
"Quarantine" and "isolation" have very specific meanings when it comes to COVID-19. People who have been around someone with the virus should quarantine at home for 14 days — that's how long it can take to develop symptoms, if you've been infected — while those who are already sick should isolate themselves even from their family or roommates.
Spending so much time alone was one of the hardest things about having COVID-19. At first, when my symptoms were mild, it felt like an overreaction. When I became very sick, it was lonely and, at times, a bit frightening. But as far as we know, Nathan was never infected, and that made every day I spent in isolation worth it. While there may have been other factors at play (research suggests that his blood type may be less vulnerable to infection, for example), I do believe the precautions we took helped keep the virus from spreading. Here's how you can protect your household, too.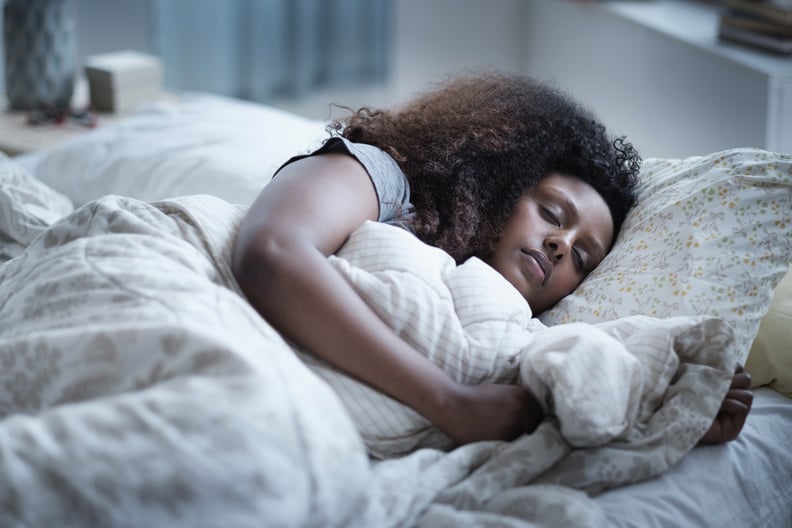 Confine Yourself to a Single Room in Your Home
You should have your own bedroom and, if possible, a separate bathroom. Nathan slept on the couch for the three weeks I had symptoms and left food and other essentials for me on a chair just outside the bedroom door. I escaped my room only to use our shared bathroom, and no one — including our dog and cat — was allowed to step foot in my space.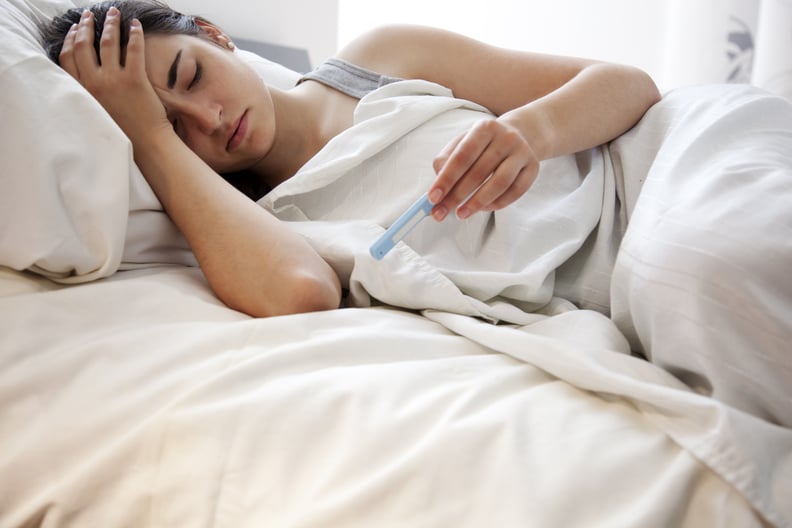 Gather Everything You'll Need to Monitor and Treat Your Symptoms
It became clear early on that it was unreasonable (and potentially unsafe) for Nathan to come to the door every time I needed to take my temperature or pop a pain reliever. So, he kept a note in his phone to help track my symptoms and medications, and I kept a stash of essentials on the dresser, so I could get to them when I needed them. Below is a list of items you might find helpful, but always check with your doctor about how to best manage your symptoms.
Thermometer
Pulse oximeter
Cough suppressant or expectorant, depending on the nature of your cough
Throat lozenges
Tissues
Humidifier
Prescription medications, such as an inhaler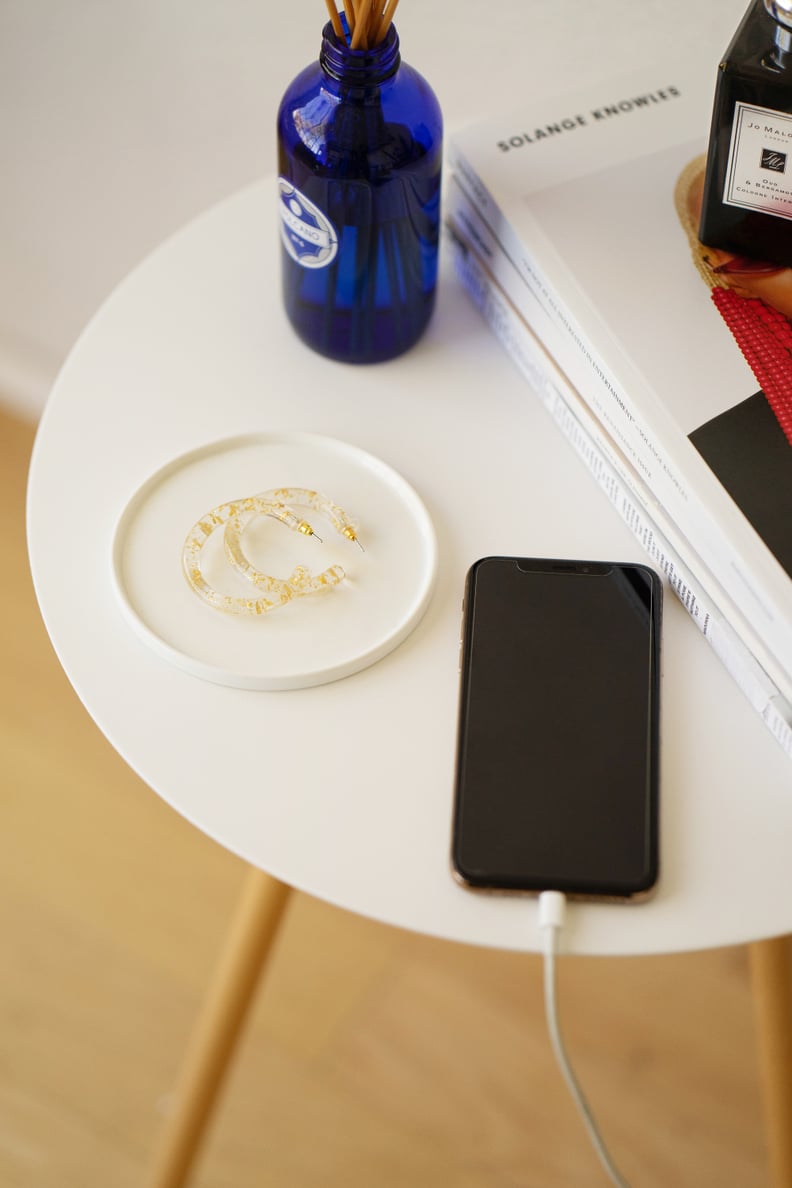 Keep Other Essentials Within Reach
For several days, the fatigue and shortness of breath made it difficult for me to even climb out of bed — and, at that point, I was happy I had surrounded myself with the things I'd need to keep my space tidy and myself comfortable and entertained, including a trash can, phone charger, laptop, some extra water, and hand sanitizer.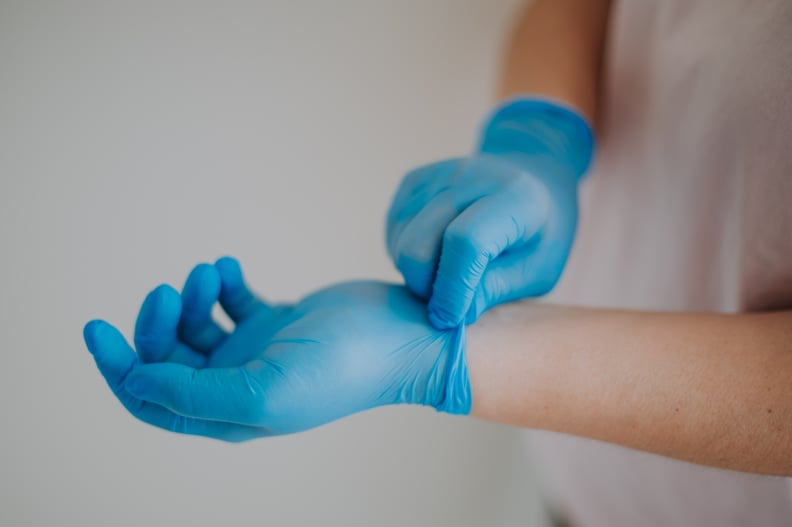 Take Steps to Protect the Person Who's Caring For You
Though there was no evidence at the time that the virus was airborne (a fact that has since changed), I figured the less Nathan came in contact with the air I breathed, the better. So, I began keeping things like empty dishes in the windowsill of my bedroom until the end of the day, when I'd finally open the door and put them out on the chair for him to collect. I also insisted that he wear a face covering when he had to come close to my room and disposable gloves when handling my dirty dishes and laundry (this aligns with guidance from the CDC).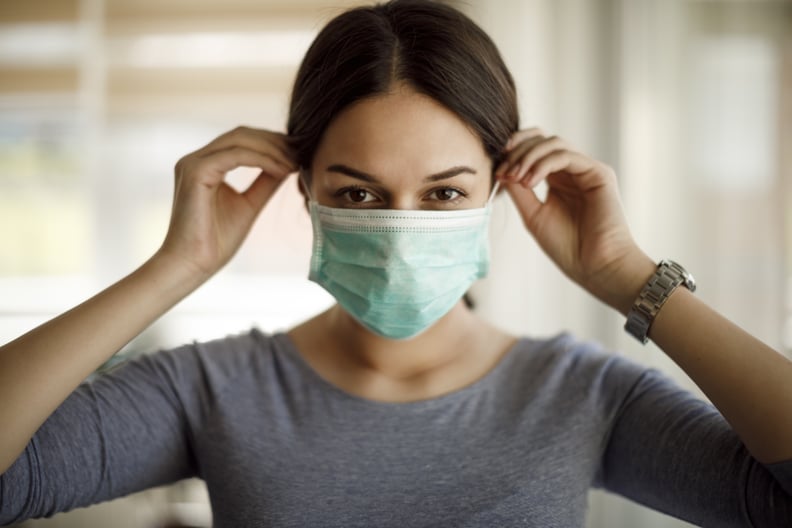 Wear a Mask When You Need to Leave Your Room
I was sick so early in the outbreak that cloth face masks weren't yet a staple in everyone's homes. Fortunately, a close friend was able to send several in the mail. While I waited for them to arrive, I used a scarf to cover my face when I went to the bathroom — and it's good that I did, because walking those few steps often caused me to feel like I needed to cough. Always wear a mask and keep six feet between yourself and others, and if you can, ventilate any common areas by opening a window and running a fan to circulate fresh air.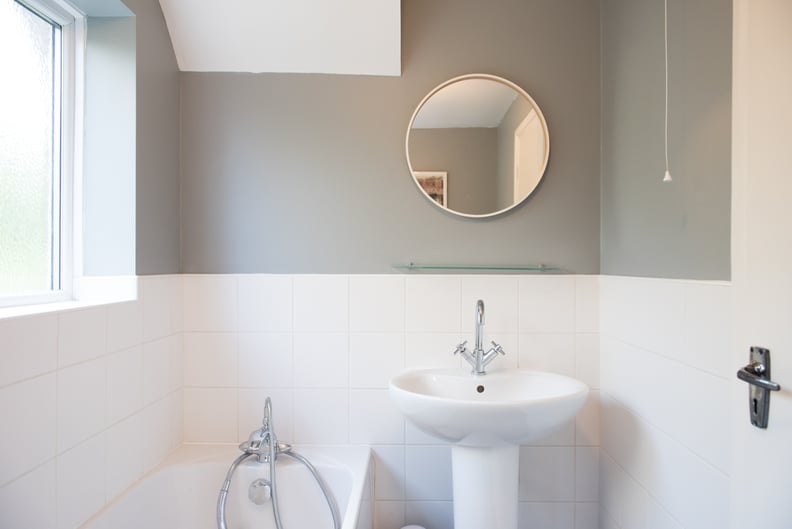 Clean Shared Spaces After Each Use
Keep cleaning supplies in common areas like the bathroom, and try to disinfect any surfaces you've touched before you go back into isolation. When my symptoms picked up, I was too weak to clean, so Nathan waited until he needed to use the bathroom next to put on a mask and gloves and wipe down the space.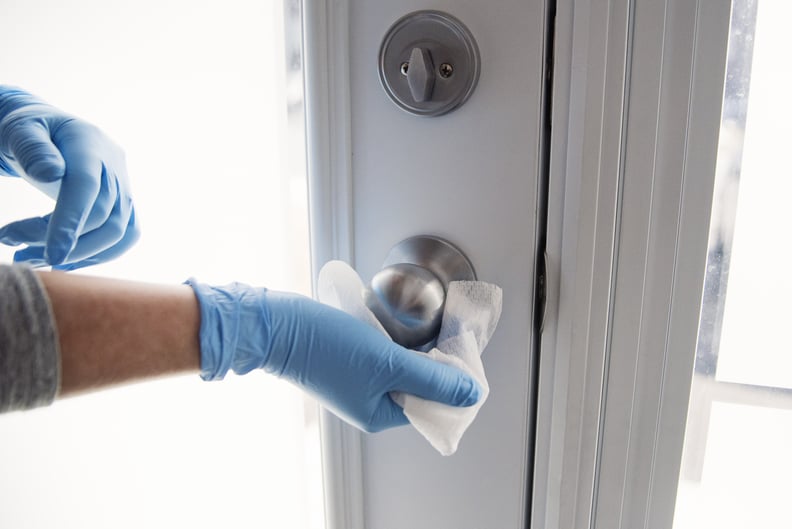 Disinfect High-Touch Surfaces Once a Day
Every night before bed, Nathan wiped down high-touch surfaces in our home, including door knobs, light switches, faucets, appliances, and more. When I was feeling well enough, I did the same thing in my bedroom. Remember to follow the manufacturer's instructions to ensure you're giving the disinfectant ample time to kill germs.
Remain in Isolation For At Least 10 Days
Ideally, you'd test negative for COVID-19 twice before being around others, but that isn't always feasible. If testing isn't available, the CDC recommends that you stay in isolation until you've been without a fever for at least 24 hours, your other symptoms have improved, and it's been at least 10 days since you became sick. If you tested positive for COVID-19 but didn't have symptoms, you can leave isolation 10 days after getting the test.
I finally emerged from my bedroom a little more than three weeks after developing symptoms. During that time, I had moments when I started to feel better, only to get sick with different or worsening symptoms a day or two later. When I finally started to feel like myself again, staying in that bedroom was excruciating — but Netflix and video calls with my family and friends helped pull me through.
POPSUGAR aims to give you the most accurate and up-to-date information about the coronavirus, but details and recommendations about this pandemic may have changed since publication. For the latest information on COVID-19, please check out resources from the WHO, CDC, and local public health departments.