Paid Content For

How to Style Black Tights For Any Occasion, From the Office to the Gym
Paid Content For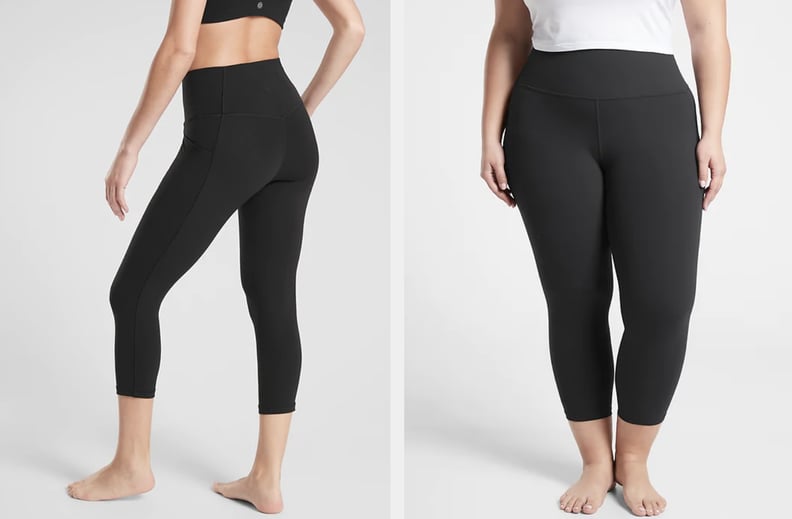 Athleta
As POPSUGAR editors, we independently select and write about stuff we love and think you'll like too. If you buy a product we have recommended, we may receive affiliate commission, which in turn supports our work.
No matter where I'm heading, there's hardly an occasion where I can't style an outfit around my favorite pair of black tights. If you're like me, you also turn to the classic outfit essential for so much more than just a workout these days. To help make it even easier to build any outfit around a pair of black tights, take a peek at four ways to style four unique tight options, no matter the occasion. Each outfit is structured around a black tight found at Athleta, since you seriously don't have to look anywhere else for your favorite black tights, whatever style they might be.
Black Tights For Running Errands
No matter what my week looks like, I find myself with a long list of errands on my to-do list. For those busy days, not just any tights will do. An option like the Peak Hybrid Fleece Tight ($108) combines warmth in the form of fleece lining and durability with abrasion-resistant fabric. For my ideal running errands look, I'm turning to a slouchy-fit sweater, like the Hanover Refined V-Neck Sweater ($109). This particular sweater delivers warmth and style. Plus, it's loose construction allows for layering over a turtleneck come winter. Lugging bags and logging steps means my feet will no doubt be exhausted. But a pair of comfortable and warm socks such as the Bombas x Cotopaxi Merino Wool Hiking Calf Sock ($26) will make sure I'm able to withstand the fall weather and avoid rubbing and blistering. I prefer thicker hiking socks (even on days I'm off the trail) when I'm spending time on my feet. My busy-day outfit has met its match with this sneaker meets boot in the form of the Chuck Taylor All Star Lugged ($80). I like how this shoe combines the style and fit of my favorite Chucks with a thicker platform sole that's as hearty as my favorite boot.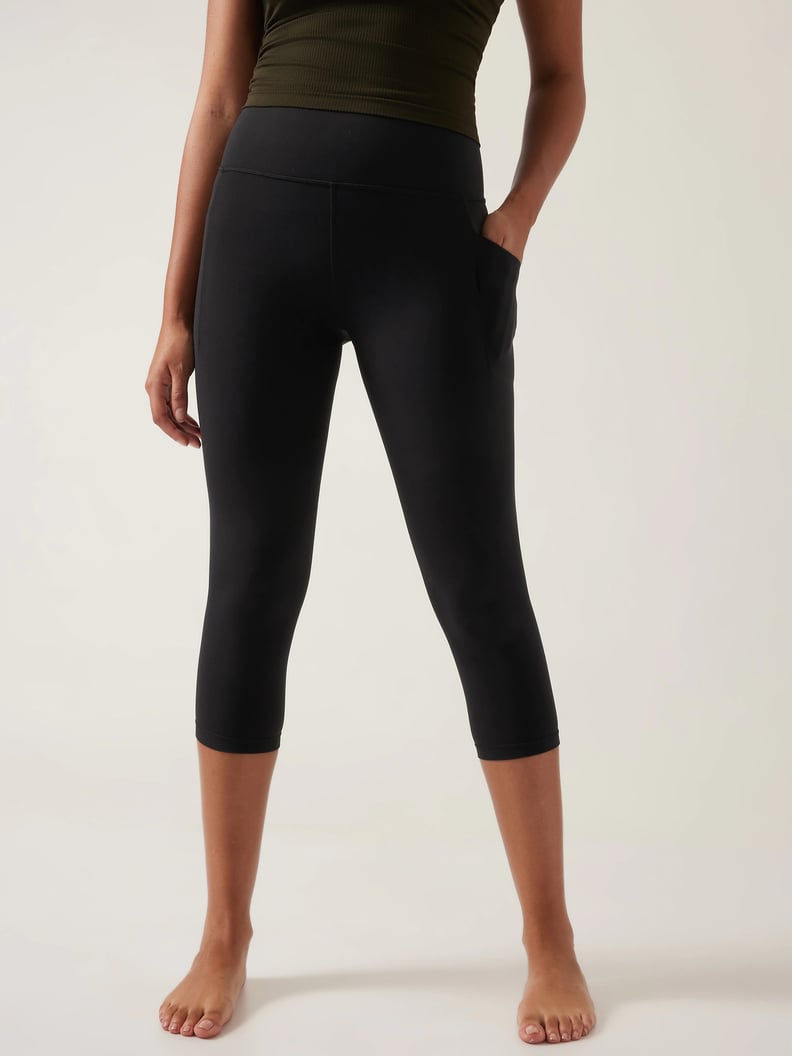 Black Tights For the Gym
Yes, even during the cooler months, I like to sneak in a workout. When it comes to tights, the Salutation Stash Pocket II Capri ($89) have my vote. For working out, I prefer a shorter crop pant option to allow for a bit more breathability and mobility. The Salutation Stash Capri delivers both with a flattering, compression fit. Whether I'm hitting the studio or gym, a quick option to pull over my workout tank or top is key. I'm eyeing the Harmony Wrap ($109) for its extended length and hood features, which make it cold-weather friendly. To pair with my easy-to-remove wrap, I'm opting for a crop and bra duo. I like the Warrior Longline Bra ($54) for its studio-ready design and wider shoulder straps.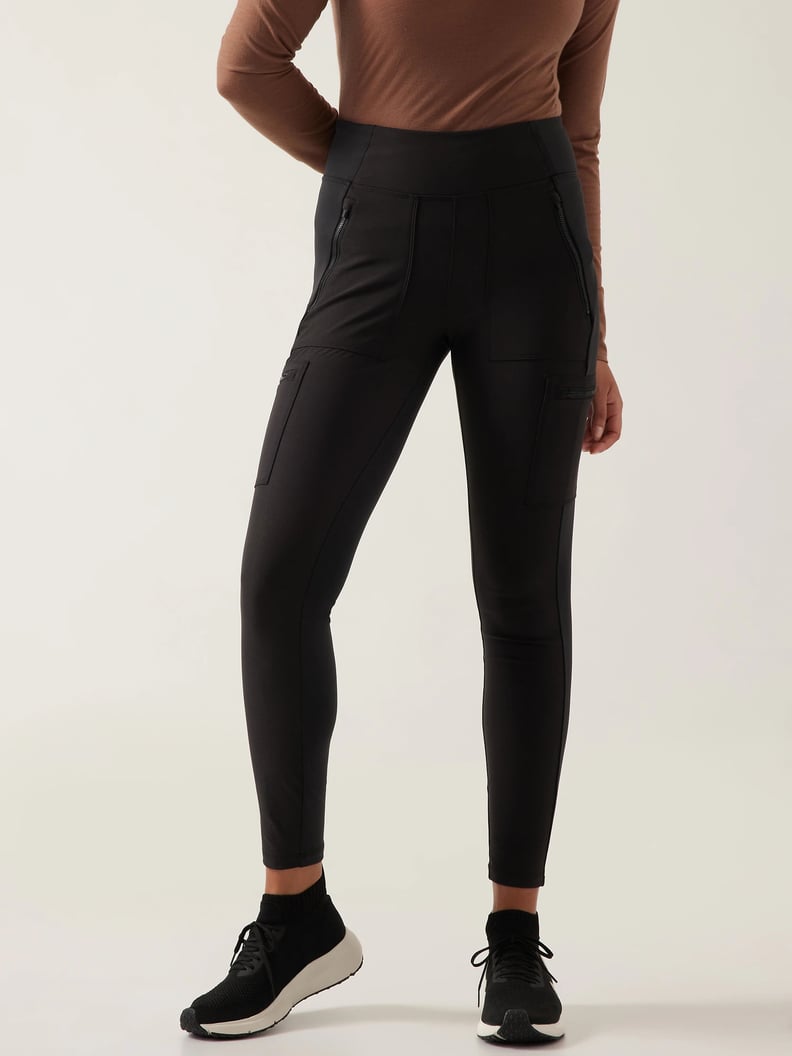 Black Tights For Work
If you're like me, treks to the office are few and far between these days. Now, wearing tights to the office is tricky. But thanks to Athleta, I can easily bring my favorite go-to item to the office with ease. Options like the Headlands Hybrid Cargo II Tight ($119) feature work-appropriate cuts and detailing while maintaining that cozy, tight feel. For example, I'm loving how this option has the look of a classic trouser with a sporty touch. On days when I'm eagerly hopping on the subway and heading into a notoriously chilly office, a commuter-friendly coat is necessary. The Ganni Ripstop Quilted Coat ($475) layers great over just about any piece I pick: a sweater, hoodie, tee, long-sleeve, you name it. What's more, it's longer, oversize cut balances out the slim-fit of my tights. And what commuter can go without a bag? This fall, I'm looking to the timeless classic, the L.L.Bean Tote Bag ($40), to get the job done. This simple canvas bag had a resurgence as of late, but trust me when I say: this tote never really went out of style.
Black Tights For Hiking
For those trail runs and hikes, I'm looking to performance-ready pieces like the Ultimate Stash II Tight ($109). This compression tight won't slip or budge while you move around with ease. I'm making sure I'm prepared for warmth with an outer layer, like the Stroll Fleece Moto Vest ($99). I love how this fleece vest elevates the classic puffer or fleece jacket look with a sleek moto design. Plus, it's light enough to pair over a long-sleeved tee or hoodie for an added layer. While I'm working out outside, I'm always aware to make sure I have what I need on hand for safety. A belt like the Running Belt Bag ($7) from H&M is not only bright and attention-grabbing (although true reflective tape and gear is always a good idea), but it's also built to work. This slim belt can hold both a phone and keys while on the move.