I Practice Intermittent Fasting, and This Is What 1 Week of My Food Looks Like
POPSUGAR Photography | Jenny Sugar
POPSUGAR Photography | Jenny Sugar
When people find out I do intermittent fasting, where I only eat from noon to 7 p.m. and fast the rest of the day, and that I'm vegan, they always want to know what the heck I eat!
Although I don't eat breakfast, I eat lunch, a snack, and dinner. And just like any healthy eating plan, prepping food ahead of time is key. If I don't take a few hours each Sunday to plan out my meals, shop, wash, cut, and cook, then I'm likely to eat bowls of cereal for every single meal. I also find if I'm scrounging around for meals, I tend to overeat, so this helps keep my portions in check.
The entire process of meal prep is actually very calming for me. I love looking for new recipes on Instagram, writing out my detailed list, strolling through the grocery store aisles, and listening to music while I chop and prep. Meal prep is like self-care for me because it's the one time during the week I can devote to me, it ensures I eat healthy all week long, and it sets the tone for other healthy choices throughout the week.
Since I don't eat dairy or meat, planning ahead ensures I get my daily fill of protein, as well as healthy fats and carbs. Come with me into my kitchen, and take a peek at what I prep on Sunday afternoons so I have a week full of nutritious, delicious food for the next five days.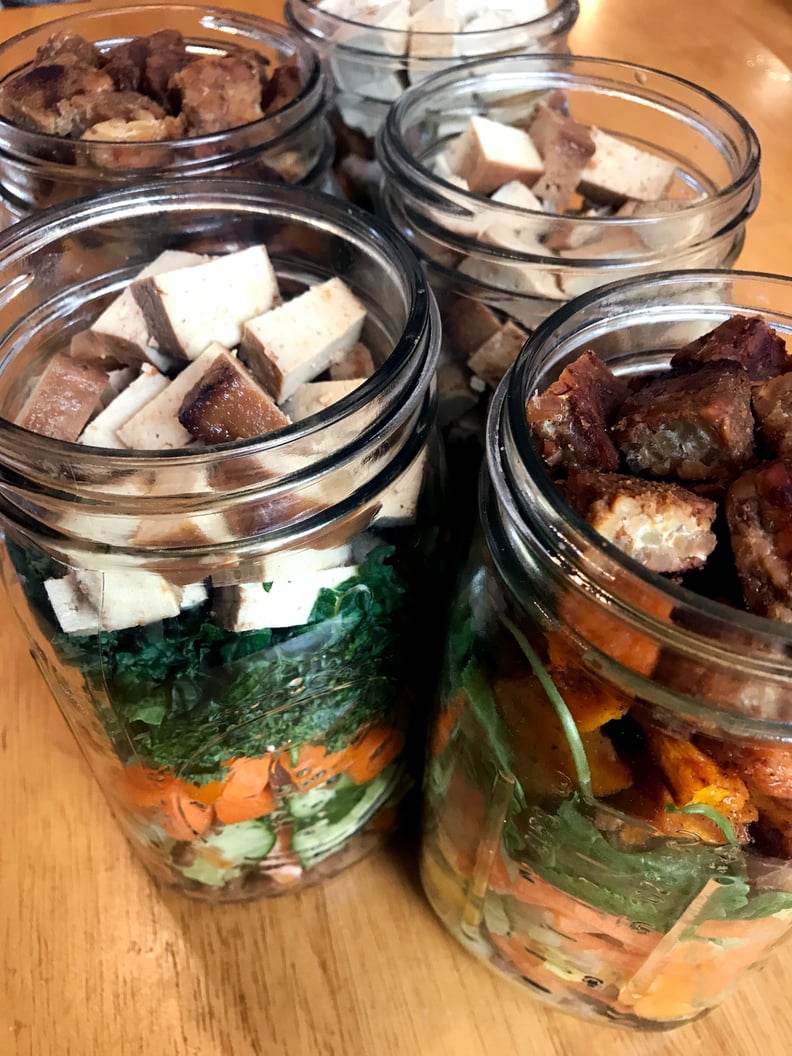 Lunches: Mason Jar Salads
What to prep: Slice, marinate, and bake tempeh; peel, dice, and roast butternut squash; cook one cup of quinoa; wash can of chickpeas, can of kidney beans, and can of lentils; prep kale, cucumbers, carrots, peppers, and celery; make 10 mason jar salads (five are for my husband).
In order to get my daily dose of greens and veggies, mason jar salads for lunch are my go-to. For more variety, I don't make five of the same salads.
I marinated and baked tempeh and roasted cinnamon butternut squash for two of the salads. For the other three, I diced Trader Joe's baked tofu and cooked up some quinoa. Each jar gets beans, veggies, and kale. When I eat the salad, I add half of a diced avocado, one tablespoon of salted sunflower seeds, and a drizzle of Annie's Sesame Ginger dressing.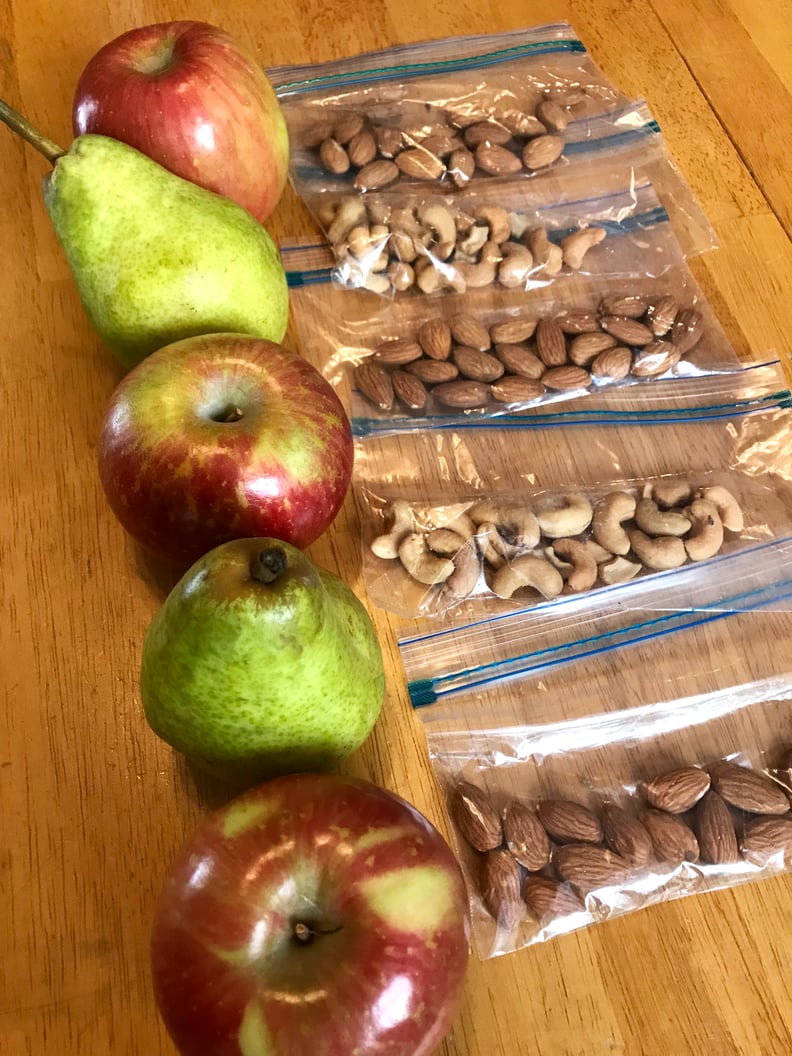 Snacks: Fruit and Nuts
What to prep: Wash fruit; measure out bags of nuts
Around 3 p.m. I get a little hungry, and since dinner isn't until 5:30 or 6 p.m., I like to snack on a little fiber, protein, and healthy fats. I have apples and pears on hand (sometimes bananas), and measure out 1/8 cup of raw almonds or cashews in little baggies (don't worry, I reuse the bags!).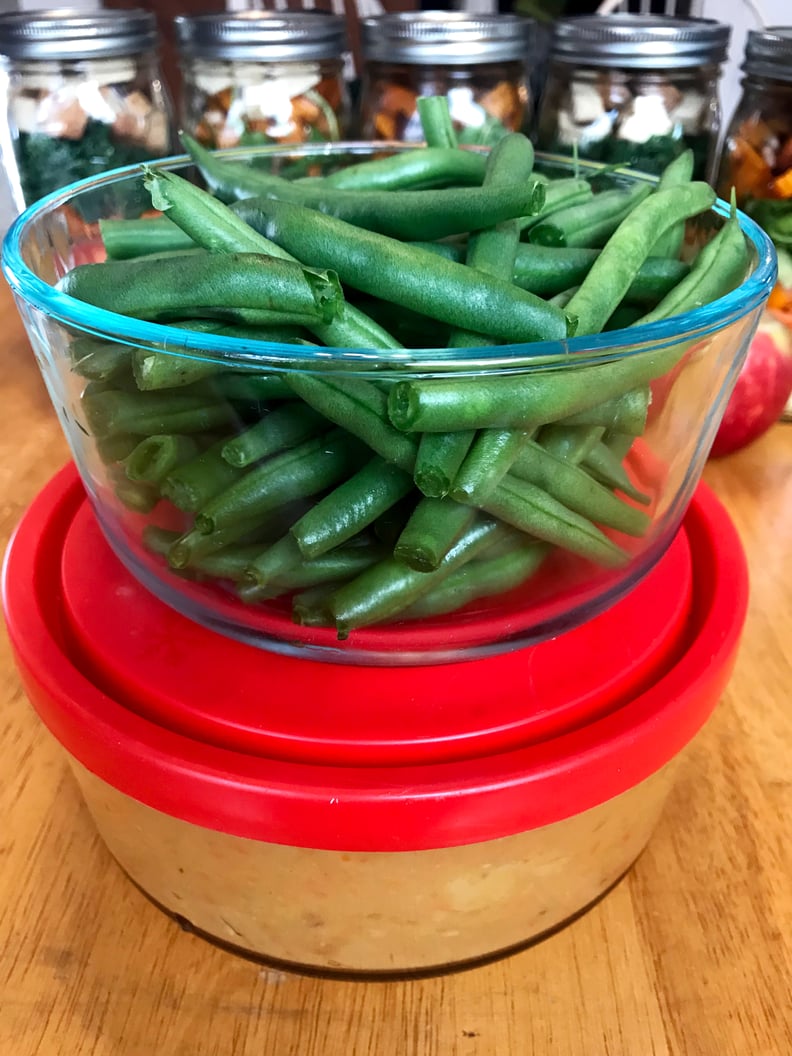 Monday Dinner: Leftover Soup and Steamed Green Beans
What to prep: Make soup and store in glass container; wash and prep green beans and store in glass container
While meal prepping for the week, I make a big pot of soup we can eat Sunday night and enjoy a second time around Monday night. This is a potato leek white bean soup made with a can of cannellini beans, carrots, frozen corn, and a little fresh rosemary. So on Monday night, I just microwave four bowls of soup and toast some sourdough bread, and dinner is ready in five minutes!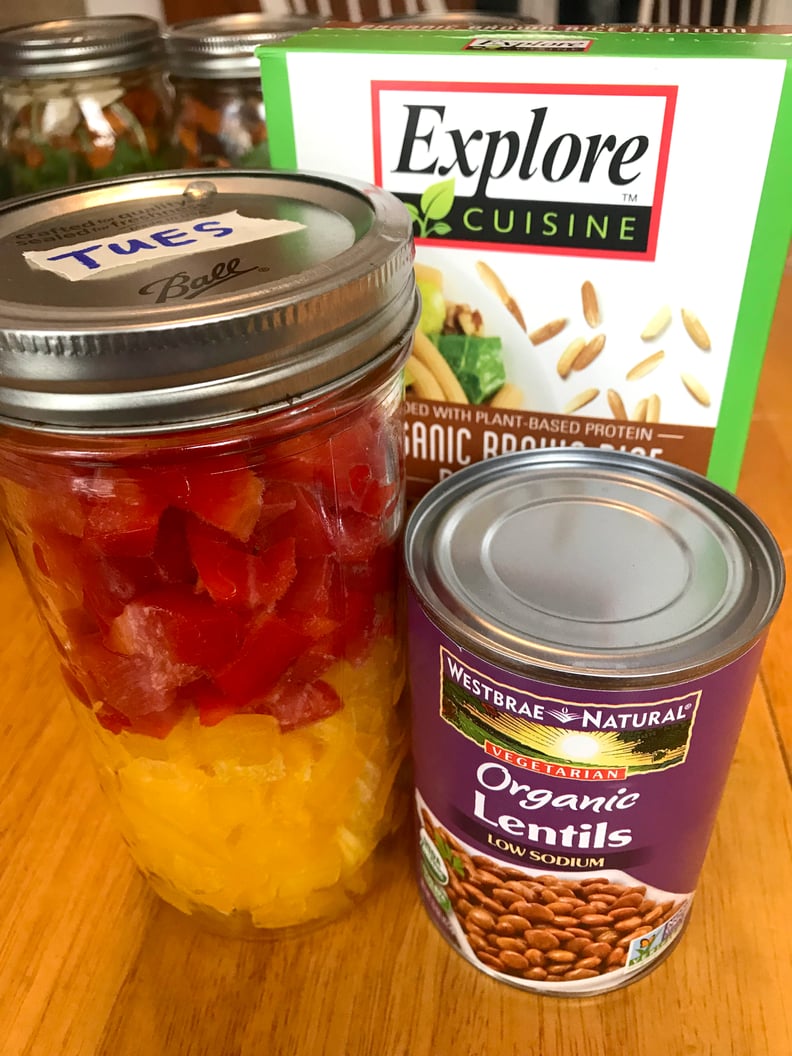 Tuesday Dinner: Maple Cumin Lentils and Peppers With Pasta
What to prep: Wash and dice two bell peppers and store in mason jar
This recipe for maple cumin lentils with pasta is kind of like spaghetti with meat sauce. It's quick, delicious, and packed with protein, and after prepping the bell peppers on Sunday, it comes together in about 15 minutes.
On Tuesday, I just add a can of rinsed lentils to a pot with marinara sauce, diced peppers, half a teaspoon of cumin, and one tablespoon of maple syrup. By the time my pasta is cooked, this meal is ready to go!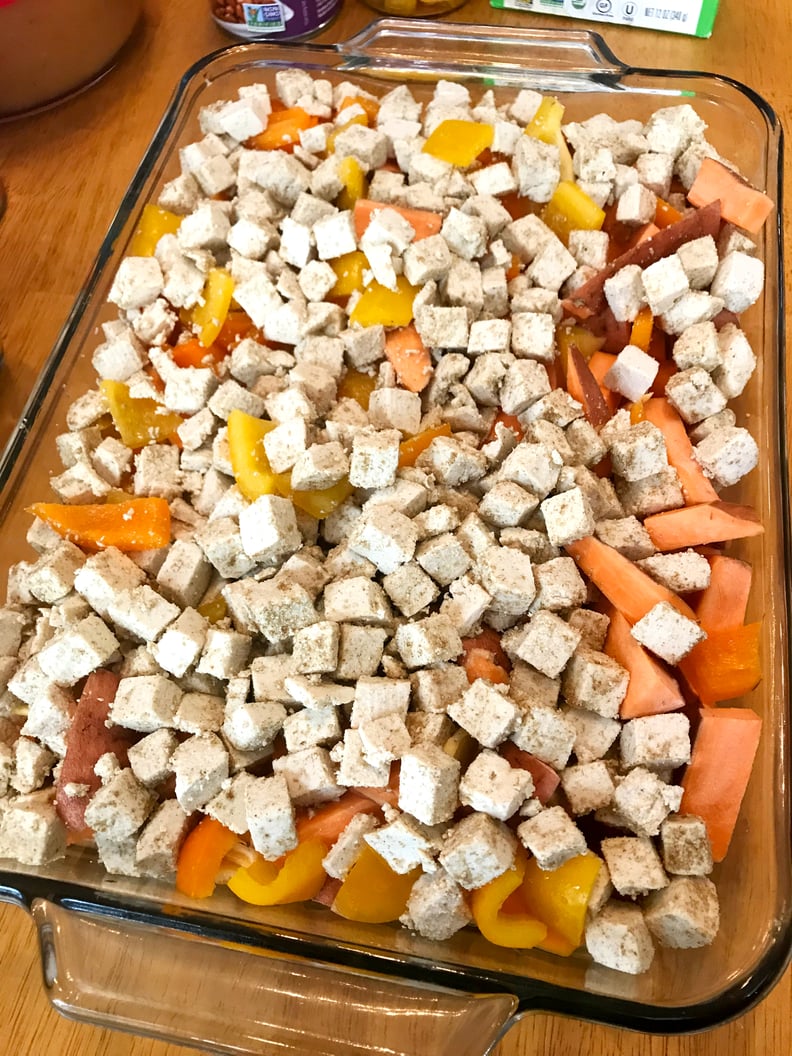 Wednesday Dinner: Roasted Tofu, Sweet Potato and Peppers
What to prep: Season two blocks of extra firm tofu (I buy Nasoya brand that's already cubed); cut up one large sweet potato and two bell peppers and store in covered glass baking dish
A weekly staple, this roasted tofu, sweet potato, and pepper one-pan dish takes about 40 minutes to cook, so prepping it on Sunday saves a lot of time.
I season the tofu in a separate bowl with garlic powder and salt, then add that to the chopped sweet potatoes and two bell peppers. I have a cover for this glass dish, so when I'm ready to cook it, I just stir in some olive oil and a little sea salt.
I usually serve this on its own, but sometimes I cook up quinoa while it's in the oven, and that makes this dish even heartier.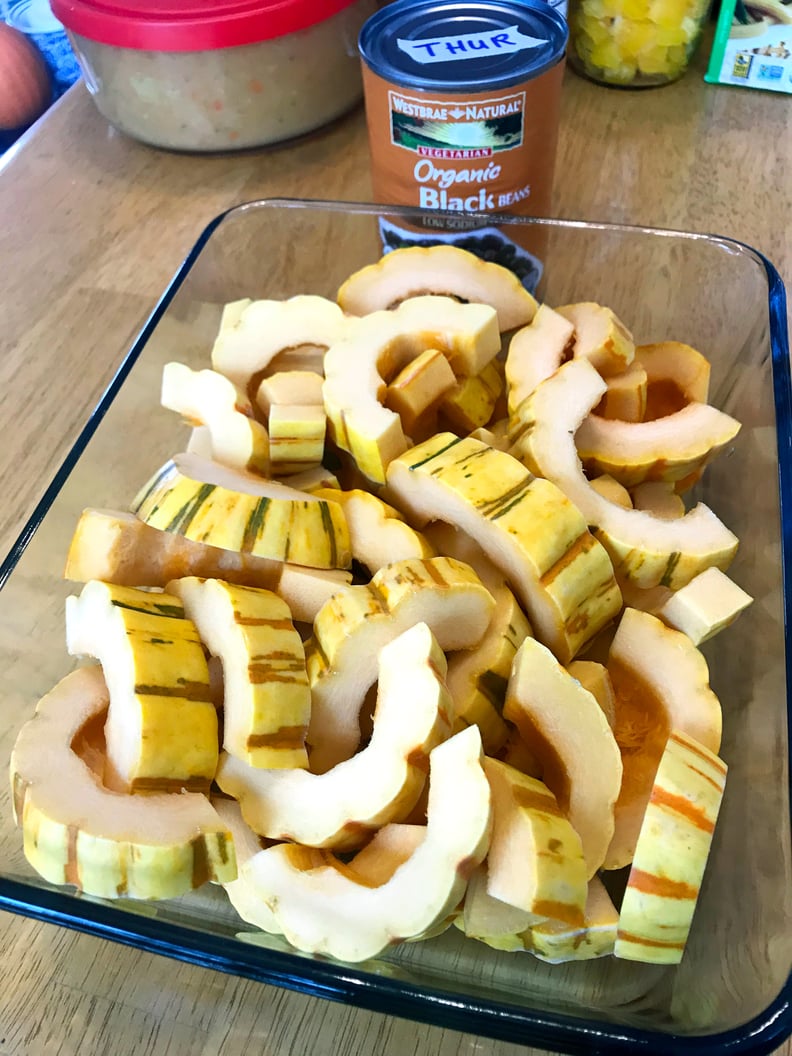 Thursday Dinner: Black Beans and Rice With Roasted Delicata Squash
What to prep: De-seed and cut up delicata squash, store in glass container
If you've never had delicata squash, get your hands on some immediately. I found these at Trader Joe's, but I'm sure any grocery store will have them — just look by the other squashes. It's sweeter than butternut and very similar to sweet potato. And you can eat the skin!
I halve two delicatas, then cut them into little half moons. So on Thursday night, I just roast them for 35 to 40 minutes on a pan with a little olive oil and salt, flipping them halfway. While they're roasting, I cook up some rice and serve this squash with black beans and rice. Or sometimes we make them into burritos. Simple and delicious.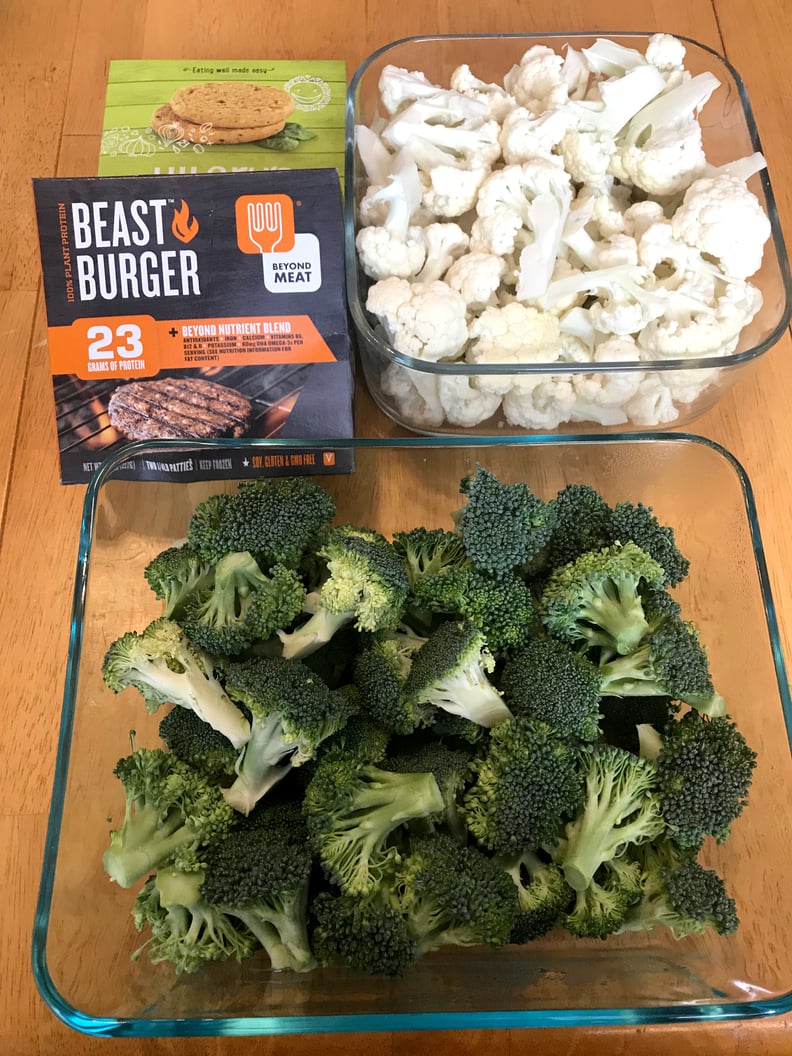 Friday Dinner: Veggie Burgers With Roasted Cauliflower and Steamed Broccoli
What to prep: Cut up cauliflower and broccoli, store in glass containers
After a long week of work and life, dinner needs to be a cinch on Friday nights. I keep veggie burgers on hand, like Beast Burgers (23 grams of protein!), Hilary's, D,r Praeger's, and my new fave, Trader Joe's High Protein Veggie Burgers (26 grams of protein!).
On Friday night, I roast the cauliflower with a little olive oil, garlic powder, and salt for about 30 minutes. I cook the veggie burgers in a pan and steam the broccoli for five minutes. The kids and hubs gets buns with their burgers, and I just go for extra veggies!