Jordan Marie Brings Three White Horses Daniel is the founder of Indigenous rights and advocacy group Rising Hearts, a Lululemon global run ambassador, and a citizen of Kul Wičasa Oyate, the Lower Brule Sioux Tribe. In 2019, she ran the Boston Marathon in honor of missing and murdered Indigenous women, girls, Two Spirit people, and relatives with a red handprint painted over her mouth, bringing national attention to this epidemic.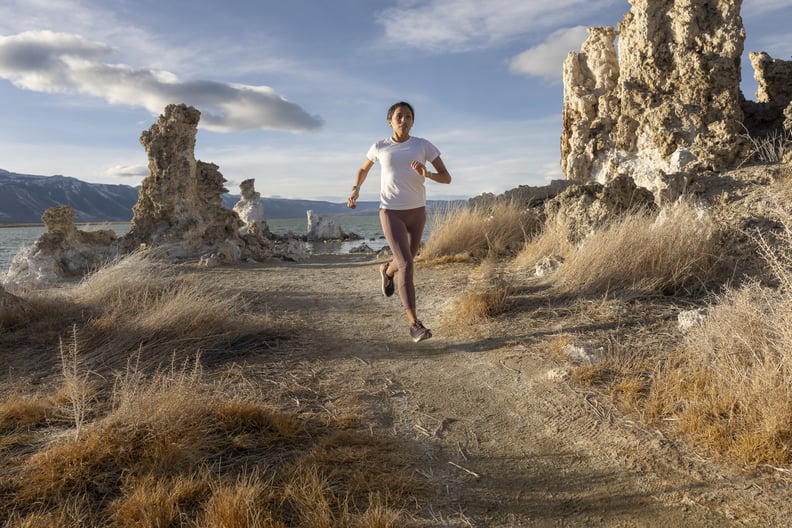 I fell in love with running in college, at the same time I was reclaiming my Indigenous identity as a Lakota woman. This was after being ashamed — and not wanting to be the brown-skinned girl in a very white town — for all of high school. A Native college professor of mine was like, "Hey, if you're homesick, why don't you go to Penobscot Indian Nation? They're having a round dance." Those experiences merging together reassured me that I was on the path I'm meant to be on, and gave me a big, deep appreciation for who I am as a Native woman and a runner.
But it wasn't really until Standing Rock in 2016 that I was motivated to become a community organizer. Prior to that, I was blogging, showing up at events, supporting organizers, and using my voice, but I wasn't taking a leading role in organizing rallies and protests. Then, I was asked to organize an event to welcome the Standing Rock youth, who were running over 2,000 miles to Washington DC from Cannonball, ND. I teamed up with one of my friends, and we got the permits and figured out the details in two weeks. We ran from the Supreme Court to the Army Corps headquarters, where we protested for several hours. A few days later, my grandfather passed away from cancer. He was a huge Native youth advocate, and I thought, "Organizing this event for our youth was the last thing he knew I was doing. What do I do with my life now? My biggest inspiration is gone." Two days after that, I saw the youth I had met on TV being attacked by dogs out in Standing Rock. That's where everything connected. That's what really lit the fire in my heart to organize, to support them, our relatives, and the frontline movements.
I think there's an opportunity right now for everyone to find what motivates them and commit to what they believe in.
What really inspired me to learn more about the epidemic of missing and murdered Indigenous women and girls, and start speaking about it, is what happened to Savanna LaFontaine-Greywind in North Dakota. She was murdered and her baby was taken from her belly. I'm so happy that baby is alive to carry on her memory, but the fact that people think that Native women are just disposable — that we mean nothing — was what really drove it home for me. I ran the San Diego half marathon in 2018 and 2019 and dedicated my bib number to MMIW [Missing and Murdered Indigenous Women]. Those races sparked a couple conversations, but I felt like we were still only talking about the crisis within Indigenous circles.
At the Boston Marathon in 2019, I thought, I'm just going to honor these women and girls the best way I know how: through running. I committed myself to saying a prayer for them, for their families, for our communities, for our next generations. It was a way to continue advocating, supporting the families, and supporting all the advocates who have been doing this work for decades. It wasn't until days after the marathon that, emotionally, physically, and mentally, it started to wear on me. This whole movement and running for justice has connected me to families who've reached out to me saying, "That's my auntie" or "That's my sister." "That's my mom." "Can you run for my relative?" I've committed myself to dedicating every single race to these women until I don't have to anymore. And sadly, I might be doing that until I leave this place. I did several races last year: 106 prayers, 106 miles, 106 names. I got Achilles tendonitis. Now, I'm on a new path with therapy and figuring out what's going to support me moving forward to be able to keep doing this instead of making me worn out.
Running has definitely made me more aware that I have targets on my back. I am a woman of color and I am aware of the statistics of missing and murdered Indigenous women. Look at what happened to Ahmaud Arbery. He should have been able to enjoy his run. What we're seeing now with the Black Lives Matter movement — and the deaths that we're all forced to see on TV or on our phones of George Floyd, Tony McDade, black trans people being murdered — is that it's all rooted in white supremacy, systemic racism, and oppression. Our traumas are so similar, and we are more than the stereotypes that are painted of us. We're runners, we're athletes, we're lawyers. I really love seeing the unity building between Black Lives Matter and Indigenous folks, because Indigenous folks are fighting for sovereignty and Black folks are fighting for liberation.
As the BLM movement evolved, I paused everything else I was doing to support Black lives, to really uplift them, center them, to get folks to start doing the work of anti-racism. And at the same time, we have these epicenters of COVID-19 impacting the Navajo Nation and Black communities. So, after receiving so many messages asking if I had connections to PPE or hand sanitizer, I decided to host the Running For the Health of All Nations virtual 5k a few weeks ago to raise money to support our communities.
Our goal was to raise $5,000, but we ended up raising over $18,000, with more than 700 people participating. It was really fun to create that campaign and get tagged in everyone's photos or stories, and just see the reach and the support. That's why I do this work, and it's those moments that I live for. I think there's an opportunity right now for everyone to find what motivates them and commit to what they believe in. That's what happened to me. Running is my art form. Running is my way to give back. Running is how I offer what I have to give to something that I believe in.
—As told to Lindsay Miller