Justine Lindsay Is the First Openly Trans NFL Cheerleader
Justine Lindsay on Becoming the First Openly Trans NFL Cheerleader: "I Got This"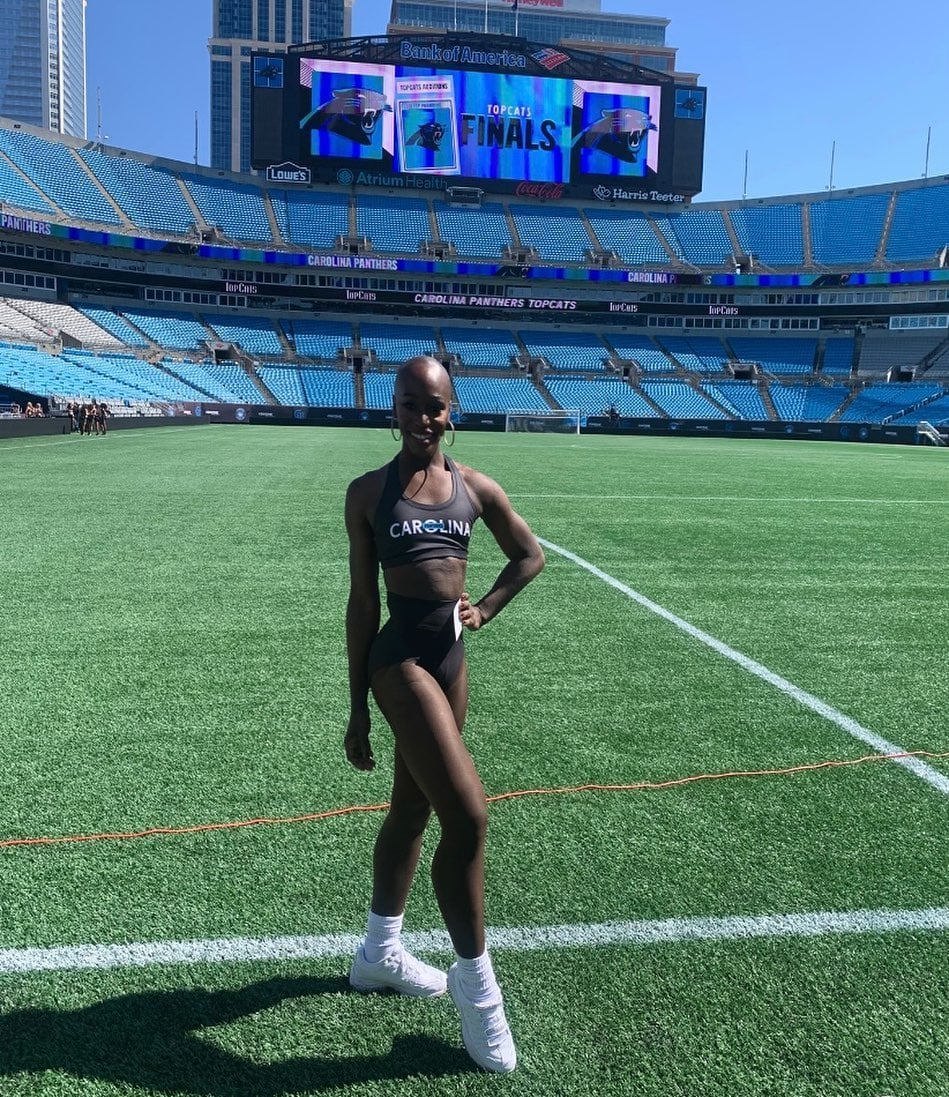 Image Source: Instagram user jus_lindsay_
Justine Lindsay is making history. The 29-year-old is the NFL's first openly transgender woman cheerleader, and she's officially joined the Carolina Panthers TopCats team for the 2022 season.
"Cats Out the Bag you are looking at the newest member of the Carolina Panthers TopCats Cheerleader's @topcats as the first Transgender female," Lindsay wrote in a March 30 Instagram post featuring her standing in the Panthers stadium during the tryout process. ". . . to my beautiful coach @chandalaelanouette you are a special being that I truly cherish thank you [for] taking that leap of faith on me to be [a part] of your legacy and so many others. This is a moment I will never forget and I cannot wait to show you all what this girl has to bring. Thank you @topcats a dream come true."
"I felt nervous but excited all at once, but once I felt comfortable and started to feel like myself, I just said, 'You know what, I got this,'" Lindsay tells POPSUGAR. "This experience is an amazing one that I am very blessed to be part of."

NFL cheerleading teams aren't traditionally known for their progressiveness or diversity of any kind (body, race, gender, or appearance) — but that tune is slowly changing. In 2018, teams started welcoming men dancers onto their rosters, including the Panthers, which did so in 2021 when two out gay Black men dancers (Tre Booker and Chris Crawford) joined the team. Of course, there's still a long way to go — but Lindsay is part of pushing the needle forward.
"The NFL aspires to be an inclusive organization in word and deed where all thrive and are welcomed," NFL's Senior Vice President and Chief Diversity & Inclusion Officer Jonathan Beane tells POPSUGAR. "The recognition of Justine's excellence as a dancer and cheerleader is a great step in that direction."
And Lindsay is happy to "break down that door" for future trans athletes who may want to follow in her footsteps, she said in an interview with BuzzFeed News. By publicly sharing her story, she's making room for more trans representation in a space that's historically extremely binary. "I'm paving the way for those under me who are scared and afraid to take that step because it is not easy to do when you have ignorant people making comments," she wrote in a June 6 Instagram post sharing the BuzzFeed story. "I will continue to be that pioneer I will continue to inspire and help my African American beautiful trans sisters until my last breath."
Unfortunately, this spotlight has also come with backlash — an all-too-common part of being a trailblazer in the 21st century. But Lindsay had the perfect response to the negative comments on social media. "Thank you to all my haters who think I'm bringing the organization down, clearly I don't," she wrote in one of her Instagram post captions. "The Carolina Panthers Organization is an excellent one, one that supports all people white, black, yellow, trans, straight, etc. at the end of the day myself and the other 29 members @topcats made the squad fair and square . . . So please mind your manners and understand that if you can't say anything nice please keep it to yourself."
Lindsay's presence on the sidelines is far more important than anything a disgruntled troll has to say anyway. This is a huge moment for her — and anyone else who might relate to her story. As she wrote in another Instagram post with a photo from her TopCats tryouts: "Dreams are reality. Dreams can manifest by putting in the work. Dreams can be accomplished with a focused mind body and spirit. This is my reality this is my story. Own it believe in it and everything will fall into place."