Maame Biney Pre-Beijing Winter Olympics 2022 Interview
Short Track Speed Skater Maame Biney Is Ready For Another "Blades-in-Your-Face" Olympics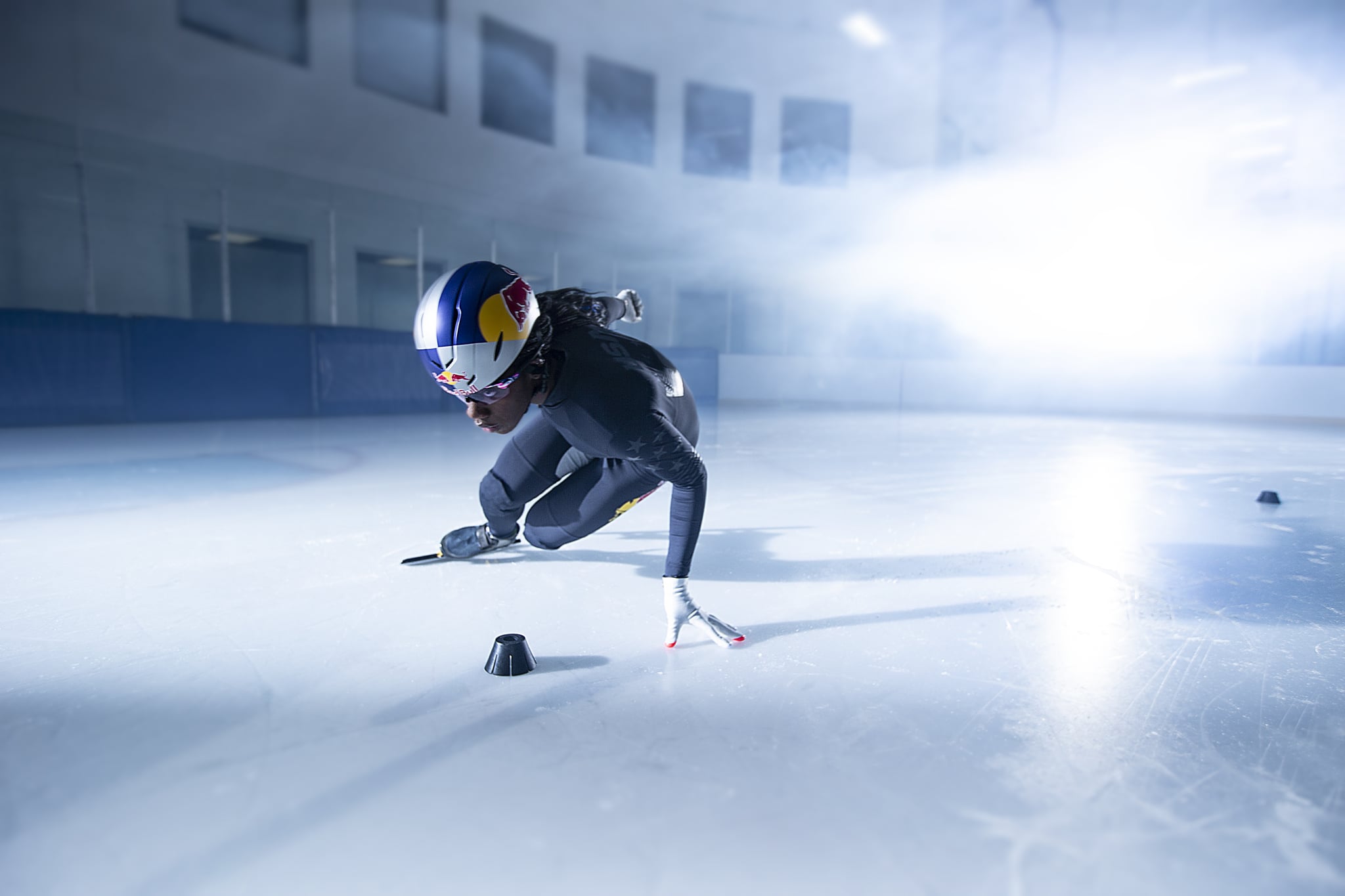 Maame Biney loves the nerve-racking, "blades-in-your-face" intensity of short track speed skating. "I can literally feel my nerves or the atoms in my body shaking, going against each other, whenever I get the adrenaline," she told POPSUGAR. Biney was the first Black woman to make a United States Olympic speed skating team ahead of PyeongChang 2018, and she is hoping to compete in her second Olympic Games this winter.
It's not about podium finishes for the 21-year-old. Instead, it's about enjoying the experience. "It would be amazing if I did get an Olympic medal, but . . . it's not like first on my brain. I think just going to the Olympics and doing as best as I can and just proving to myself that I can do it is a goal for me. Just being content and happy that I'm even there. You know?"
Biney, a psychology major at the University of Utah, said she's aiming to qualify for the 500-meter event at the Olympic Trials this December (Trials take place Dec. 17 through Dec. 19). The US can send up to five men and five women to Beijing 2022 depending on if Team USA qualifies for the relay. Qualifications are based on four World Cup events, and in the opening event, Biney and co. broke an American record in the women's 3,000-meter relay. The last time the US qualified, a women's Olympic short track speed skating relay squad was 2010. "I just think that if we are able to do what we have to do and just get in the flow of things . . . and just focus on us, I think we have a pretty good shot," Biney noted.
Biney has an electric laugh that radiates through the phone. She said she's a talker — "I have an opinion about everything" — and when we discussed life off the ice, she was quick to name some of her favorite things: watching TV as a way to decompress, Five Guys fries, listening to music (shout-out to Phora and Doja Cat), and Headspace for postrace nerves.
But Biney, like any student-athlete competing on the highest level, has gone through periods where her heart wasn't in the sport. "There have been so many times, especially in the past couple years, when I didn't even want to go to skating and I wanted to quit because I wasn't happy, you know? But if I did quit, I wouldn't be where I am right now and improving and just doing well," she said. As a Red Bull athlete, she felt "incredibly" supported by the brand: "They were just like, 'Whatever you need to do to be a better skater for your mental health.'" She's a person first, skater second, and Biney said the brand "loves me and appreciates me for who I am."
Maame Biney's Advice to Young Black Athletes
Biney looks up to speed skater Shani Davis, whom she sees frequently at the Utah Olympic Oval, where he coaches a long track team and she trains. Davis was the first Black athlete to win an individual gold medal at the Winter Olympics. "That definitely made it so that other young Black skaters could keep going and could enter the sport just like I did," she said.
Winter sports are notoriously expensive, and Biney explained that speed skating in particular, with its high cost for equipment, ice time, and coaches, is one reason for the racial disparity between Black and white athletes in the Winter Olympics. She acknowledged that she was "very privileged growing up to have a dad that worked a lot to get me to practice," especially because she's seen Black athletes go in and out of speed skating the last 15 years.
Biney came to the US from Ghana at age 5 after her father relocated here; her mom and brother are still in Ghana. "He's sacrificed so much for me to be here and do what I do," she said. Her dad made headlines back in 2018 when he brought a sign to the Olympic Trials that said, "Kick Some Hiney Biney!" (If any local spectators want to re-create that sign for her pending her Olympic qualification in Beijing, that would be much appreciated!)
Biney doesn't want those following in her footsteps to let the lack of representation deter them. "For the young Black athletes who feel like they're going to be the only ones in their winter sport, I think that's so cool," she said. "And you should just embrace that. Don't run away from it. Embrace it and just say, 'Hell yeah. I am the only Black person in this sport, and I'm going to prove to everyone that I'm amazing.'"
Biney noted that "luckily, in the sport, in speed skating, I've never felt different. I've never had anyone blatantly come up to me and be like, 'You don't belong here because you're Black.' That's never happened." She added that it was still difficult at times, but at the end of the day, it was all worth it. "Showing up and being there for yourself and not anyone else," she said, "is just an accomplishment in itself."
Image Source: Red Bull Content Pool