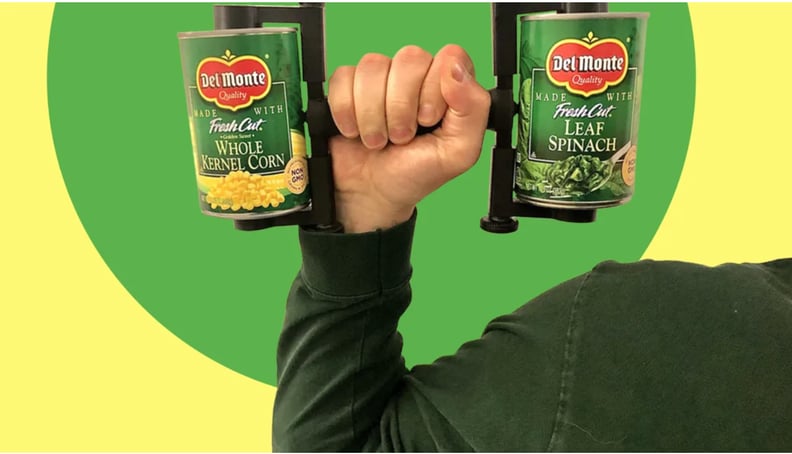 Emily Fukunaga
Emily Fukunaga
If you're like me, your at-home workouts involve a lot of random household objects. I've been known to bicep-curl with cans of pumpkin puree and chickpeas while using books as yoga blocks. It works in a pinch, but the longer you go without a gym, the more you start looking for a more permanent solution. With exercise equipment scarce and laughably overpriced right now, one home workout warrior fashioned her own makeshift dumbbells that take those soup cans to the next level.
She created the MakeWeight, a DIY dumbbell device that clamps two cans to a handle, resulting in a customizable weight you can lift and press to your heart's content. The product is currently in the middle of a Kickstarter campaign, with over $7,200 raised toward its $13,700 goal.
The inspiration for the quirky contraption came from creator Emily Fukunaga's own experience. She started out doing squats with a 12-pack of Diet Coke, according to a press release, before experimenting to find a better solution. She reasoned that a product like this could have several positives: beyond being convenient for home fitness, it could also save money, ease the strain on essential shipping workers, and reduce shipping emissions, since it could replace the multiple sets of dumbbells that users would be ordering otherwise.
MakeWeights aren't in production just yet, but you can donate to the Kickstarter campaign to reserve a pair (or several). According to the Kickstarter page, the prototype can support five pounds, and the final, reinforced product may be able to go heavier. It's no barbell, but the device could be a substitute for a typical lightweight dumbbell, especially for those of us looking to upgrade our home workouts without shelling out (or making space) for multiple sets of weights.