Your 1-Day Healthy Whole30 Meal Plan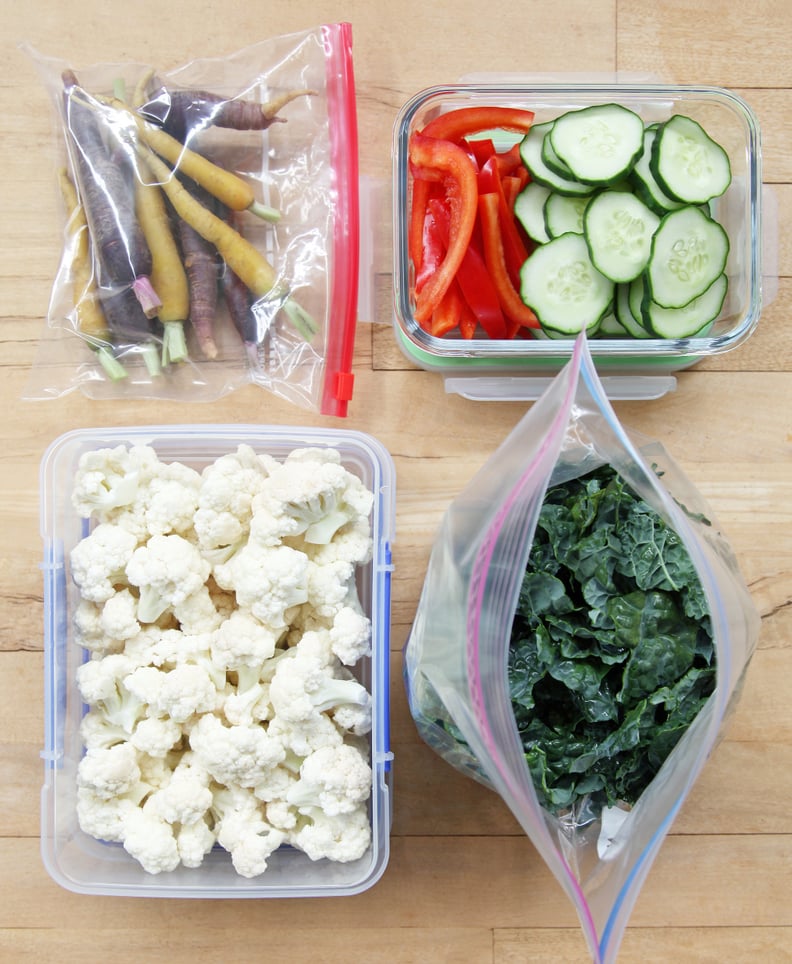 POPSUGAR Photography | Nicole Perry
POPSUGAR Photography | Nicole Perry
To say the Whole30 Diet is strict is an understatement. For a month, you'll be giving up grains, sugar, dairy, alcohol, and legumes. There's no workarounds either — if you think you can get away with making a Whole30-version of your favorite dessert, think again. There's no Paleo pizza or almond-flour pancakes to be had; just simple, whole foods enjoyed in their most natural states.
Even if 30 days isn't something you can commit to, it's worthwhile going Whole30 now and again. You'll be eliminating processed foods and focusing on a low-carb, high-protein diet (which is especially great if you're looking to lose weight). And with the right recipes, it's also damn tasty. If you're flirting with the idea of starting the Whole30 or just need to reset your eating habits, give this one-day meal plan a go. All the meals are easy to prepare and will keep you satisfied throughout the day.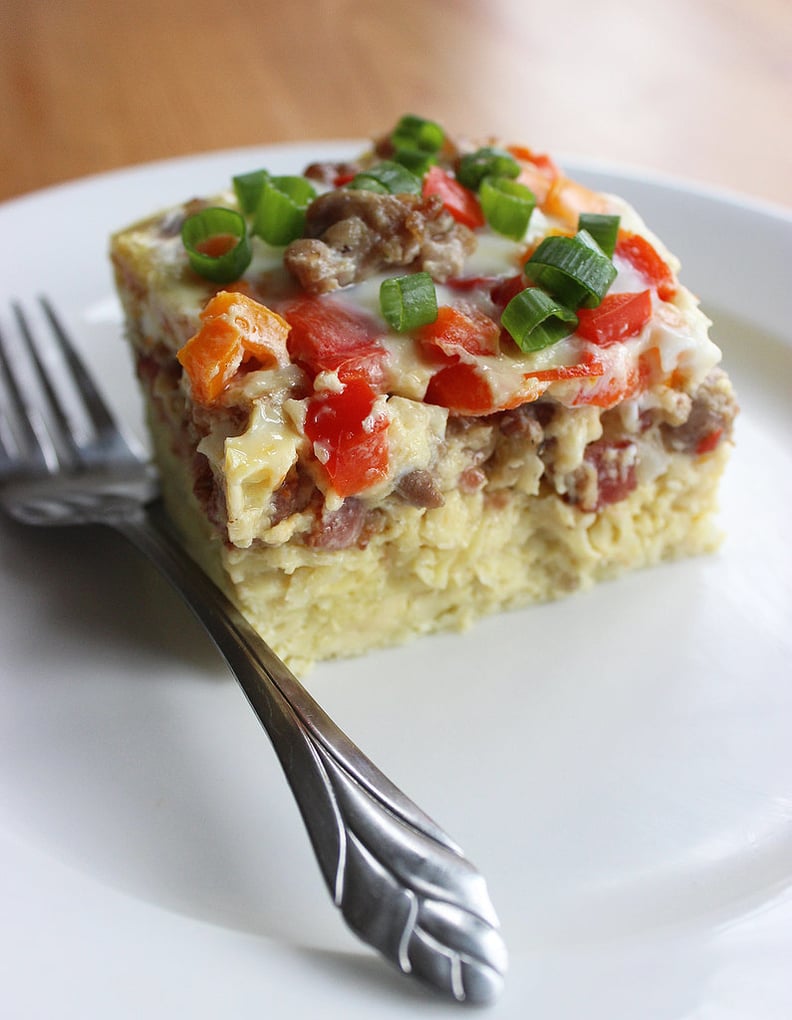 Breakfast: Overnight Breakfast Casserole
Because there aren't a lot of grab-and-go morning options on the Whole30 — sorry bagels, yogurt cups, and oatmeal — breakfast is often the most difficult meal of the day when following this plan. For ease and convenience, we're fans of this overnight breakfast casserole. Simply add all the ingredients to a slow cooker before going to bed to have breakfast waiting for you in the morning. Because this recipe yields 10 servings, you'll be set for the entire week (and then some).
Calories: 375, Fat: 28, Carbohydrates: 8 g, Protein: 21 g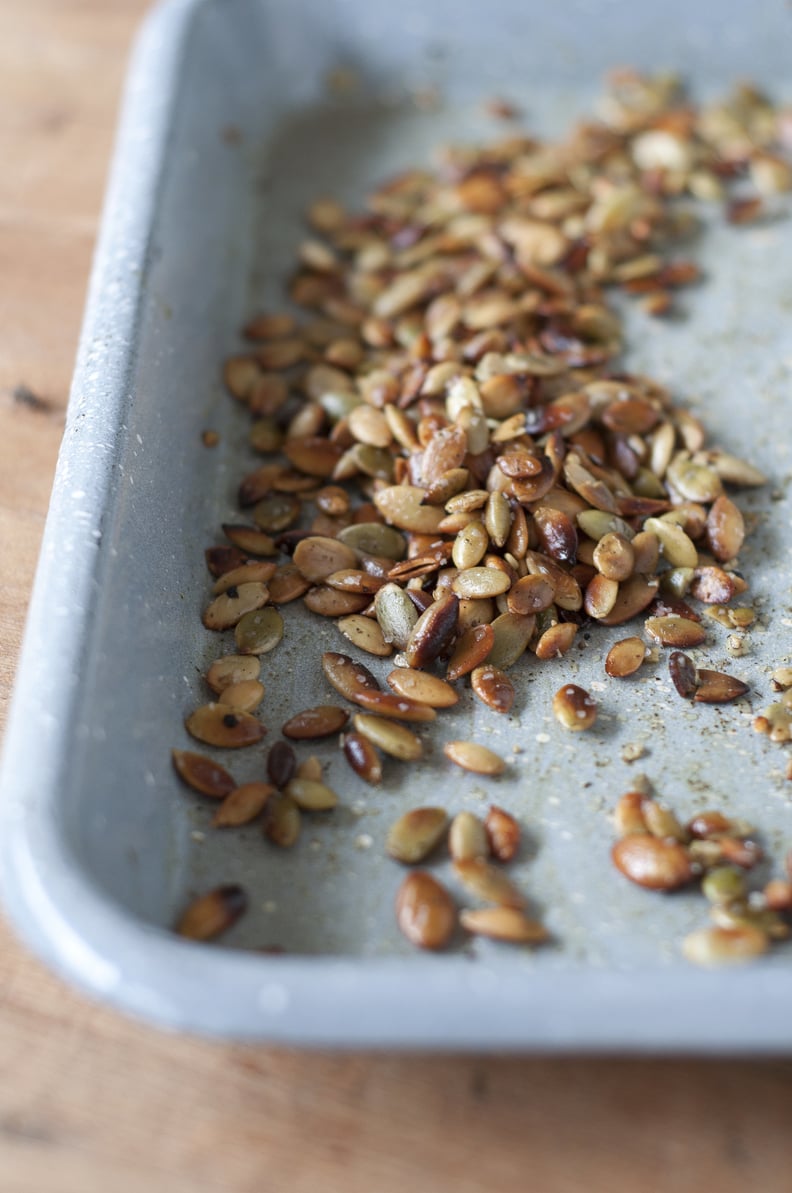 Morning Snack: Roasted Pumpkin Seeds
For a quick morning snack, nothing satisfies like homemade roasted nuts. Pumpkin seeds, in particular, are a good source of protein and fiber, which will help tide you over until lunch. If you aren't a fan of pumpkin seeds, look for almonds, walnuts, or cashews instead.
Calories: 140, Fat: 6, Carbohydrates: 15 g, Protein: 6 g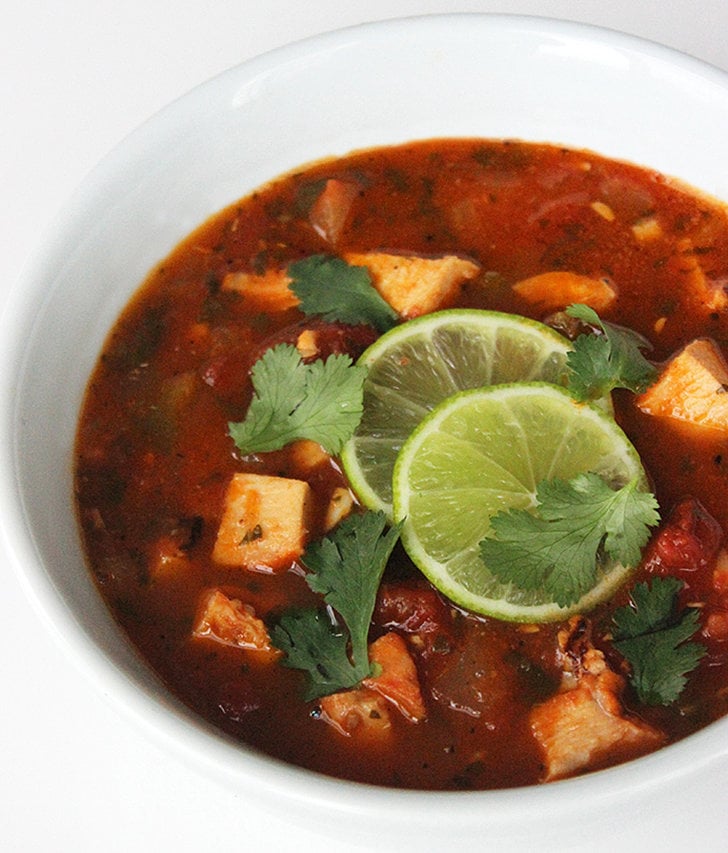 Lunch: Chicken Tortilla-Less Soup
This chicken tortilla-less soup takes under 20 minutes to prepare, making it an easy recipe to throw together before the start of your workweek. While it's low on calories, it rates high on the protein scale to ensure your body gets everything it needs to power through the day.
Calories: 291, Fat: 7, Carbohydrates: 13 g, Protein: 39 g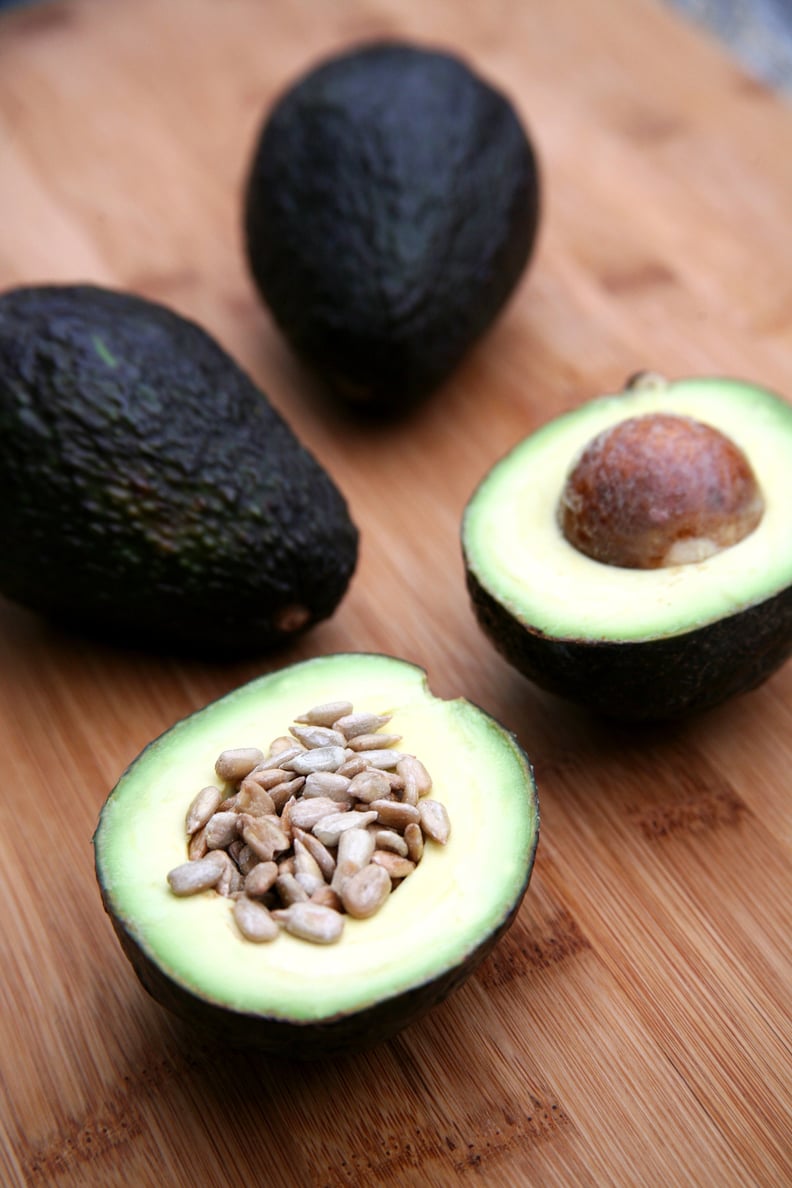 Afternoon Snack: Avocado and Sunflower Seeds
This two-ingredient avocado snack couldn't be easier to make. The healthy fats and fiber will keep your energy levels up until it's time for dinner.
Calories: 169, Fat: 15, Carbohydrates: 8 g, Protein: 4 g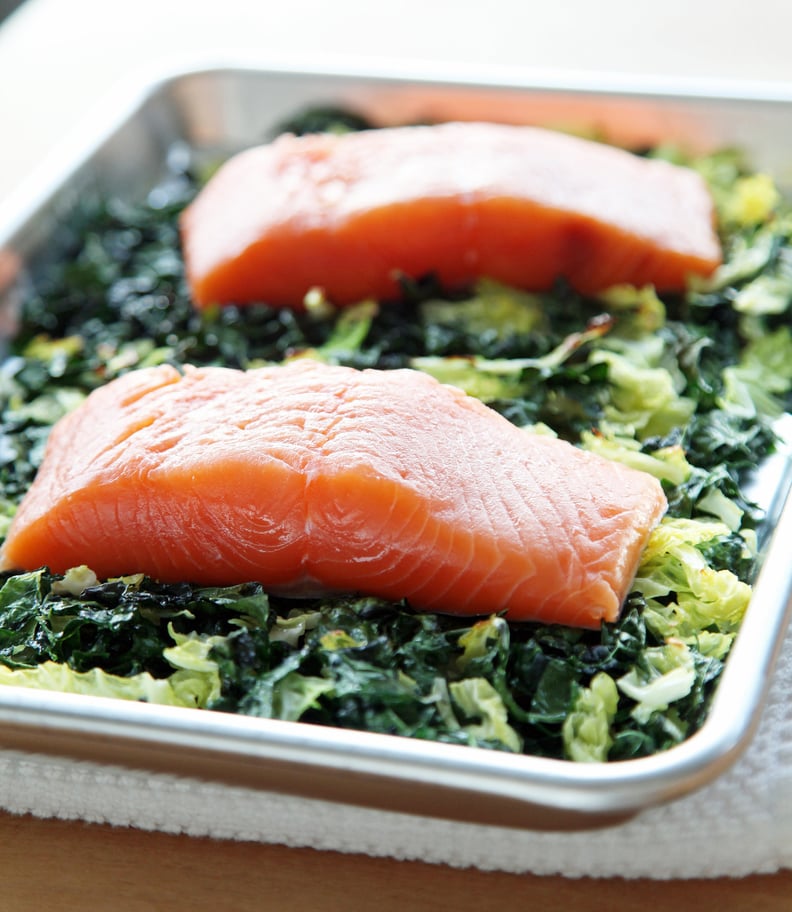 Dinner: Salmon With Crispy Cabbage and Kale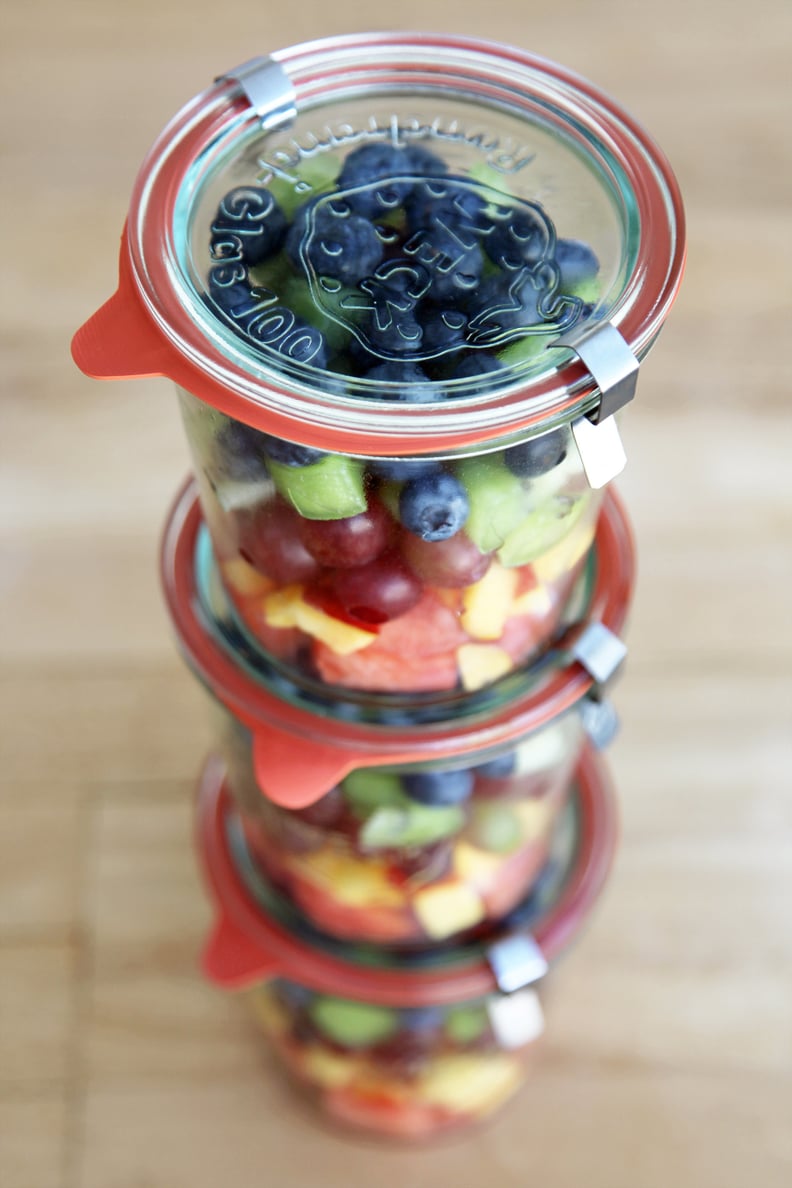 Dessert: Fruit Salad
If the day isn't complete without dessert, end your night with a simple fruit salad. Be sure to stick to berries to keep calories and carb counts low.
Calories: 70, Fat: 1 g, Carbohydrates: 16 g, Protein: 2 g