More Women Are Breaking Into Professional Sports Officiating
Super Bowl Ref Sarah Thomas Is the Latest in a String of Women Breaking Barriers in Pro Sports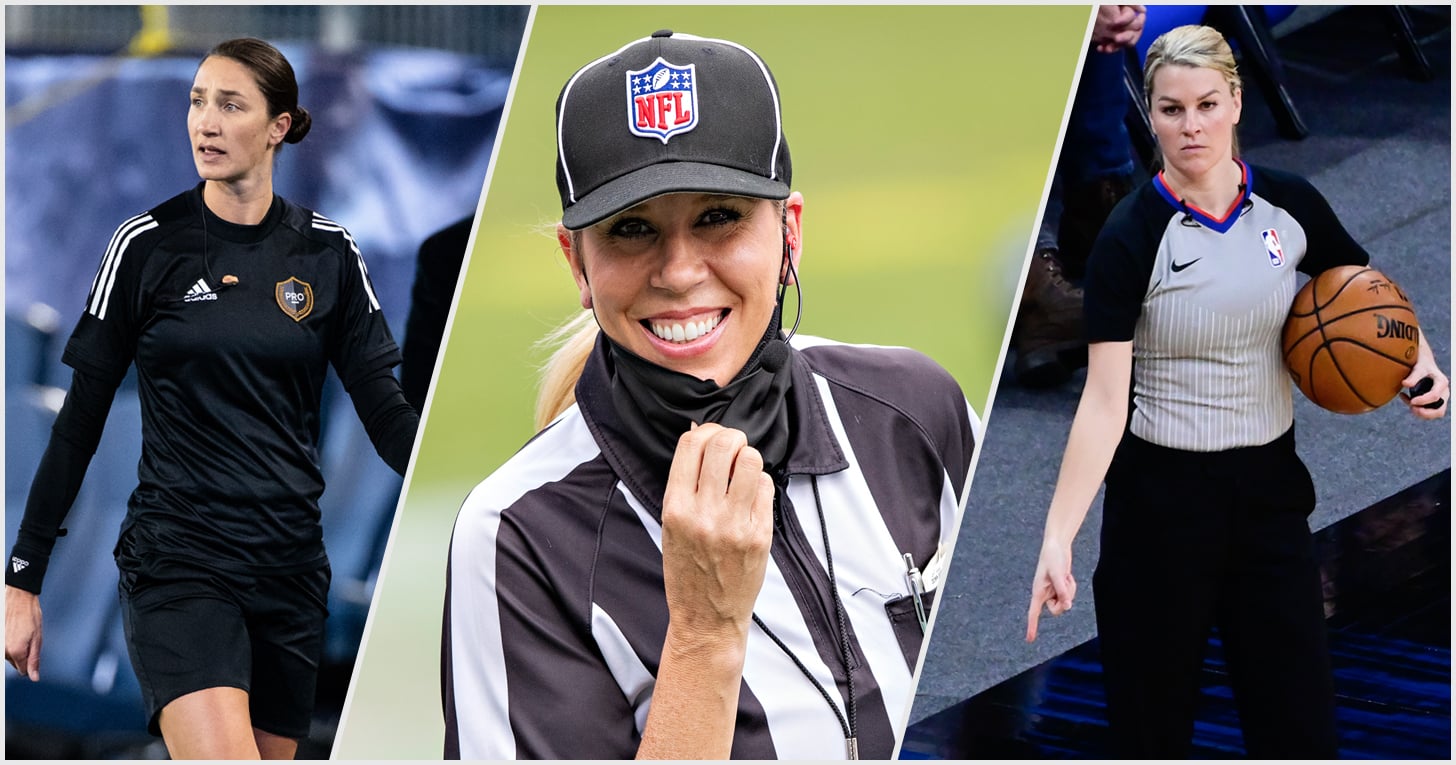 The most significant thing happening on the field Sunday during Super Bowl LV will not be Tom Brady gunning for the championship with a team other than the New England Patriots, or Patrick Mahomes having a shot at winning his second consecutive title. No, the big news will be happening on the sidelines, where Sarah Thomas will make history as the first woman to officiate a Super Bowl.
Thomas's historic accomplishment is long overdue; the fact that it's happening in football, a sport that women have been largely shut out of since its debut in the 1880s, makes it an even bigger deal. Due to sexist stereotypes, football is still considered to be a man's game — too physically aggressive for women's more delicate nature, despite the fact that women have played the game since its inception. That Thomas has broken through in football, specifically, deserves to be celebrated. But she is part of a larger trend of women officials rising in the ranks of professional sports, a field that has long been off-limits to them.
Thomas is part of a larger trend of women officials rising in the ranks of professional sports, a field that has long been off-limits to them.
In a 2017 survey by the National Association of Sports Officials (NASO), only 6 percent of the 17,487 respondents were women. Of those women, only 95 had ever officiated at the professional level, and that's across all sports. Thomas has made it to the echelon of her field, but she's the only woman on a roster of 131 National Football League officials, and she made her debut in 2015 — 95 years after the NFL began. While Kathryn Nesbitt made history when she officiated Major League Soccer's championship match last December, other men's professional leagues — including Major League Baseball and the National Hockey League — have yet to have a woman officiate a game.
Even in basketball, which is leaps and bounds ahead of most other sports, two women had never officiated together in a National Basketball Association game until a couple weeks ago, when Natalie Sago and Jenna Schroeder became part of the first two-woman officiating crew in the league's history. "This is a big deal," Schroeder said in an NBA press release. "It's like my feminist dreams come true, that like my personal values are colliding with my professional values and it's awesome."
The strides women have made in breaking into the top ranks of sports officiating have accelerated just over the last few years. In 2018, I wrote about how, despite the NBA being the first men's professional league to hire women officials, their progress had stalled. At that time, there was only one woman officiating in the league. Today, there are five.
Like other sports, however, the pipeline to becoming an NBA ref is full of potential. The G-League, the NBA's development league, has had three-women crews before, and there are a decent number of women officiating in the WNBA. (In 2018, 28 percent of officials in the NBA's G-League were women, as well as 37 percent of officials in the WNBA.) There are 10 women listed on the "women's panel" of soccer's Professional Referee Organization, which provides officials to the National Women's Soccer League and MLS, among others. Two women are umpiring in minor league baseball, and the NHL is actively developing the women officials in its pipeline.
We are just over a month into 2021 and there has already been a third first for officiating in professional sports — the National Women's Hockey League brought an all-woman officiating crew to their (doomed) "bubble" season in Lake Placid, NY. There were 10 members of that crew, through a partnership with USA Hockey. "We're appreciative of the partnership that has been formed with the NWHL in an effort to promote and develop our female officials," Matt Leaf, director of USA Hockey's officiating education program, said in a press release.
Women have been such an afterthought when it comes to sports officiating that they often don't even have uniforms or equipment in sizes that fit them.
It's often hard for women to break into a field that is not designed for them. That means from recruitment on up, the system has to be redesigned to be more inclusive. Women have been such an afterthought when it comes to sports officiating that they often don't even have uniforms or equipment in sizes that fit them. Baseball umpire equipment doesn't come in women's sizes, meaning that women are having to rig chest plates designed for wider, flatter chests to fit their bodies, often using a heat gun to bend and shape the metal plates themselves. When Thomas was first promoted to the ranks of the NFL, the uniforms only came in men's sizes; hers had to be customized.
And while breaking into men's professional sports shouldn't be considered the pinnacle of success — after all, women's sports are not second fiddle — the fact of the matter is that there is a huge pay discrepancy between men's and women's professional leagues. So, if someone hopes to make a career out of officiating, men's sports will better allow them to do that. It's just one more place the gender wage gap manifests.
There's some evidence that diversity and inclusion efforts have increased their focus on recruiting women into the field of officiating because it's considered a dying industry — not enough young people are entering the field or pursuing it as a career path. That is a cynical view on the issue, perhaps, but it doesn't take away from the significance of the strides women officials are making in professional sports.
"I never set out to be the first in any of this. But knowing the impact that I'm having on not just my daughter but young girls everywhere, women everywhere," Thomas said in a video for the NFL about her achievement. "When I get on that field and I take it all in, I know that I'm probably going to get a little teary-eyed. This is remarkable, and I'm truly honored and humbled to be a part of this year's Super Bowl crew."