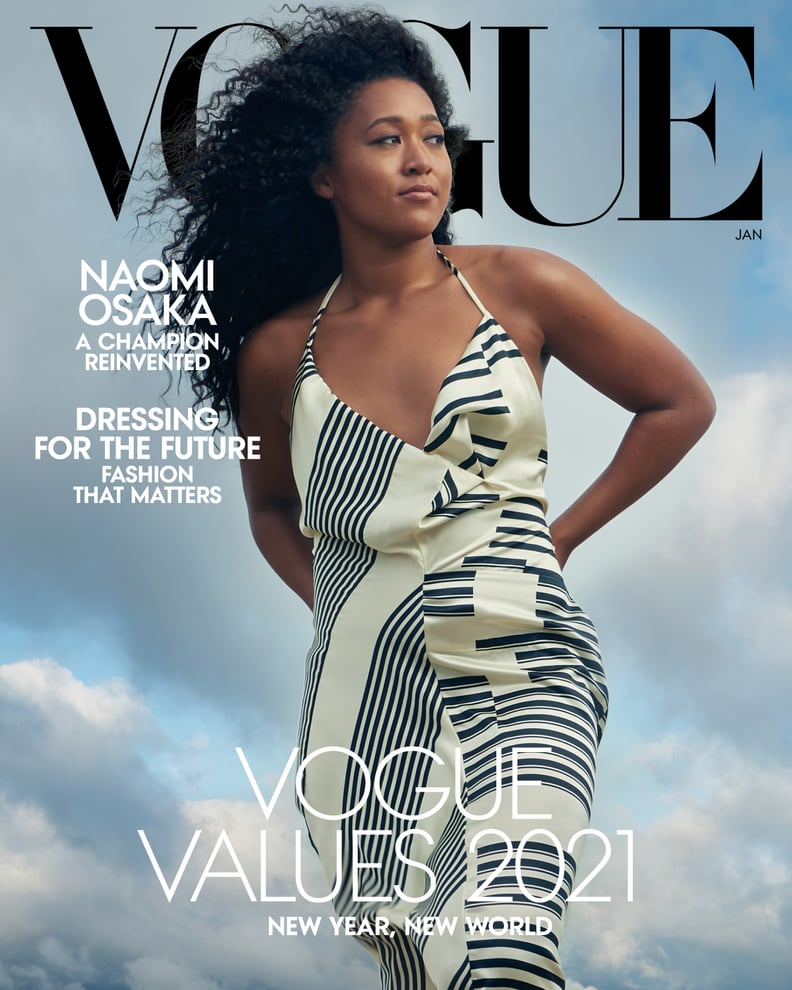 Vogue | Annie Leibovitz
Vogue | Annie Leibovitz
Naomi Osaka left her mark during an abbreviated tennis season. If you watched her win the US Open, you couldn't help but be struck by her strong stand against racial injustice, encapsulated by the names on her face masks that honored Black lives lost at the hands of racial violence. In her January cover for Vogue, one of four hitting shelves on Dec. 22, Osaka opened up about how she's forcing tennis to reckon with racial justice movements, as well as how her game is evolving and the influence that Serena Williams's groundbreaking career has had on her own.
Osaka began to publicly protest and speak out for racial justice after George Floyd was killed by police officers in May, but it was "something that was building up in me for a while," she said. The break in her tennis schedule due to the pandemic meant she had more time than usual to follow with US news, almost forcing her to see what was going on, she said. Osaka took part in Minneapolis protests over Floyd's death and the experience shaped her response, which she said may have been surprising to some. "I'm Black, and I live in America," she said. "I personally didn't think it was too far-fetched when I started talking about things that were happening here. There are things going on here that really scare me."
Her activism didn't stop there. After Jacob Blake was shot by police in August, Osaka opted to sit out her match at the Western & Southern Open, inspired by a strike started by the NBA and adopted across sports. The following month, Osaka would use her US Open platform to create visibility for police brutality and racial injustice.
Even as Osaka forges her own path, she gives credit to one tennis icon that led the way. Both Osaka and her sister, Mari, shaped their career path after that of the Williams sisters, and Serena Williams in particular remains one of Osaka's idols. "I would say that if Serena wasn't there, then I wouldn't be here, and I think that a lot of players would say the same thing," she explained. And while she's beaten Williams memorably in the past, Osaka said there are still many things she can learn from Williams's game, like her aggressiveness, and added that she's still a little intimidated by her opponent.
"I get very shy when she's like 10 feet away from me," Osaka said, something that even affected her in the 2018 US Open finals, though she said she strove not to show it and give Williams that edge. "When I'm stepping on the court, I have to treat her as a tennis player, not as Serena Williams," Osaka said. "I just blocked out all my emotions and thought about playing against the ball, like every ball that came across the net was my opponent."
And according to Osaka, her development as a fearsome competitor goes hand in hand with her activism. She used her face masks at the US Open to raise awareness of police brutality against Black people, and the further she advanced in the tournament, the more names she was able to represent. "That was a big motivator for me," she said. "I think it helped me win the tournament."