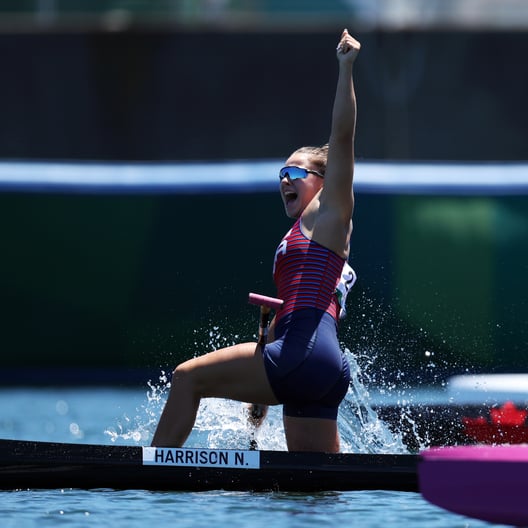 Nevin Harrison made Olympic history Thursday by earning the first-ever Olympic gold medal in women's canoeing. The 19-year-old had the best time in the 200-meter sprint in the heats, the semifinals, and the finals, ultimately winning with a time of 45.932 seconds. The way she paddles with such strength and determination makes her look so badass! We're totally inspired to kick butt at our next workout, even if we're not in a canoe.
Team USA haven't seen a medal in canoe or kayak sprint since the 1992 Barcelona Games, when Greg Barton took bronze, and this is the first time we've won gold. Not only that, but as this was the first time women's canoe sprint has been added to the Olympics, it's huge for Harrison to be the first woman to win gold! Harrison was the only US canoe or kayak sprinter to qualify for Tokyo, and she is clearly dominating the sport.
Canoeing wasn't always Harrison's sport of choice. She was originally into track and field, running 100-meter and 200-meter sprints. But after being diagnosed with hip dysplasia at age 14, the excruciating hip pain forced her to stop. She was interested in canoeing at age 12, and at 17, she won her first historic world championship. And now she's a gold medalist!
Check out the USA canoe and kayak team cheering her on at their watch party in the video above, then look ahead for more photos from this amazing competition.