Obé Fitness Launches Step Aerobics Classes
Grab Your Sweatbands — Obé Fitness Is Launching Step Aerobics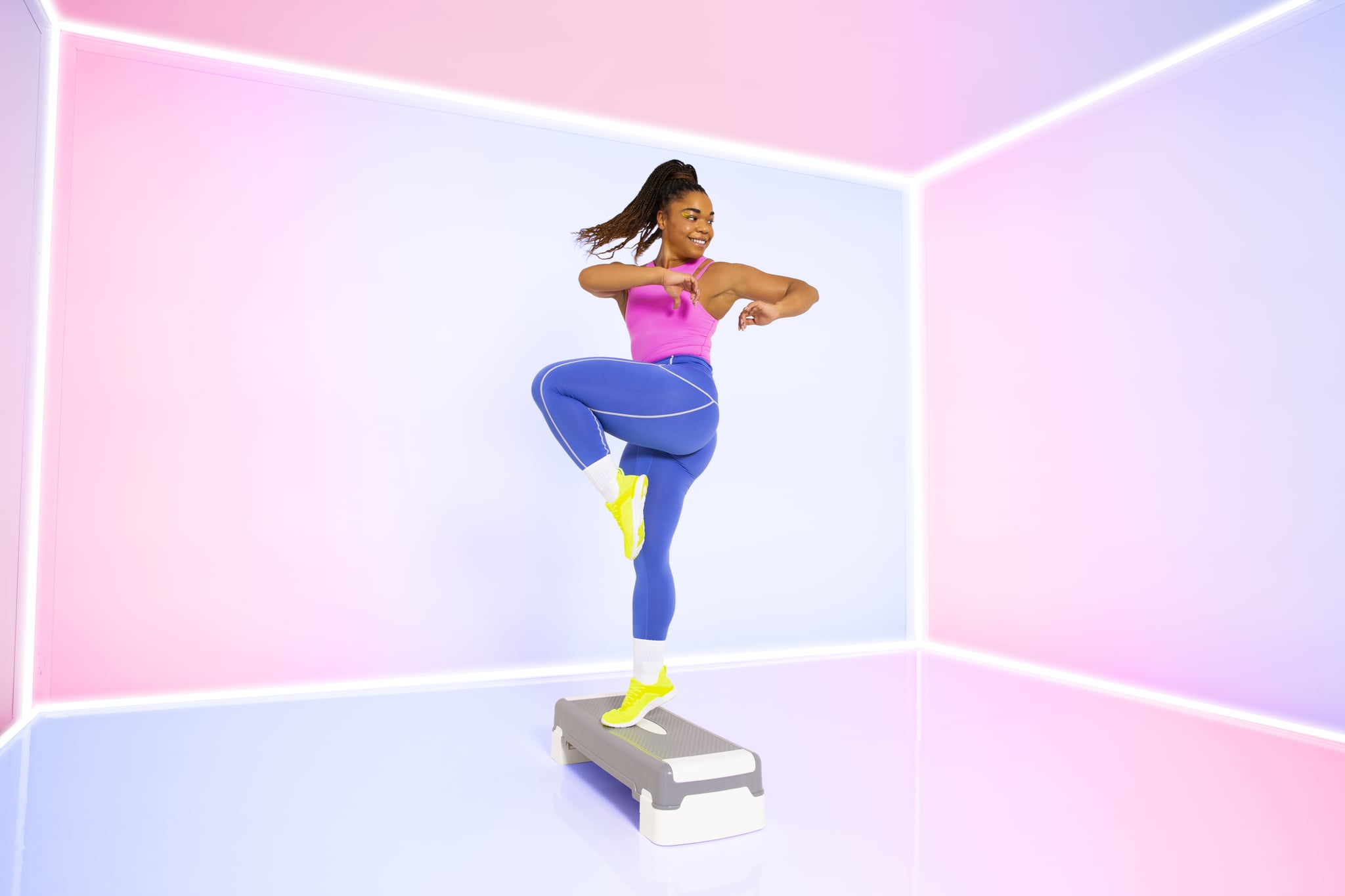 Low-waisted jeans are coming back, and dad sneakers are fully a thing again — and the pop culture revivals don't stop at fashion. Streaming platform Obé Fitness is resurrecting one of the highlights of fitness past with its latest launch: step aerobics classes.
Starting Monday, April 18, Obé's new Step series will be available, and it's channeling all the Jane Fonda, Richard Simmons, and Jazzercise vibes — but "leveled up for today's consumer," says Mark Mullett, cofounder and co-CEO of Obé.
"As children of the 1980s, we both grew up in the suburbs where we watched our moms work out with all the classic aerobics instructors — Jane Fonda, Richard Simmons, Jack LaLanne, Denise Austin," says Ashley Mills, Obé's other cofounder and co-CEO. "If you take a look at Obé's colorful aesthetic, you can clearly tell we were inspired by the '80s and early '90s fitness scene. So who better to launch a reimagined version of step aerobics than Obé?"
Step classes will be taught by Samantha Goltz, Ana Clarke, and Kathryn Avery to start and be either 50 minutes, 28 minutes, or 10 minutes long. They'll pair cardio-heavy choreographed sequences with high-rep strength moves using step equipment and bodyweight.
"Our audience really loves Sculpt and Strength workouts, and Step delivers the perfect combination of both cardio and strength benefits, while also working on your balance, coordination, and agility."
Step aerobics may have fallen out of fashion as of late, but it deserves a space in your routine: it's a great way to do high-intensity but low-impact cardio (read: gets your heart pumping while being gentle on your joints), says Goltz, NASM-certified personal trainer and Obé Step, Dance Cardio, and Sculpt instructor. And since it doesn't require much space, it's perfect for at-home workouts. The physical act of stepping up and down builds strength in your glutes, legs, core, and back, though Obé also sneaks additional strength moves into its Step classes to make it a full-body workout. Finally, the beat-based choreography element challenges your brain, so "you'll improve your balance, coordination, and agility over time — and it's rewarding to see how you progress along the way," Goltz says.
Not to mention, timing it to music makes it just plain fun, and that's what fitness should be. "Research backs that up! One study found that a 50-minute step session helped lower negative emotions while boosting mood and energy levels," Goltz says.
It's truly a class that anyone can take. "There are plenty of modifications to take for people at any fitness level," Goltz says. "You can start with the basics, and level up to a more difficult routine (and higher step!) when you're ready. Plus, the music we play in class really helps you stick to the beat and get into a good rhythm! Afterward, you'll feel amazing and accomplished — this workout is no joke."
You can access Obé's new Step classes starting on Monday, April 18, with a subscription to the platform ($19/month or $200/year). If you've never tried Obé before, you can give it a test run with a seven-day free trial before signing up.
Need a workout step? Grab the POPSUGAR Step Deck ($30, originally $35) from Target so you're ready when Obé's Step classes drop.
Image Source: Obé Fitness