Old Navy High-Waisted Crossover Leggings | Editor Review
I Found a $20 Alternative to the Crossover Leggings You've Seen All Over TikTok
As POPSUGAR editors, we independently select and write about stuff we love and think you'll like too. If you buy a product we have recommended, we may receive affiliate commission, which in turn supports our work.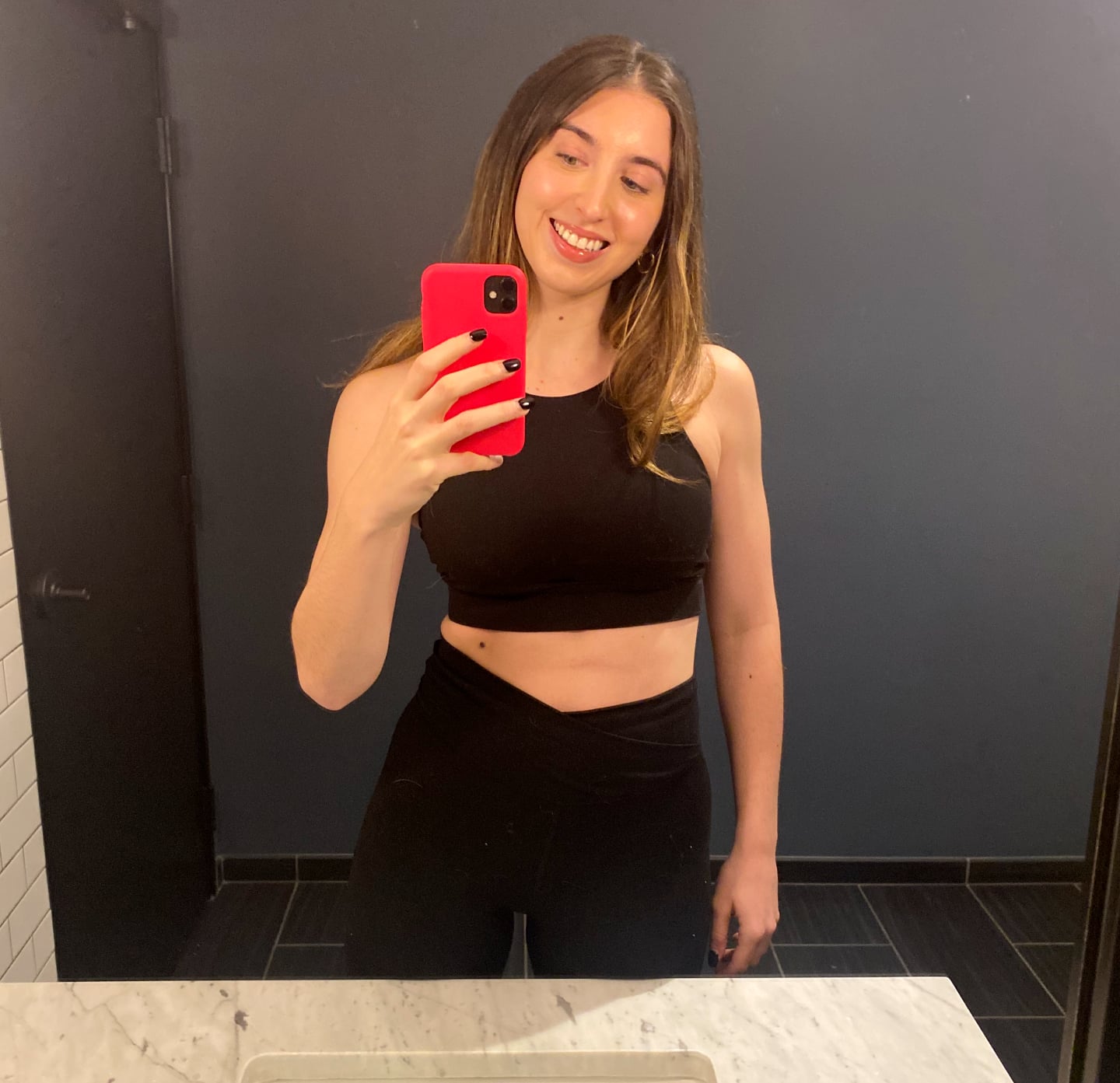 Having a wardrobe full of timeless essentials is of the utmost importance to me — and beyond the wardrobe basics, that sentiment also applies to my athleticwear collection. When I'm not wearing "real" clothes, chances are I'm in some form of athleisure (probably a pair of workout leggings and a cozy quarter-zip). As someone who works from home full time, I prioritize pieces that make me feel put-together, even if my only plan for the day is to answer emails on the couch.
Recently, I've been searching for a new pair of leggings, particularly a pair featuring a crossover waistband like the ones that are all over TikTok. So when I came across them at Old Navy for less than I'd pay for a workout class, I knew the time was right to scoop them up. Dubbed the PowerChill Crossover Leggings ($18-$20), they checked all my boxes, from their 7/8 length to their extra high-rise fit. To complete the look, I added the brand's top-rated Medium-Support Strappy Longline Sports Bra ($20, originally $27) to the cart, too
When they arrived, I slipped them on almost immediately and proceeded to fall in love. The leggings are a light cotton-blend jersey fabric that's equally soft, stretchy, and slightly compressing — perfect for lounging or getting your sweat on. But hands down, the best detail of all is the famed crossover detail. I fell in love with the way they shaped my body and gave me an unexpected confidence boost. (Like, take-selfies-in-the-gym-locker-room vibes.)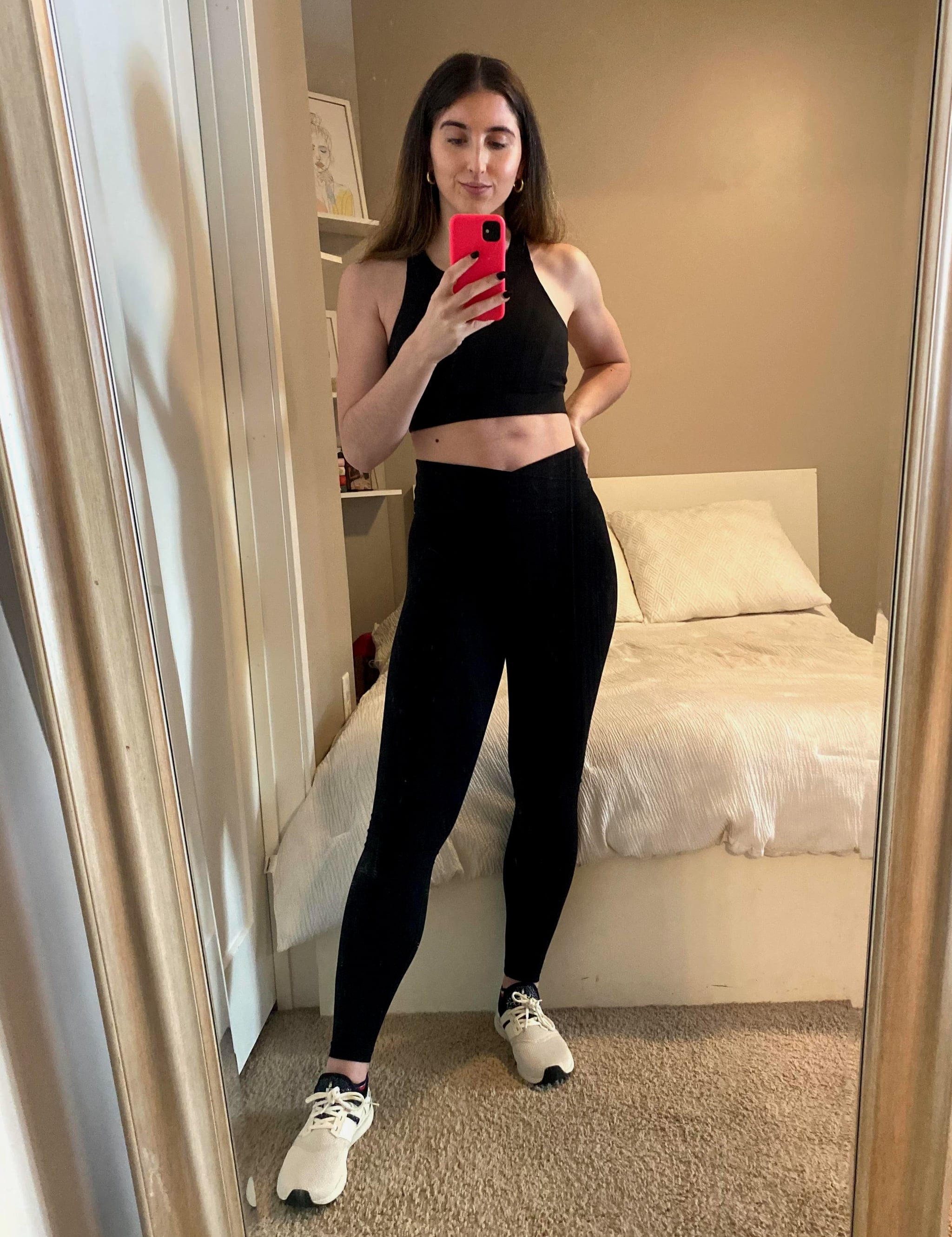 If you prefer to rock color instead of all black, the leggings come in five other colors: grayish-blue, pink, yellow, orange, and red. As someone who solely owns black workout clothes, I don't think I'll be adventuring away from my go-to very soon (one day!), but other Old Navy shoppers love them. One reviewer says they bought "several colors," while another says they own "almost every color."
While some reviewers say that their leggings were see-through, in my experience, they were not at all. They're not particularly thick, but they were exactly as expected for the materials they're made of. Buyer beware: a few shoppers mention how this is a problem specific to the lighter-colored leggings. (The internet doesn't seem particularly thrilled with the yellow version.)
The verdict? Run, don't walk, to scoop up these leggings (and workout tank, if you want your pants to have a companion!). I'm wearing them right now and can confirm they're an excellent alternative option for those looking to embrace the crossover leggings trend — all without spending too much of your hard-earned funds.
Image Source: POPSUGAR Photography / Marisa Petrarca