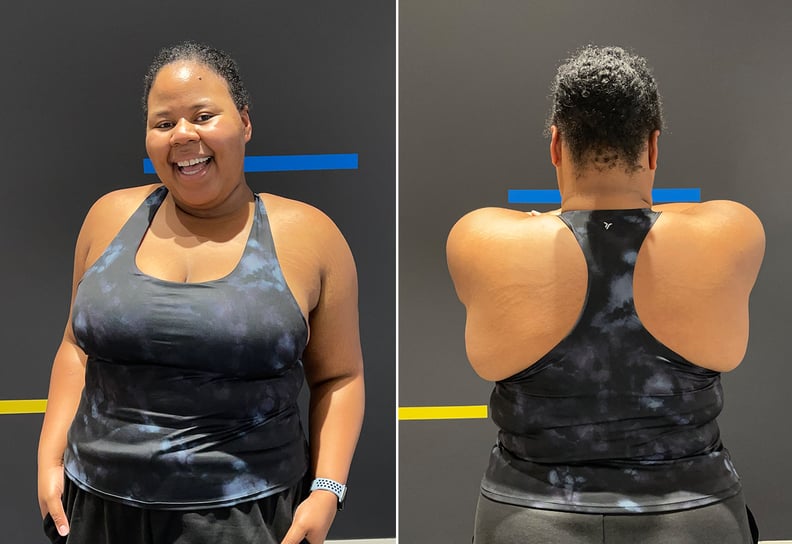 POPSUGAR Photography | Angelica Wilson
POPSUGAR Photography | Angelica Wilson
As POPSUGAR editors, we independently select and write about stuff we love and think you'll like too. If you buy a product we have recommended, we may receive affiliate commission, which in turn supports our work.
Normally when I see that a tank top has a shelf bra, I immediately let out a sigh of disappointment; most shelf bras cut my large (size 42G) chest in half. Either I start popping out from the top of the tank or the sides. Even with my known hatred of shelf bras, I still decided to try the Old Navy PowerSoft Cropped Shelf-Bra Tank Top ($35) in the color Black Tie-Dye in a size XXL tall (since I was already familiar with Old Navy's comfortable PowerSoft fabric).
Just looking at the tank, I knew it wasn't going to be a top I'd wear for workouts where running would be involved, but I had a feeling that this Old Navy top would support me through other workouts. To put this tank through a full test, I wore it all day. I'm talkin' from 8 a.m. to 8 p.m. Here's how the tank did through a 12-hour day, which included taking both an afternoon Pilates class and an evening dance class.
Old Navy's PowerSoft Cropped Shelf-Bra Tank Top Review
Getting ready for work, I put on the tank top and noticed that there were pads in the shelf bra. I took a look in the mirror and the tank looked fine but for my own personal comfort I swiftly removed the pads. Then I felt around my shoulders and underarms for an initial comfort check. The PowerSoft material didn't dig in anywhere so we were already off to a good start.
By the time noon rolled around, it was time for Pilates. I'm pleased to report that this tank made it all the way through class. Nothing popped out over the top or the sides, nor did I have to adjust the tank throughout the class. Plus, no under-boob sweat! The PowerSoft material really wicked away all of my sweat from my workout. In the pictures above, which were taken after Pilates, you can still see my forehead glowing but my tank is dry.
From my busty perspective, whether you plan to wear this top for one hour or 12, it is definitely worth giving a try for your non-running workouts.
Around the 4 p.m. hour I did feel like the racerback of the tank was creeping up the back of my neck a bit, but with a quick adjustment I was back to being comfortable. As I wrapped up the workday it was time for dance class. Now for my fellow K-pop fans, I danced to girl group Itzy's "Swipe." If you're unfamiliar with their choreography, it's very quick and precise, so I knew I needed a top that would prevent my chest from smacking me in the face (yes, that's happened before), and this Old Navy tank did the job. I felt supported through the hour-long class without adjusting the tank at all.
By the time I got home, even though this tank is comfortable, I was still happy to peel it from my tired body after a full day. While you can see my butterfly wings (aka back rolls) in the photo above, I never felt like the fabric was digging into my skin. Honestly, I didn't even know that my rolls were peeking out until I took the photo. From my busty perspective, whether you plan to wear this top for one hour or 12, it is definitely worth giving a try for your non-running workouts.