Rihanna Talks Her Intense Physical Prep For Halftime Show
Rihanna Says Halftime-Show Prep Has Been an "Immense" Physical Challenge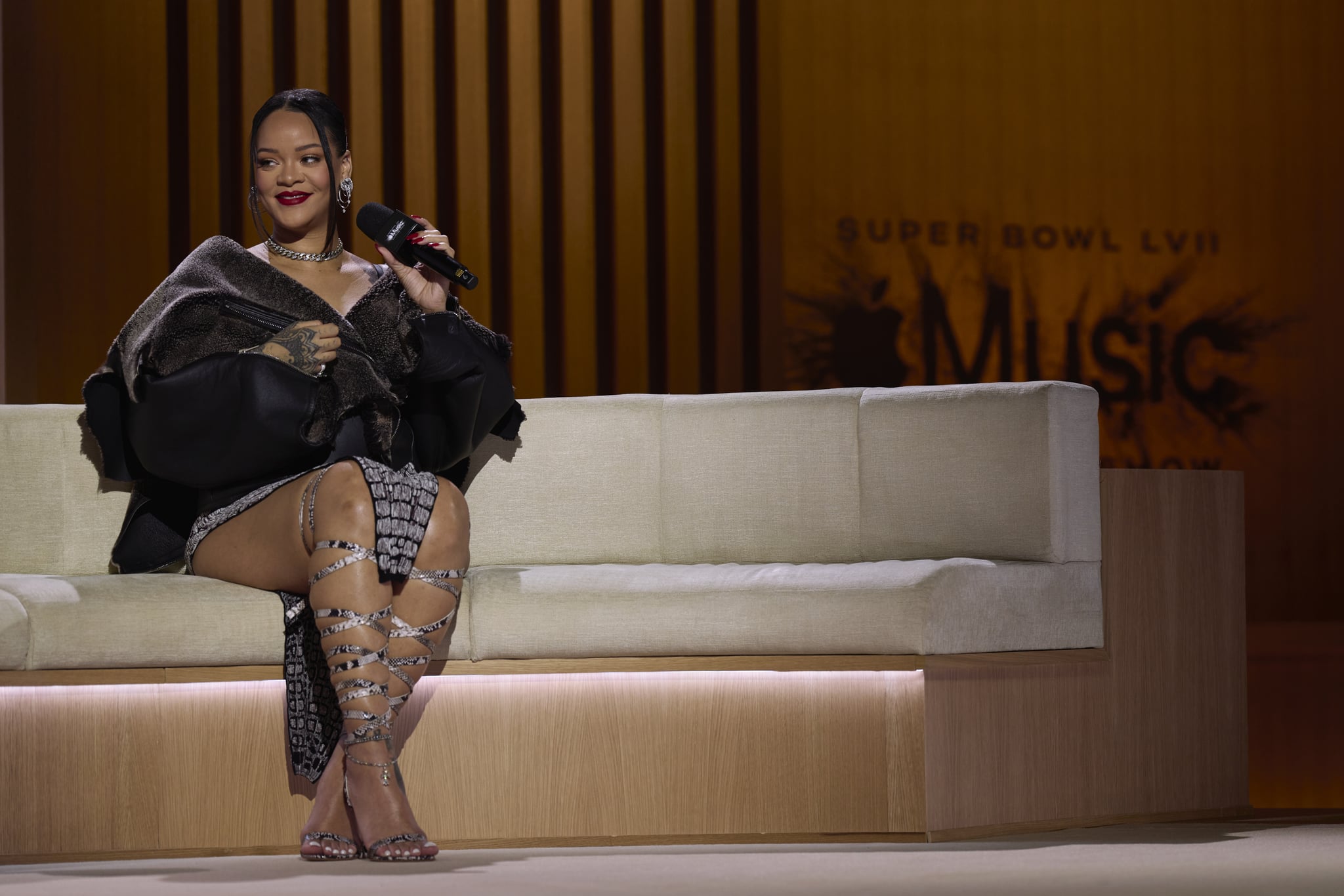 Music and fashion icon Rihanna will be performing in the Super Bowl halftime show this weekend, and the excitement is palpable. (Chances are, you've heard at least one joke referring to the Rihanna concert this weekend, completely ignoring the fact that it's sandwiched between two halves of a football game between the Kansas City Chiefs and the Philadelphia Eagles.)
Rihanna gave birth to her first child, a son (whose name hasn't yet been shared publicly), in May 2022 with A$AP Rocky, and this performance marks a major moment in the spotlight for her since giving birth. Super Bowl halftime shows are notoriously a whirlwind, attempting to cram all the wow factor of a full stadium tour into just a few songs. And for this new mom, the prep has been pretty intense: "It's a jam-packed show and it takes a toll on your body," she said at an Apple Music press conference on Feb. 9.
"The physical challenge has definitely been immense for many reasons, of course," she said. "I haven't done this in a minute, first things first. You're just running around for 13 minutes trying to put a two-hour set in 13 minutes. And you're gonna see on Sunday, from the time it starts, it just never ends until the very last second."
People are debating which of her many hit songs will make it into the set list — something Rihanna said was the "biggest challenge" of planning the performance. No matter her picks, one thing's likely: we'll be out of breath just watching.
Though performing such a demanding show within a year postpartum is no doubt challenging, Rihanna credits motherhood for giving her the courage to say yes to the gig. And despite the pressure that "bounce back" culture puts on new moms, Rihanna has maintained her characteristic realness when it comes to her postpartum body.
When an interviewer asked her in November 2022 about her favorite body part to flaunt, and if it's changed over the years, Rihanna said, "Oh yeah, girl, it changed. I guarantee you it changed. I had a baby! Let's be real. Now it's my booty — because I got one."