This Roe v. Wade Anniversary, We Must Consider Race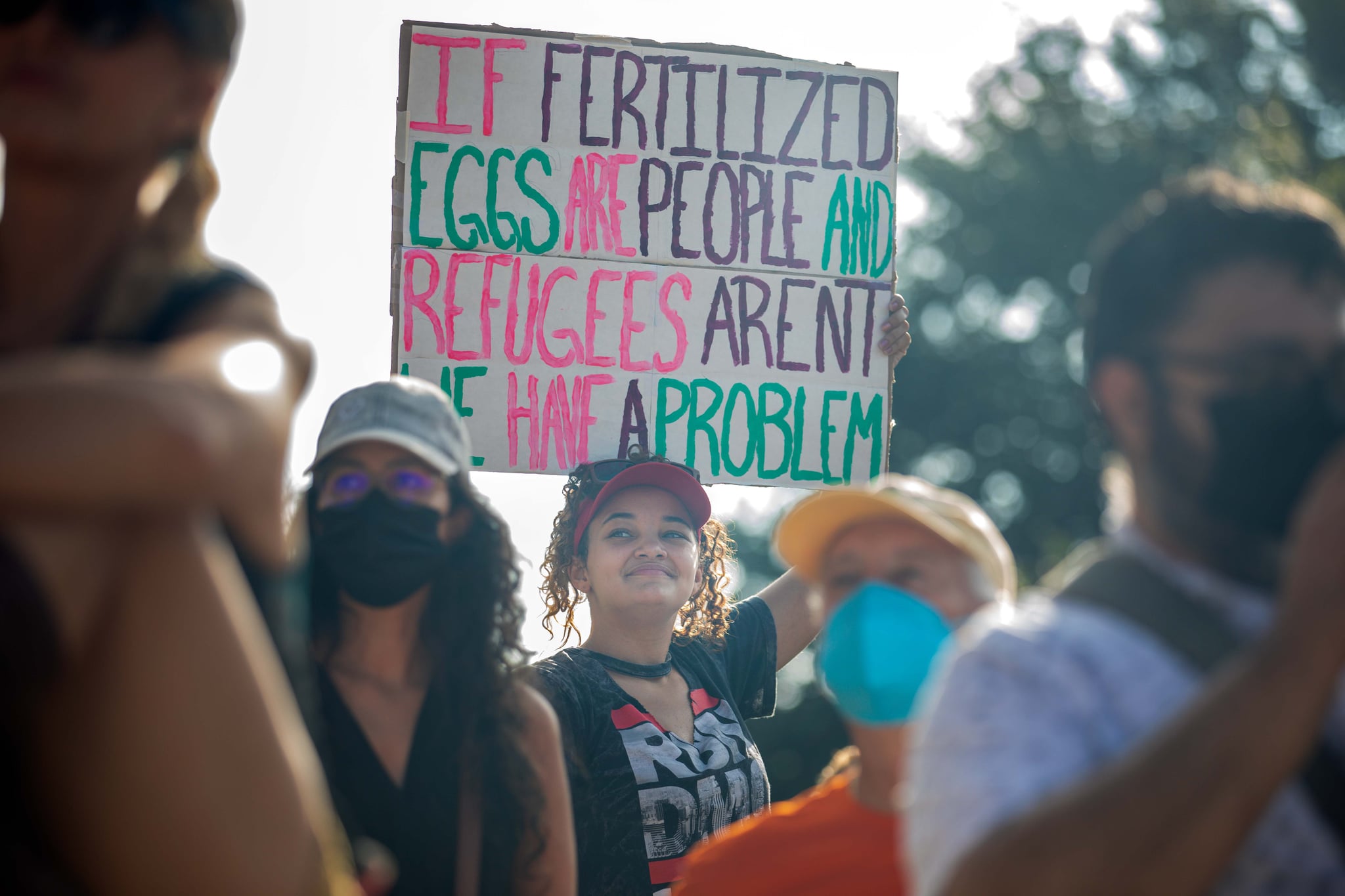 On Sept. 1, 2021, the state of Texas passed a new abortion ban, threatening the foundation of the landmark Supreme Court decision for 1973's Roe v Wade. The Senate Bill 8 (SB 8) drastically limits the ability of organizations like Planned Parenthood to provide abortion care in Texas beyond six weeks of pregnancy, and sometimes even earlier — since the state's law is dependent upon the detection of what legislators call a "fetal heartbeat."
While champions of access to safe, legal, and affordable abortion for every pregnant person continue to fight this regressive law in court, a shaky and divided Supreme Court continue to hear arguments on the fate of the Roe v. Wade decision. On Dec. 1, 2021, the case of Dobbs v. Jackson Women's Health Organization was argued, which "challenges legal restrictions in Mississippi that place burdens on women seeking abortion services, including laws that demean, delay and misinform women." One such restriction included a 15-week abortion ban. In the historic argument, the state of Mississippi asked the Supreme Court to abandon all previous abortion decisions and return abortion legislation to the states.
States with concentrations of Black, Latinx, and/or Indigenous populations — like Texas and Mississippi, with nearly 60 percent and 40 percent nonwhite populations, respectively — require us to consider the plight of these communities during this year's Roe v. Wade anniversary. Despite legal abortion being the law of the land for nearly 50 years, Black and Indigenous women historically remain at a disadvantage when it comes to sexual and reproductive health and rights.
"We know that regardless of what the Supreme Court is doing, abortion is a right in name only for a lot of Black and Latinx folks, as well as Asian and Indigenous people. Abortion has been out of reach for many of us, and we've seen restricted access for millions of people even before today's dismantling of abortion rights," Jamesa Bailey, Planned Parenthood's associate director of Black Campaigns, told POPSUGAR over Zoom.
The historic ruling of Roe v. Wade, which affirmed access to safe and legal abortion as a constitutional right, didn't remedy the racial inequity and inequalities inherent to reproduction healthcare in the United States. Instead, Roe v. Wade would go on to underscore it.
"We have to factor in poverty, language barriers, anti-immigration policies, racist criminalization, and the disproportionate mass incarceration of Black, Indigenous and Latinx people," Bailey expounds. "This is not anything new to our communities. These are things that are continuing to happen. And I think that the anniversary of Roe is a really good opportunity to magnify that."
Bailey warns that regardless of what looms politically, Black and Indigenous people are still facing and will continue to face limited access to the legal right to a safe abortion in this country. In a recent Q&A with Bailey about the fate of Roe v. Wade and sexual and reproductive rights, we discuss her role at Planned Parenthood, what's at stake for Black people and other marginalized communities, and the glossed-over gravity of the situation.
POPSUGAR: Tell me a little bit about what you do at Planned Parenthood.

Jamesa Bailey: I'm the associate director of Black Campaigns. What that basically means is that I oversee our Black organizing program, which is one of three constituency-based programs that we have at national level. I sit on the same team as Latinx organizing and the generation action team that organizes young people on college campuses.
POPSUGAR: Why do campaigns or programs such as the one you run matter?
JB: We launched in February of 2018 out of the need for a really intentional way for Planned Parenthood's national office and affiliates to engage and organize Black communities. We knew that Black patients used and needed our services. We knew that our supporter base, our patient advocates were Black, and we wanted to put some real funding and education and intentionality behind organizing in Black communities. That's what we've been doing for the past four years now.
POPSUGAR: What is the overarching modus operandi of your organization?
JB: I'll start by saying that the program's theory of change is that if we're going to get reproductive freedom for everyone, in everything that we do, we have to make sure that there are three components. We always make sure that there's an organizing and advocacy component, an education component, and a resource distribution. We cannot just be out here mobilizing folks without letting them know the education behind what they're organizing for.
POPSUGAR: Can you say a little about some of the ways Planned Parenthood specifically impacts Black and brown communities?
JB: We have a lot of resources that a lot of smaller organizations won't always have, including a resource distribution component available in these communities. I'll highlight two specific things that our program does on a daily basis. One, our HBCU organizing program is constantly doing really intentional work around reproductive health and justice. These young students at historically Black colleges and universities are doing amazing things around civic engagement, and they really are driving policies that greatly impact sexual and reproductive healthcare for campus students.
POPSUGAR: That's beautiful to hear. And the other?
JB: Then my favorite is our signature program, it's called Shop Chat. In Shop Chats, we partner with Black-owned businesses, and we actually host community conversations about topics concerning reproductive healthcare. We had one recently at the Lip Bar in Detroit. They are very intimate; about 15 to 20 people. The audience is largely Black folks, and we just sit around talking about what's going on. We discuss how these issues directly impact Black communities. We talk about the access or lack thereof, and then we always introduce a patient storyteller who comes and shares their story. We always end with a call to action because we really want to make sure that folks are being moved to not just attend our events, but also create action around them.
POPSUGAR: What would you say in layman terms about what is currently happening in our country as it pertains to abortion laws and Roe v. Wade?
JB: This is not a drill. This is not a drill. Abortion access is being dismantled as we speak. We see that the Supreme Court has made it clear that the constitutional right to abortion is no longer guaranteed and that the days of legal and accessible abortion across the country are numbered. That's as plain as I can put it.
POPSUGAR: What about immigrant and non-English-speaking Black women and communities?
JB: Planned Parenthood is a fierce champion for comprehensive sexual and reproductive healthcare and education in Black, Latinx, LGBTQ+, and immigrant communities that have historically been denied access to quality care. We serve our communities regardless of immigration status or language barriers and other things.
POPSUGAR: You gave us a nice synopsis in plain language of what is actually happening at the Supreme Court level. What are some stats or key takeaways to hold on to as we enter 50 years of Roe v. Wade?
JB: Abortion remains popular amongst Americans. Eighty percent of folks agree that abortion should remain safe and legal, and we want to make sure that we're really letting folks know and letting politicians know that the majority of the people agree that safe and legal abortion should remain safe and legal. And I do want to make sure that you add numbers, because these are real people, these are our family and friends and coworkers, who will be denied a basic essential right to healthcare. Five million Black people, 5.7 million Latinx folks, 1.1 million Asian people, and nearly 340,000 Indigenous people of reproductive age are poised to lose access to abortion. Again, this is not a drill. This is actively happening. Planned Parenthood has, and will continue to have to, fight to make sure that safe and legal abortion remains an essential part of American healthcare.
This interview has been edited and condensed for clarity.
Image Source: Photo by Klaus Nielsen from Pexels