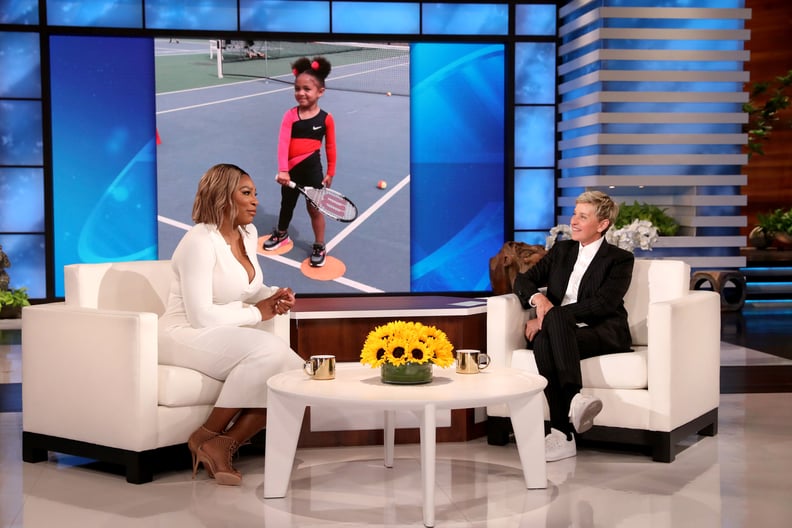 Courtesy of Michael Rozman/Warner Bros
Courtesy of Michael Rozman/Warner Bros
Given that sisters Venus and Serena Williams both excel at tennis, it's natural to assume the skills run in the family — but does Serena's daughter, Olympia, show signs of following in her mother's footsteps? On the May 2 episode of "The Ellen DeGeneres Show," Serena chatted with Ellen about exactly that. At one point in the conversation, DeGeneres asked Serena, "How is [Olympia] at tennis?" After a bit of hesitation, Serena took a big inhale and replied, "Um, are you asking as a mom or, like, that athlete Serena the lady?" DeGeneres then clarified that she wanted her to answer from an objective perspective, to which Serena replied, "I don't know if I can be objective."
Serena eventually admitted that, while 4-year-old Olympia can deliver a powerful backhand swing, her tennis skills are "alright" as there are other "4-year-olds that might take her out." The athlete went on to mention that Olympia is much more interested in playing "princess games" than playing tennis. "The more we can play anything with princesses, that's her whole life," Serena said.
Since her daughter still enjoys playing tennis, Serena revealed that she discreetly hired a coach to give her daughter private lessons without disclosing who she was during the search and sign-up process. DeGeneres then jokingly says that Serena is "cruel" for enrolling Olympia in tennis lessons without revealing to the prospective coach that she's Olympia's mother.
As for why she didn't want to teach Olympia herself? "You know what? I don't have the patience to teach tennis," Serena said. "I don't really like to play with people who don't know how to play tennis well."
Watch the interview ahead to hear more about Olympia's tennis skills and Williams's surprising love of another popular sport: pickleball.