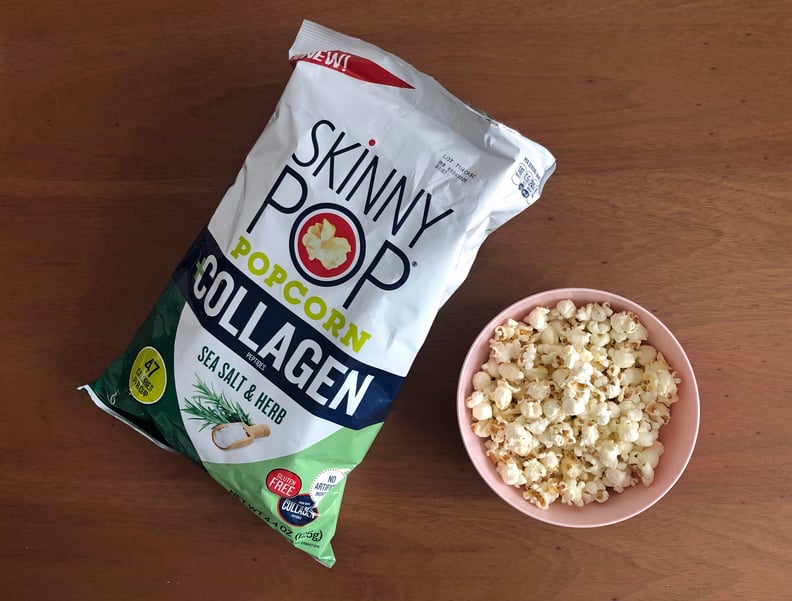 POPSUGAR Photography | Karenna Meredith
POPSUGAR Photography | Karenna Meredith
If regular schmegular popcorn doesn't do it for you, don't worry. SkinnyPop quietly launched a healthy new popcorn that's packed with pasture-raised collagen peptides in every serving. Sound intriguing? We're right there with you.
Nearly a year after SkinnyPop released its +Protein flavors, the popcorn brand returned with a +Collagen variety. Shoppers can fill up their favorite snacking bowls with the sea salt and herb flavor and reap the benefits of collagen, which may include strengthening your hair, skin, and nails. Like all SkinnyPop products, this new popcorn is also gluten-, dairy-, and nut-free, without preservatives or artificial flavors. Plus, each three-cup serving is only 140 calories and has about four grams of protein.
The +Collagen popcorn is offered exclusive at Whole Foods locations nationwide, so if this sounds like your type of snack, get yourself to a storefront ASAP. In the meantime, take a peek at the nutritional breakdown of this brand-new product ahead.