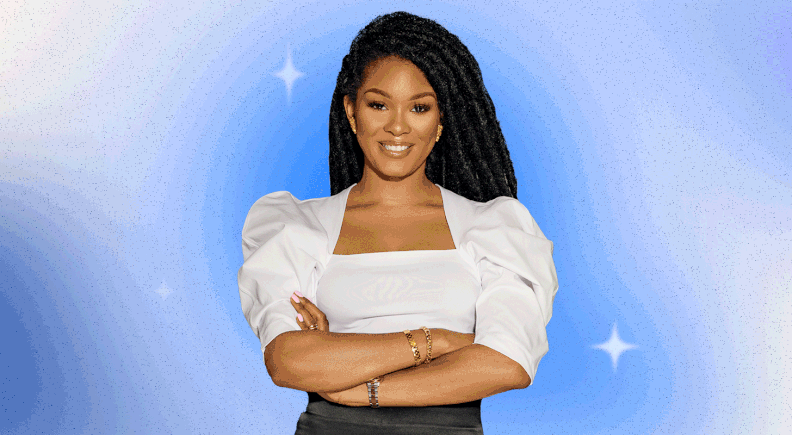 Photo courtesy Christina Tegbe
Photo courtesy Christina Tegbe
As POPSUGAR editors, we independently select and write about stuff we love and think you'll like too. If you buy a product we have recommended, we may receive affiliate commission, which in turn supports our work.
POPSUGAR's How Does She Sleep at Night takes a peek under the covers of admirable women's wind-down routines to reveal their nightstand staples, sleep schedules, and dream lives.
"Me and sleep were besties," 54 Thrones founder Christina Funke Tegbe said. "Now we're kind of like long-distance friends." Given the meteoric success of Tegbe's African-inspired beauty brand, it makes sense that her devotion to rest has been slightly strained. In the five-ish years since Tegbe launched 54 Thrones, the brand has landed on Oprah's Favorite Things List — and many a POPSUGAR Beauty story — and is due to launch in Sephora this year. And, somewhat ironically, Tegbe says, it all started in her bedroom. "It's still kind of surreal to me," she reflected. "Because a lot of what I created happened right here in my bed. . . I created the African Beauty Butters right here in my bed!"
In fact, Tegbe's creative and comfortable headquarters is where she took my call, still in her PJs. "No matter what, I wake up at 6:00 AM. And I really love to get started on work in my bed," Tegbe said. "I'm way more productive because I'm not getting anything incoming. I'm not getting any Slack messages from my team. No one's sending emails at that time. And so I love to work the first three hours of my day in my bed, when it's super quiet and still."
So, while this beauty boss night not be getting as much shut eye these days, how does she make the most of the sleep she does get? Read on to find out:
Herbs FTW
Tegbe travels to Africa to source raw ingredients for 54 Thrones, and often uses those herbs and products at home, too. "I like to have hot tea, and I have this Ethiopian honey that I put in it," she said. "It's actually one of our artists and suppliers; so the same honey that we put in our Ugandan Vanilla and Ethiopian Honey Beauty Butter ($24)." Her favorite pre-bed brew is tea from Yswara ($48). "They have these just scrumptious flavors of tea and all of the teas come from Africa. They come in these beautiful rose gold containers, but their tea is divine."
Wind-Down Wardrobe
Tegbe's PJ preference is worn and comfy or new and luxe — no in between. "I love to wear old t-shirts from when I was in high school. I played a lot of sports and so I have all these old track and basketball shirts. They're so soft and I wear a big t-shirt to bed all the time," she said. "But I also love these pajamas that I just got from this South Asian brand called Sani ($120). They're so soft and they're embroidered with little animals on them. I've been wearing those. I have those on right now."
The Book Keeping Her Up at Night
Tegbe said she often drifts off before she can fulfill her good intentions to read before bed. (Relatable.) "I have stacks of just wonderful books beside my bed. And this week, I've actually done a great job of reading before going to bed. But normally, I don't. Normally, they just sit there," Tegbe said. "But I'm proud of myself this week because I read actually twice." Right now, Tegbe is absorbed in Emily Heyward's Obsessed: Building a Brand People Love from Day One ($25). "I've only read 25 pages, but I've already put so many notes and stickies in it. Every page is something valuable."
Sea Moss and Spice and Everything Nice
"I like to do a dab of sea moss gummy ($23) before I go to bed," Tegbe said. (Sea moss's potential benefits include boosts to immunity and gut health.) "I also take black seed oil ($15). I like to take that before I go to bed, because if I take it in the morning, it's pretty spicy and I'll kind of taste it all day."
Splish Splash
When Tegbe really needs to relax, she draws a pre-bed bath. She starts by using 54 Thrones Beldi Moroccan Body Mask ($42): "It is so relaxing. And it's like a sticky kind of toffee body mask." She's also a fan of Hey.Homebody bath powders ($48) and old-school Dr. Teal's Epsom Salt ($5): "You can't go wrong with Dr. Teal's."
By Her Bedside
Tegbe's nightstand is stocked with moisturizing essentials and personal mementos. "I have a box of our Ylang Ylang and Orange Blossom Beauty Butter ($24) on my nightstand. And I have some Tower 28 lip gloss ($14)," she said. And, as a huge Bob's Burgers fan — Tegbe watches the cartoon "every single day" — she has some Bob's Burger toys, as well as a picture of her siblings, mother and grandfather on display.