Paid Content For

Consider This Your Late-Summer Packing Guide, No Matter the Destination
Paid Content For

As POPSUGAR editors, we independently select and write about stuff we love and think you'll like too. If you buy a product we have recommended, we may receive affiliate commission, which in turn supports our work.
Craving that last escape of the season? Consider this the sign you need to go ahead and book that beach getaway, surprise your best friend with a weekend road trip, or take that solo adventure you've been dreaming about. Then, it's time to think about packing, because you can save time, space, and yes, even money by sticking to your carry-on this travel season. All you have to do is pack wisely.
Consider pieces that are versatile and can transition from setting to setting (think: pants you can sightsee in but also wear to a nice dinner or a dress you can toss a cardigan over if the weather changes). Look for staples that you can mix and match so you can plan your outfits around a few key items. Most importantly, look for effortless pieces that are packable, totable, and can take the wear and tear of travel.
Shop the following products from Athleta to get that travel-ready wardrobe that's versatile, carry-on friendly, and stylish all at the same time.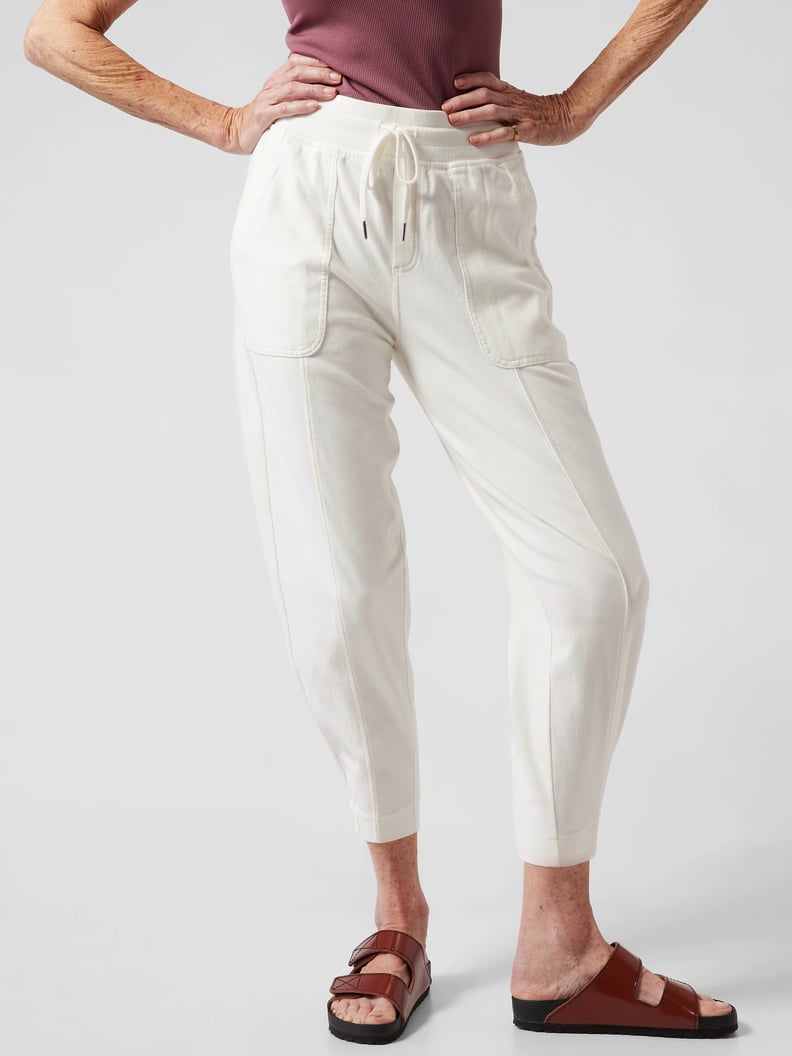 Farallon Weekender Pant
The soft organic cotton of the Farallon Weekender Pant ($109) means this is one piece that's always lightweight, breathable, and easy to rewear while traveling. The slimmed crop ankle and drawstring waist make this a great transitional option that can go from city exploring to lounging to brunch seamlessly.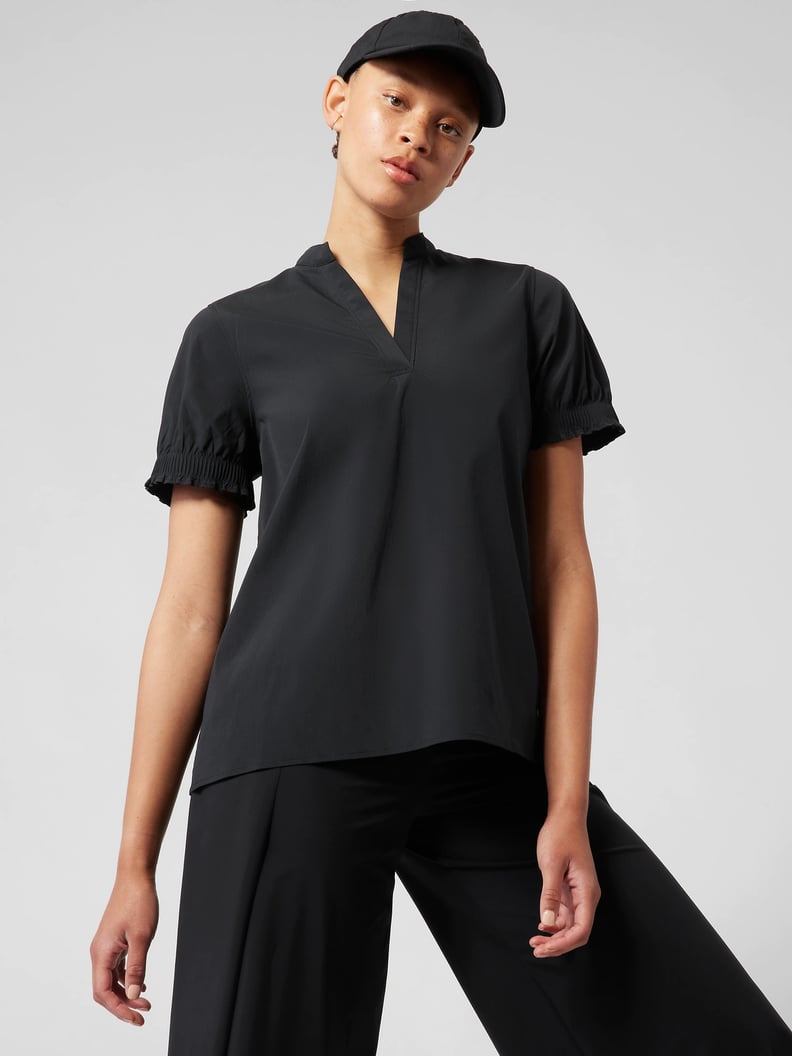 Levitate Poplin Tee
Don't be fooled by the stylish Levitate Poplin Tee ($129) — this top is ready for adventure. Crafted from performance poplin with water repellent fabric finish, this top is breathable, stretchy, and protects against light mists.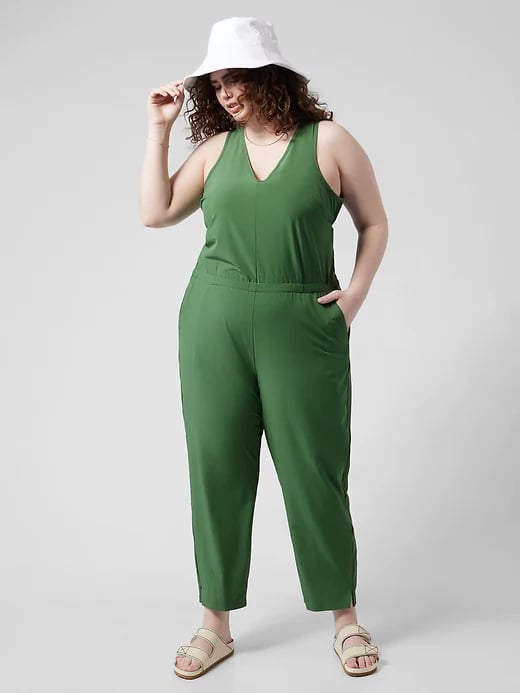 Brooklyn Jumpsuit
When it comes to travel-ready fashion, nothing is as versatile as the Brooklyn Jumpsuit ($129). This piece can be paired with a sweater, jacket, sneakers — you name it — and be ready. Plus, we love that it's made from ultra-light and comfy Recycled Featherweight Stretch™ fabric that feels great and is quick-drying so you can stay comfortable day to day.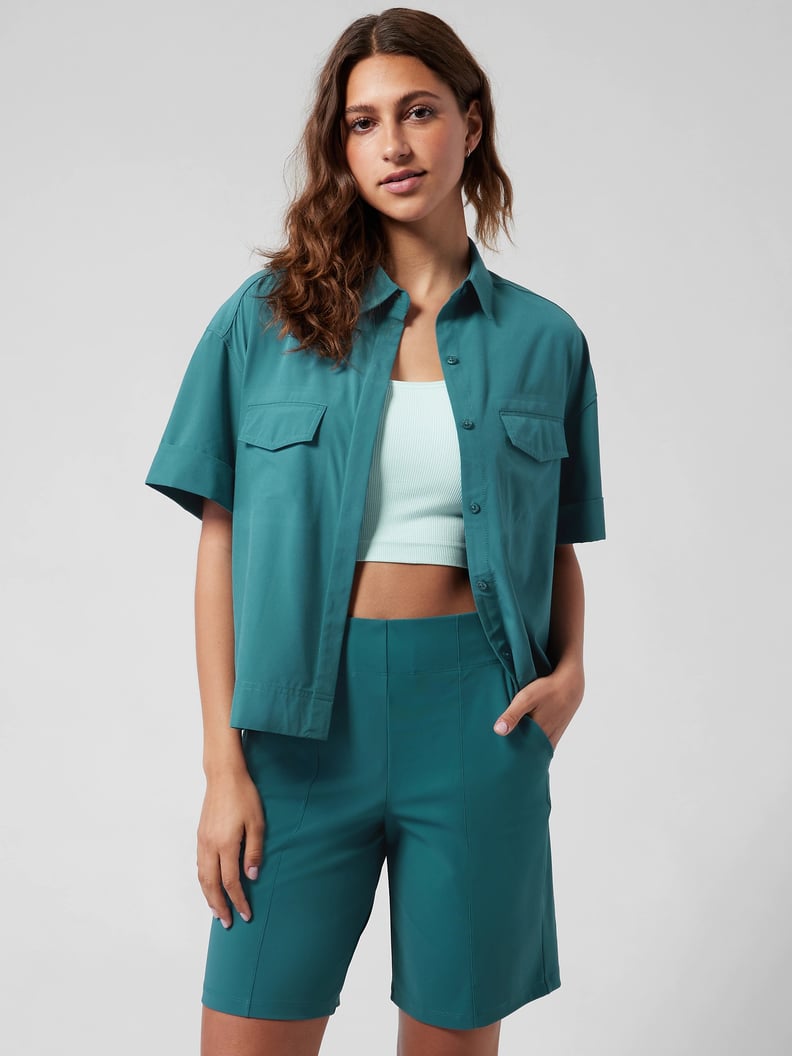 Hike Packable Top
As much as we love versatility when it comes to travel clothing, we also love pieces that are resilient. The Hike Packable Top ($99) is a master of just that, with its packable fabric that airs wrinkles out in a breeze and remains abrasion-resistant at the same time.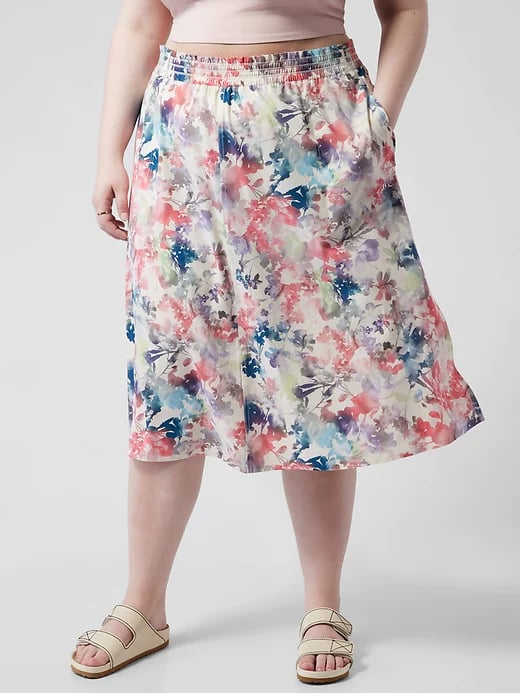 Savannah Skirt
Talk about another piece that works overtime: The Savannah Skirt ($89) can go from breakfast to dinner, the beach to the restaurant, and everywhere in between. Not only is this piece wrinkle- and abrasion-resistant, but it's also rated UPF 50+ for summer sun protection.
Breeze Packable Tote
Although it may not be clothing, never underestimate the power of travel-ready accessories like the Breeze Packable Tote ($29). This tote is perfect for those days when you just don't know what to expect. This tote folds up small in your backpack, purse, or carry-on and is ready when you need it.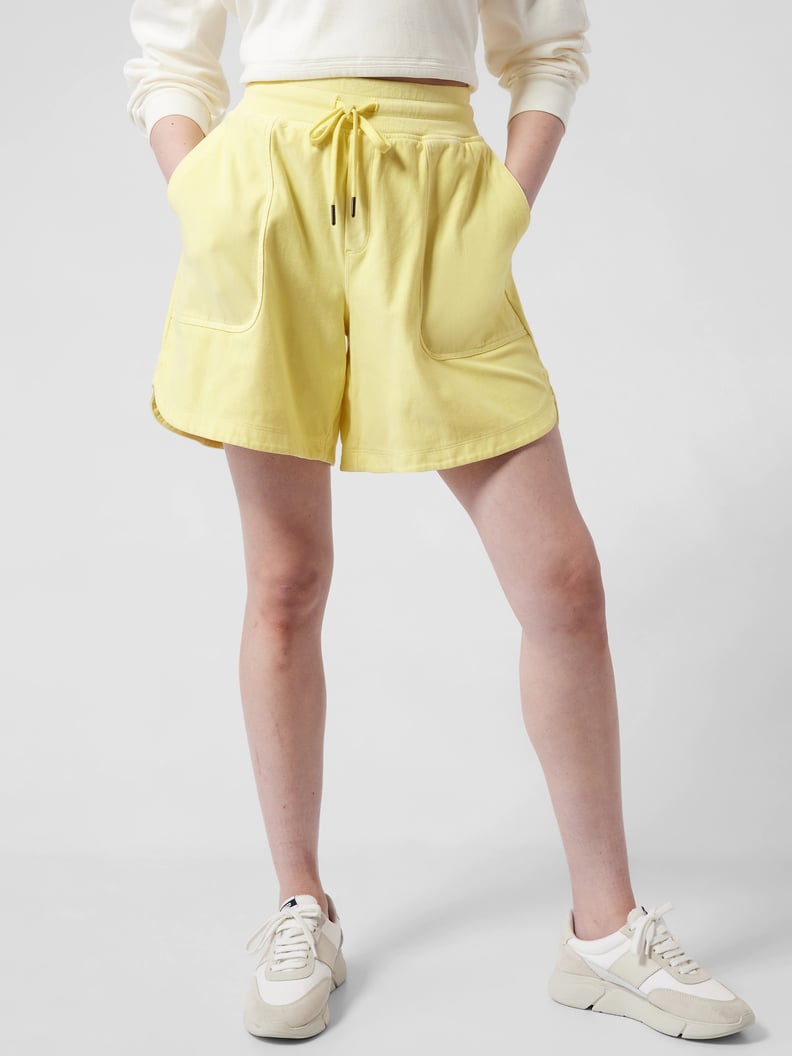 Farallon Midi Short
When it comes to making summer apparel travel-friendly, light and airy is key. That's exactly why we like the Farallon Midi Short ($79), which allows airflow to move easily through the garment so you can hike, explore, lounge, beach comb, and more without fear of generating too much heat and sweat.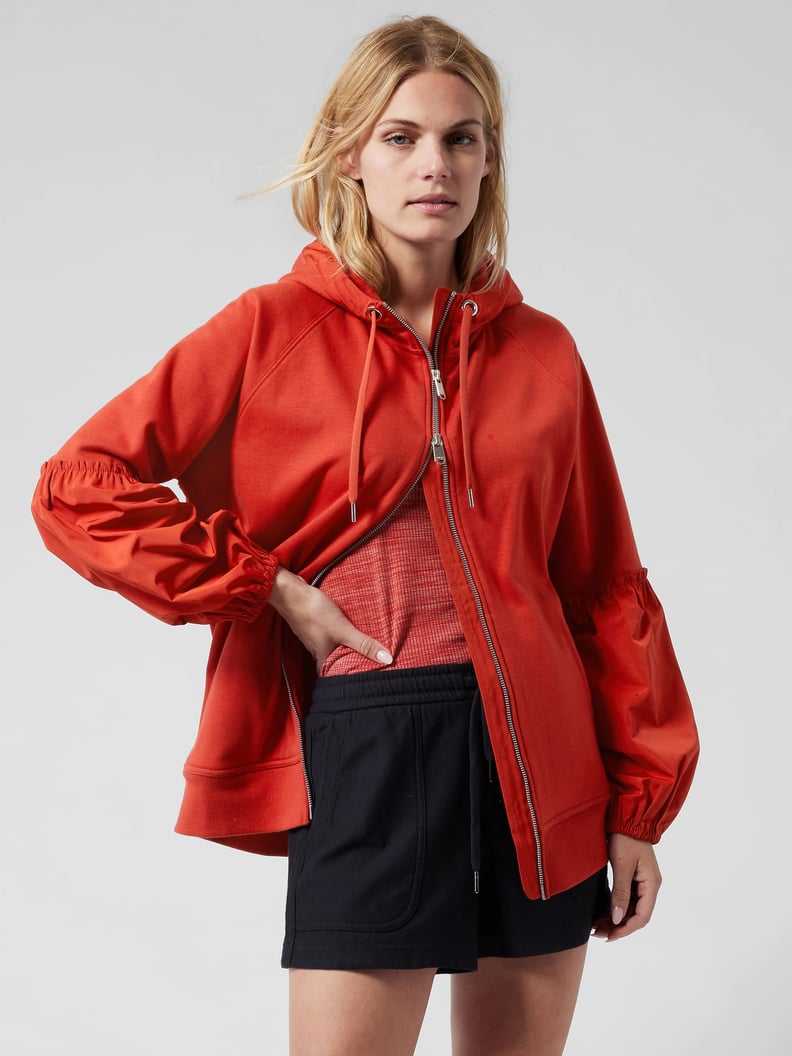 On My Way Triumph Hoodie
Of course, a good traveler is a smart traveler. That means having that just-in-case piece on hand like the On My Way Triumph Hoodie ($139). The organic cotton fabric is lightweight, stretchy, and breathable — it's especially ideal for the traveler looking to bounce from different locations and climates without packing extra luggage.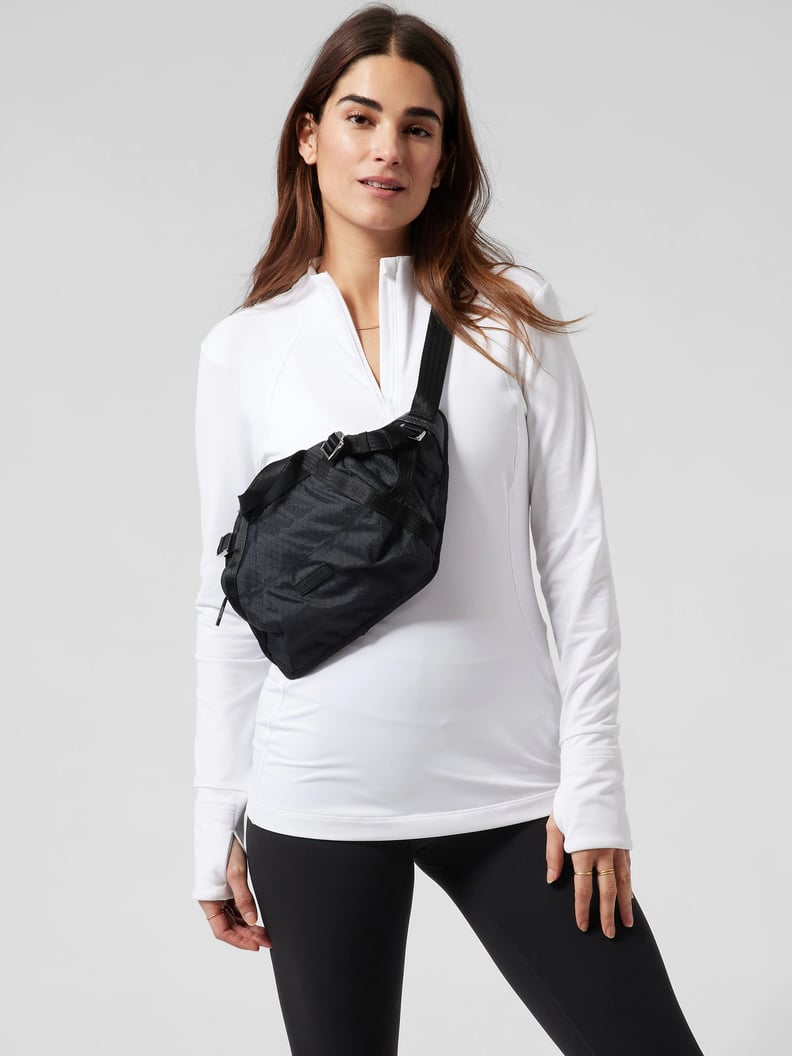 Excursion Waistbag
The name says it all: The Excursion Waistbag ($88) is ready for an adventure. This sling-style bag is ready for just about any travel itinerary from the mountains to the desert. Not only is it water-repellant and snag-resistant, but it's also surprisingly spacious thanks to interior zipper stash pockets.
Ryder Dress
Topping off our must-list for summer travelers is the Ryder Dress ($129). This particular piece was made with both comfort and style in mind. Thanks to the buttery-soft Powervita rib top and Featherweight Stretch skirt, this dress feels soft and light on the body. But don't worry, it's not skimping on performance: sweat-wicking fabric draws sweat away to the surface of the fabric so it can evaporate easily, leaving you dry and comfortable.