Surfers Carissa Moore, Caroline Marks Make US Olympic Team
It's Official: The Top 2 Female Surfers in the World Will Rep Team USA at the Olympics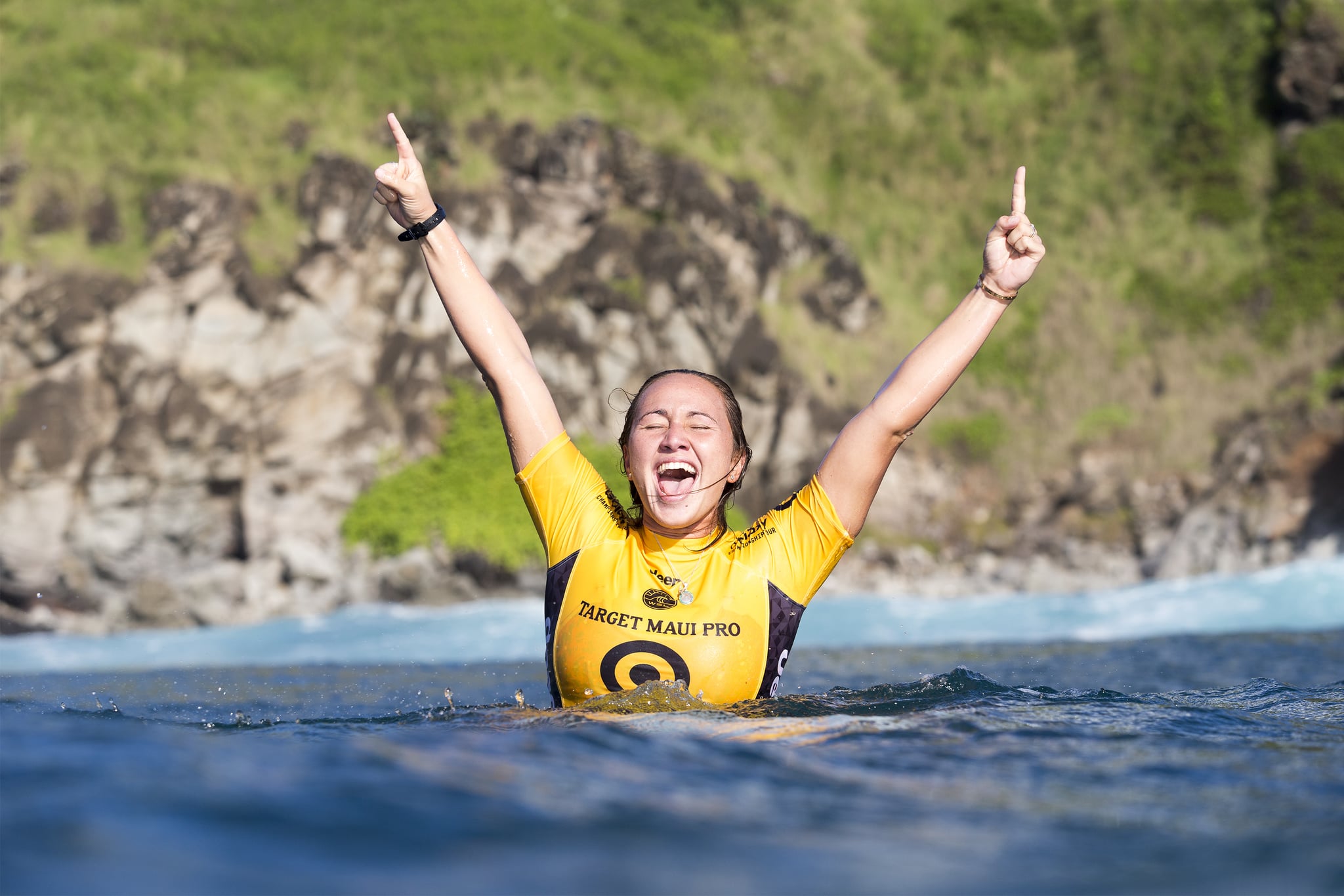 Image Source: WSL / Cestari
For women's surfing, a fierce, three-way battle to make the US Olympic Team — and decide the 2019 world title — ended on Monday at the Lululemon Maui Pro. It was 10-year veteran Carissa Moore who took home her fourth world title and clinched the top spot on Team USA. Caroline Marks, 17 and in just her second year on the top-tier Championship Tour, finished second overall to punch her own ticket to Tokyo. She'll head to the Olympics over Lakey Peterson, the third surfer in that high-pressure battle, who was sitting in the second spot heading into Maui but lost in a second-round heat, eliminating her from the world title race and Olympic qualification.
Speaking to POPSUGAR ahead of the competition, Carissa said it would be "an honor and a dream come true" to compete for Team USA in the Olympics, but that she was still taking it one heat at a time. "I'm never a person to get too ahead of myself," she said. That focus paid off at the last contest of 2019, held in picturesque Honolua Bay, where Carissa is known for her dominant performances. She was in top form through four rounds of competition, eventually falling in an all-star semifinal against seven-time world champion Stephanie Gilmore of Australia. The loss didn't matter for the world title race; Carissa clinched the championship even before she got in the water, based on the points she'd racked up throughout the 10-contest season.
Caroline lost in the opening round of the Maui Pro, landing her in a high-pressure elimination round that could have knocked her out early. She fought for back-to-back wins in that heat and following round of 16 before getting eliminated, also by Stephanie Gilmore. Despite falling short of the Honolua podium, Caroline's strong season far exceeded her own expectations.
"It's rad to be in this position and I'm just enjoying every step of it," she told POPSUGAR before the competition. "This year's probably been the best year of my life. I'm just trying to enjoy it, take it all in." She dreamed of going to the Olympics as a kid and said that competing in surfing's first Olympics ever would be incredible — and was definitely a goal of hers. "I was like, OK, let's do it. Let's make it," she said. "Let's be in those top two spots."
Now, those spots have been filled, pending Carissa and Caroline's participation in the 2020 ISA World Surfing Games. (They're only required to compete, not win or place on the podium.) With the 2019 season and title race officially behind the two surfers, all eyes are turning towards surfing's big debut at Tokyo 2020. "The Olympics is the pinnacle of sport," Carissa said. "So to have surfing on that level and see how much the sport has progressed in just my lifetime of surfing is really cool."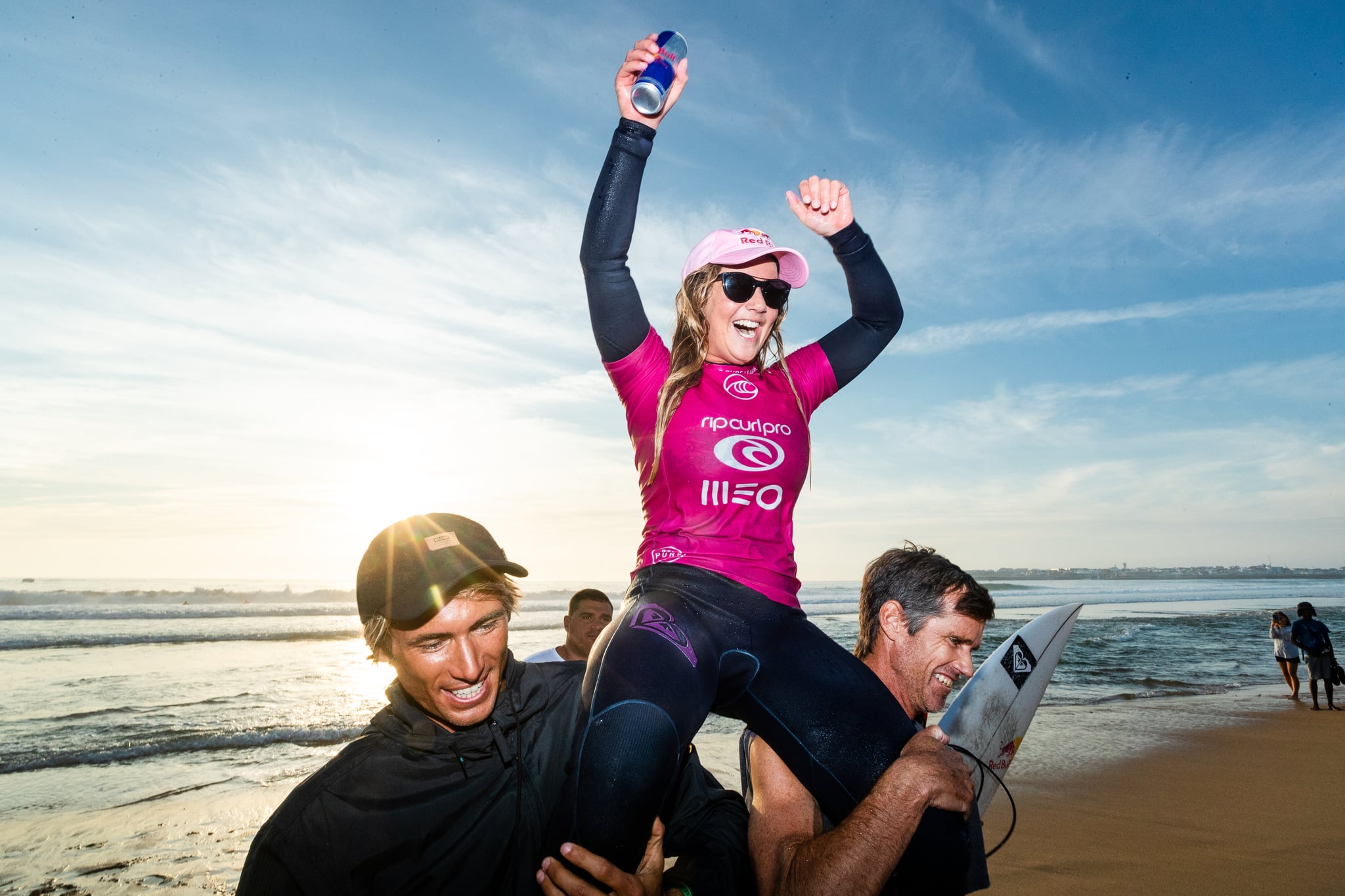 Image Source: WSL / Poullenot