Twin gymnasts Jessica and Jennifer Gadirova can now officially say they are not only Olympians but Olympic medalists, too. The 16-year-olds from Great Britain, along with teammates Alice Kinsella and Amelie Morgan, took home bronze behind the United States in the Tokyo team competition of women's artistic gymnastics. That was July 27, and it marked the country's first medal in the women's team event in 93 years. Two days later, they both competed in the all-around final, where Sunisa Lee came out victorious. They each made it into the top 15 gymnasts, with Jessica earning 10th place and Jennifer earning 13th.
Jessica's 10th-place finish was the best all-around result by a British woman gymnast in Olympic history, according to British Gymnastics. Sister Jennifer said, via The Guardian, that their goal was to make Paris 2024, so being at the Games in Tokyo and medaling as a team is "more than a dream come true."
Jessica and Jennifer, who are of Azerbaijani heritage and have both Irish and British citizenship, train at Aylesbury Gymnastics Academy and began the sport at age 6. Jessica marked her major championship debut as a senior gymnast by winning floor gold at the 2021 European Championships, where she also received silver on vault and bronze in the all-around. Jennifer withdrew from the European Championships this year out of precaution, but on the junior level, she was the vault world silver medalist. Additionally, she finished fourth overall at the 2020 American Cup in her own senior gymnastics debut.
As someone who competed alongside my twin in gymnastics for a decade, albeit on a low level, I know what it's like to have sibling rivalry yet also the comfort of knowing your best friend is beside you for support. "We do spend every second with each other, so it is different when we are apart," Jennifer told Olympics.com. "But I feel like sometimes we do need that independence from each other and just focus on ourselves without her always being right by my side. We are individuals at the end of the day, so we do enjoy having our time apart but not if it's too long until we see each other again."
Jessica heard her news about making the Great Britain Olympic team first, before her twin sister. "We were excited for me but still a bit nervous to hear Jen's news, but as soon as we heard hers we were all in tears and just everyone was so excited," she said.
They aren't the only twin artistic gymnasts at the Games. Asia and Alice D'Amato are representing Italy, with the latter of the two making it to the all-around final on July 29 and finishing 20th. Two-time Olympians Sanne and Lieke Wevers are from the Netherlands. Lieke moved on to the all-around final as the first reserve athlete after Canadian Ellie Black withdrew due to injury, and she finished 24th in the standings. And on the rhythmic gymnastics side, there's Dina and Arina Averina representing the Russian Olympic Committee.
Ahead, check out adorable photos of the Gadirovas, a truly dynamic duo, at the Tokyo Games. Plus, follow their joint Instagram account, @gadirova_twins, for a major dose of twin goals! (PS: Watch Jessica in the floor final on Aug. 2. Jennifer is a first reserve athlete for that same final and will replace Simone Biles should she choose to withdraw.)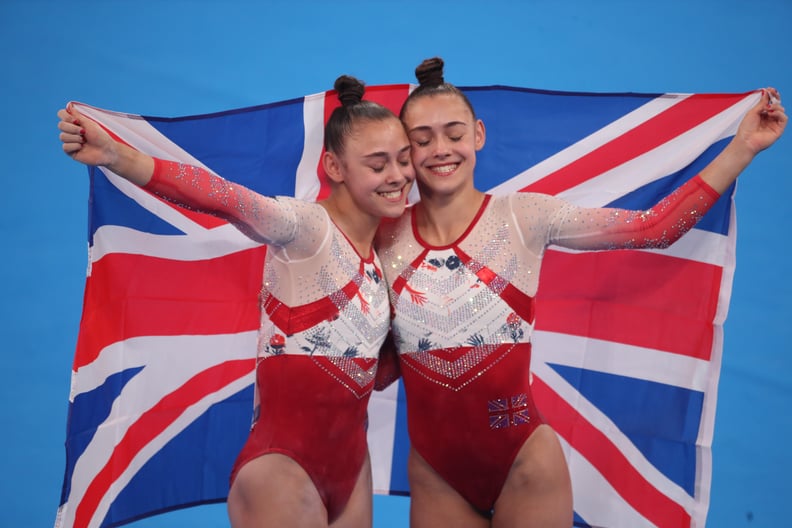 Another One! Jessica and Jennifer Gadirova Win Team Bronze For Great Britain
The Gadirova Twins With Idol Simone Biles