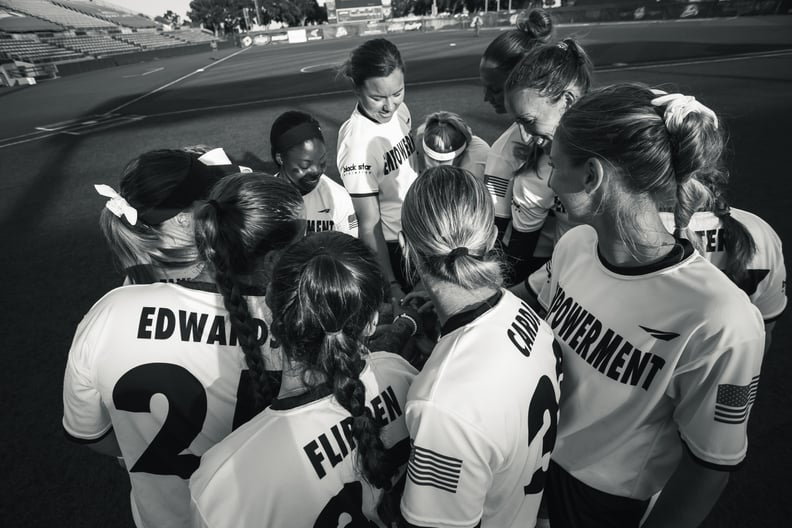 This Is Us | Jade Hewitt
This Is Us | Jade Hewitt
"Shut up and dribble," "Just focus on the game," "Stick to sports." Athletes have heard iterations of these remarks for decades — whenever they've vocalized their support for social and racial justice, spoken out against inequality, and participated in demonstrations in support of racial equality in the US.

Sports have always been political. Muhammad Ali refused to serve in the Vietnam War and was a racial and social justice advocate; Jackie Robinson shattered baseball's race barrier; Kathrine Switzer was the first woman to enter the Boston Marathon, inspiring millions of women to run; Maya Moore put her career on pause to advocate for reform in law enforcement and the justice system. These are just a few of many examples of how sports and politics have and will continue to intersect.

As professional athletes began to return to team trainings and resume competition, things were looking bright for softball, a sport that traditionally doesn't receive much attention on the professional level. It was an exciting moment for the then Scrap Yard Dawgs Fastpitch team, and the softball community as a whole, to show off the skill, athleticism, and excitement of the game without competition from other live sports — until their general manager, Connie May, sent a tweet that would change the trajectory of the team and the game for good.
The players were moments away from the first pitch being thrown out when May tweeted a photo of the team standing during the National Anthem to Donald Trump, who has openly expressed his disapproval for those who choose to kneel, and captioned it, "Everyone respecting the flag!" The team played the entire game unaware of what May had done until they returned to the locker room after their game.

"This can't be real," Kiki Stokes thought when she saw May's tweet. Stokes and her teammates found the now-deleted tweet to be insensitive to the current climate and disrespectful to the Black community. Although May's tweet didn't specifically call out the Black Lives Matter movement, "You have to read in between the lines," Stokes told POPSUGAR. "You have to see that we have someone in office right now that is completely anti-kneeling. He ridiculed the one who started it: Colin Kaepernick. So by you pretty much using us as political pawns for your own agenda, you put us in a category of we all think the same way, too," Stokes explained.

Stokes felt both embarrassed and betrayed by May's tweet, especially since she had been on the team since its inception in 2015. "To just know that she didn't understand it, she didn't get it, just left me really disheartened," Stokes said. She also couldn't help to reflect on the fact that before they ever stepped foot on the field and for weeks leading up to their game, society was beginning to wake up to the reality of racial injustices, and she and her teammates were having important conversations surrounding Black Lives Matter and racial justice.
As one of two Black women on the team, Stokes said her teammates immediately responded with, "Kiki, what do you want to do?" They were all upset that their voices were taken away but also knew May's tweet directly impacted Stokes on a personal level. "The fact that literally every one of my teammates was aware of that, it's amazing," she said.

Kelsey Stewart, the other Black player on the team, sent Stokes the tweet and said she would no longer play for the team and Stokes decided to quit as well. When asked how the rest of the team decided to proceed, Stokes said, "It was easy. It was just so easy for everybody to be like, 'We're done.'" They didn't care about the rest of the series. They didn't care about the money. "To them it didn't matter. Everything was bigger than softball in that moment."

"Everything was bigger than softball in that moment."
"In that moment, it was just like, we're going to figure everything else out later but this is not OK," Ally Carda told POPSUGAR. Carda explained that engaging in conversations about social and racial justice in the past and with her teammates made them more aware of the injustice that Black and brown people in America face and how that single tweet impacted Stokes. And even after deciding they would not represent a team that didn't reflect who they are as players, and more importantly as individuals, the conversations haven't stopped, "they just got more intense and more meaningful," according to Carda.

The players sacrificed their livelihood but refused to let May stop them from pursuing their passion. They returned as a new, independent team: This Is Us. Their mission is "to raise awareness, empower young women, and unite the softball community." Additionally, they strive to foster an environment that's supportive of people from all backgrounds, communities, and walks of life.

The team is still in an infancy stage but their goals are clear. "We want to be able to educate people. I think starting with the youth and being able to teach and empower these younger girls . . . that they are able to believe in something and stand by that, and be confident in who they are as a person and with their race growing up in the softball community," Carda said. They also want to educate coaches and make them more aware of racism and microagressions that happen on and off the field and how they can best uplift and empower the athletes they work with.

"When we speak up, things happen."
Like the trailblazers that came before them, This Is Us made a sacrifice to propel the game, sports, and society forward. In a world where athletes are praised for their prowess, physical feats, and achievements, but instantaneously ridiculed when they speak on subject matters outside of sports, Stokes wants athletes to continue to use their platforms to shed light on social and racial issues. "I think it's so important because as athletes, we do have such a big platform . . . and it's not only for the sport, but just who we are as people. And although it can be really uncomfortable and at times it can be controversial, even, when we speak up, things happen. And when we speak up in groups, even more so. When we speak up as a team . . . and we're all standing for the same thing, you start to see change."