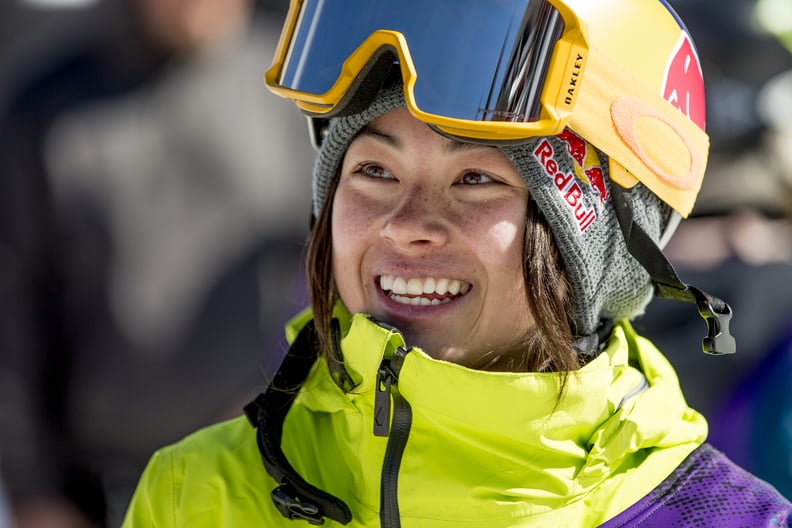 Daniel Milchev | Red Bull Content Pool
Daniel Milchev | Red Bull Content Pool
Raised in the small beach town of San Clemente, CA, Hailey Langland spent half of her childhood by the sea and the other half in the mountains. Every weekend starting when she was 5 years old, her dad would drive her two hours away from the water to reach the closest mountain range, where he could teach her how to snowboard. The cold temperatures were difficult for the beach-town native to adjust to at first, but seeing her dad's passion for the sport only fueled her own. "I developed a big love for [snowboarding] because I could see that my dad loved it so much." Langland told POPSUGAR. "Every time we went, I always had a smile on my face, and that's what started my love of snowboarding."
Flash forward to today, and the 20-year-old is now of Olympian status after placing in the 2018 PyeongChang Olympic Winter Games. She also has placed in the Youth Olympic Games in Lillehammer and has won medals at the X Games in both Aspen and Norway. Langland's signature move, the Method Grab, could be credited for achievements along with her clean style and impressive trick execution.
"Every time we went, I always had a smile on my face, and that's what started my love of snowboarding."
Being a young woman in a largely male-dominated sport has not always been easy for the snowboarder, but she believes that the times are changing. "At first it was like being in someone else's shadow that you didn't even know existed," Langland said. When she gained interest in the sport, men's competitions controlled the headlines, and subsequently men also ruled the slopes. Now the tides are turning, and there's a more collective enthusiasm for women's snowboarding events. "I hear all the time from male snowboarders that they would rather watch a women's event because the guys' events have just become the same thing over and over again and they know who will podium," she said. "The female events are completely up for grabs; anyone can take a win, and it's so much fun to watch."
Kimmy Fasani, a longtime snowboarder and the first woman to land a double backflip in the park and the powder in 2011, has been someone Langland has revered in the industry since she was a child. Having a progressive and powerful female figure to look up to has made Langland strive to be more like her on and off the slopes. Not only is Fasani an incredible snowboarder who continues to push boundaries for women, but she's also currently pregnant with her second child, which is what has really amazed Langland. The 20-year-old pro snowboarder also credits her dad for being her biggest inspiration in her life, and he's also one of her proudest supporters. The sacrifices both her dad and grandparents made for her are greatly attributed to how far she has come today.
As for the daily routine of a professional snowboarder, it's constantly changing. Before Langland works out, she likes to grab a Red Bull to wake her up. Langland is a representative for the brand, and she first started drinking Red Bull when she was training in Austria and noticed it greatly helped her performance. Her two favorite flavors are the Winter Edition Arctic Berry and Red Edition Watermelon, which perk her up and keep her going even after long days on the slopes. When she's not training, Langland tries to be outside as much as she can. Whether she's in the mountains or just enjoying an afternoon in the sun, the fresh air is all she needs.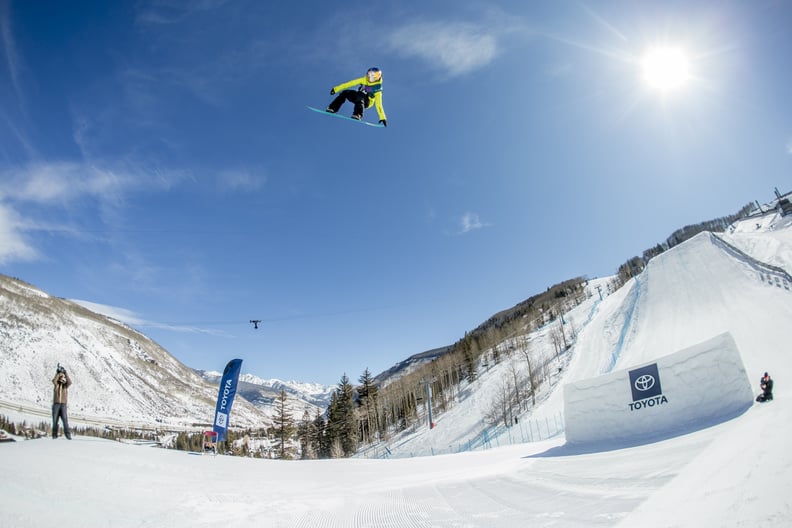 Coming from a warm beach town, Langland doesn't take any chances with being cold, which is why her staple coat on the slopes is any Volcom winter jacket. Since the coats are completely waterproof, the athlete doesn't have to worry about getting soaked in the snow. She's also a representative for Volcom since feeling good in what she's wearing is important to her, even when she's busy shredding it on the mountains.
Along with fashion trends, there are other trends that have changed the sport over time along with the athletes' daily lives. Luckily for Langland, she grew up knowing the importance of being herself. "I was always taught early on to stay true to who I want to be and stay true to who I am," Langland said. "I owe that a lot to my parents, because I feel like I haven't changed that much in character and feel I'm still the same person as the first time I stepped on snow. I hold that near and dear to my heart."
"I owe that a lot to my parents, because I feel like I haven't changed that much in character and feel I'm still the same person as the first time I stepped on snow. I hold that near and dear to my heart."
As for the future, the young athlete has her sights set on the Mammoth Grand Prix this year. It's the first Olympic qualifier, so if she can get solid results there, then her path to making it on Team USA will be more clear. Since the Winter Olympics are what she's striving for, she knows that to get there, she has to up her tricks and try new things. "Stepping out of the comfort zone is scary, but that's what is necessary to become great. That's what it takes in women's snowboarding; everyone is stepping out of the box and getting insanely good at these tricks," Langland said. After the Olympics, the snowboarder is interested in making snowboarding videos, which would essentially break her into yet another largely male-dominated area of the sport.
At just 20 years old, Langland has already made a name for herself on and off the slopes. The athlete knows the amount of hard work and dedication it takes to master the sport, and her passion for snowboarding is an inspiration to others who hope to follow in her footsteps. Her strong support team and faith in herself have kept her going, and staying true to her roots has kept her grounded. Her perseverance in the sport can be seen every time she hits the slopes, and doing her best is all she can ever strive for. "'Never give up' is a saying you always hear, but it speaks true to anything you do," Langland said. "If you stop, how will you know how far you could go?"