Who Is Skateboarder Lizzie Armanto?
Olympic-Bound Skateboarder Lizzie Armanto on Rising Above Sexism and Making History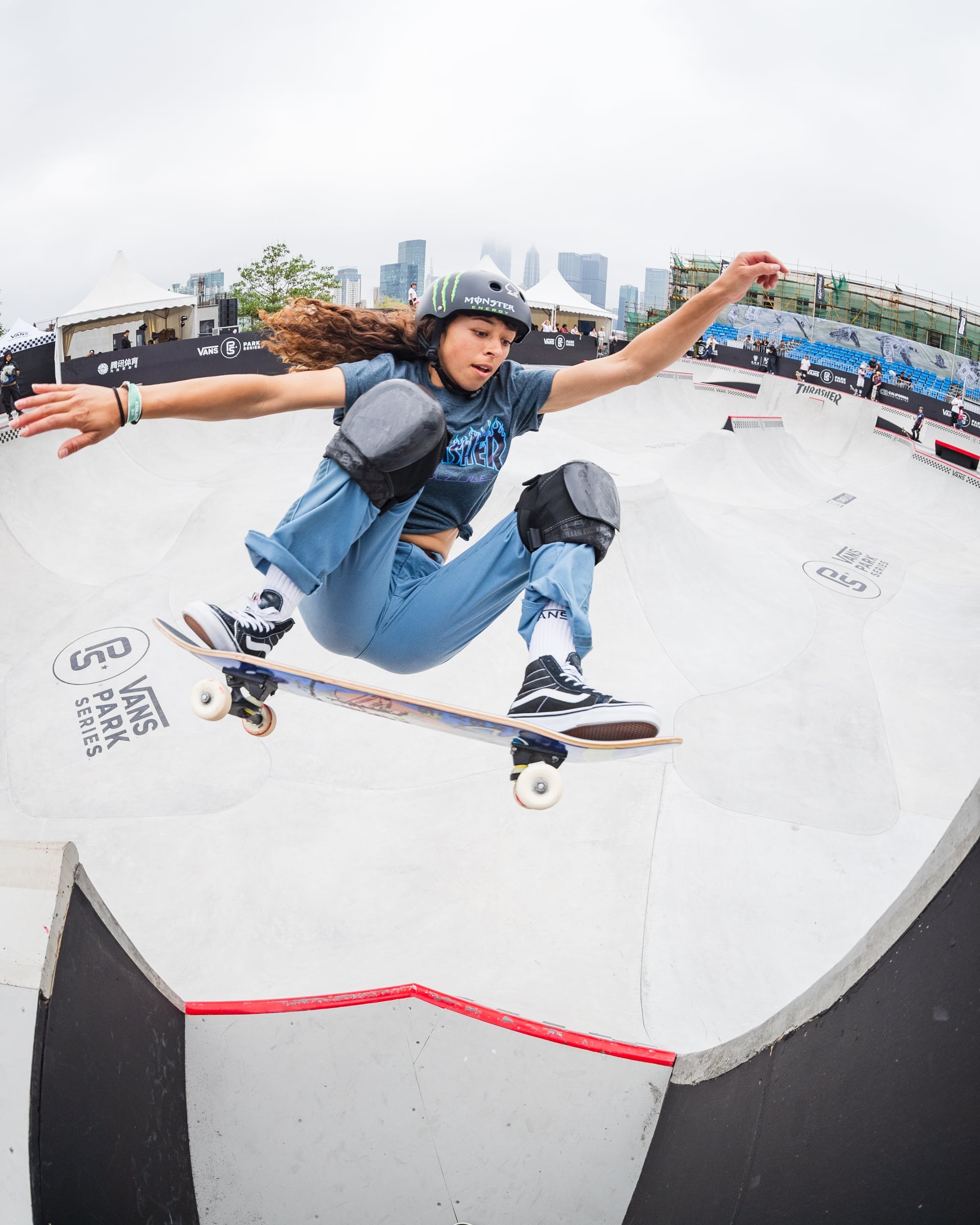 Watching Lizzie Armanto skateboard is hypnotic. She glides across the concrete bowl like it's made of water, skims up one side and down the other, and propels herself off the lip of concrete and into high-flying, rim-skimming tricks that look smooth and effortless. Even when she falls, skidding down on her knee pads, it's graceful.
Armanto will be the first to tell you that every skateboarder falls; it's to be expected when your sport is all about flying down a nearly frictionless surface, defying gravity, and testing the physical limits of a deck of wood and four wheels. But even with the falls and the injuries, 28-year-old Armanto is one of the most successful women in skateboarding with over 30 awards to her name. One of her most stunning accomplishments took place in a parking lot in Vista, CA, on a ramp known as the 360 loop. It's one of the more infamous skateboarding challenges, a move invented by Tony Hawk himself: to skate a ramp constructed into a perfect circle (going, at one point, completely upside down) and somehow come out the other side without crashing. According to Hawk, fewer than 20 people in the world have ever done it. In August 2018, Armanto became the first woman.
"It was crazy," she remembered. "I didn't know I actually made it through until I was halfway across the parking lot [afterward]." In total, Armanto estimated that she'd skated the loop for five hours before she finally figured out how to land it.
As a female skater, Armanto is familiar with breaking boundaries and the backlash that can come with it. In August 2019, she collaborated with skateboarders Samarria Brevard and Jenn Soto and directors Aaron and Lwany Smith in a powerful video showcasing the vitriol that female skaters experience on social media. The video follows the three women skating on streets and in skateparks while a voiceover reads out dozens of crass, sexist comments left on YouTube videos and Instagram posts, like "No one would give a sh*t if they didn't want to f*ck her," and "Can she do that again, but this time naked?"
"When I heard about the project, it instantly resonated with me," Armanto told POPSUGAR. Everyone on social media, she said, has been part of internet bullying, either as instigator or bystander. The comments "disgust" her, but her response is to rise above it. "Sometimes the best response is no response. I don't care to give people the satisfaction," she explained. "That's their whole goal."
And frankly, the progression of women's skateboarding speaks for itself. Armanto described how "immensely" the sport has grown in the past few years, especially on the women's side. "The gap between the 20th-ranked woman and first has become much closer. Now there's more than a handful of women capable of winning an event." And brands and competitions are stepping up on the financial side as well. The equality gap is shrinking, Armanto said. Men and women have equal opportunities to compete, and winners receive equal prize money regardless of gender.
Then, of course, there are the Olympics. Armanto's discipline, park, is one of two that will debut at the 2021 Games in Tokyo, and Armanto, "ranked fifth in the world, will be skating for Finland. (Armanto grew up in southern California with dual citizenship; her father was born in Finland.) The sport's introduction to the Olympics has caused some mixed feelings from around the skating community, but the potential it represents, to grow and introduce skateboarding to new audiences, can't be denied. "It's going to create more opportunities, events, and skateparks," Armanto told us. And when interest starts to pique, Armanto — whose history-making career began at a local skate clinic 12 years ago — had these words to offer young skaters: "If you want to try skateboarding, I absolutely think you should," she said. "A big part of trying is just going for it. Everyone has to start somewhere."
To learn more about all the Olympic hopefuls, visit TeamUSA.org. The Tokyo Olympics begin July 23 on NBC.
Image Source: Anthony Acosta