Who Is Madison Hammond?
Madison Hammond Just Had a History-Making Debut as the First Native American in the NWSL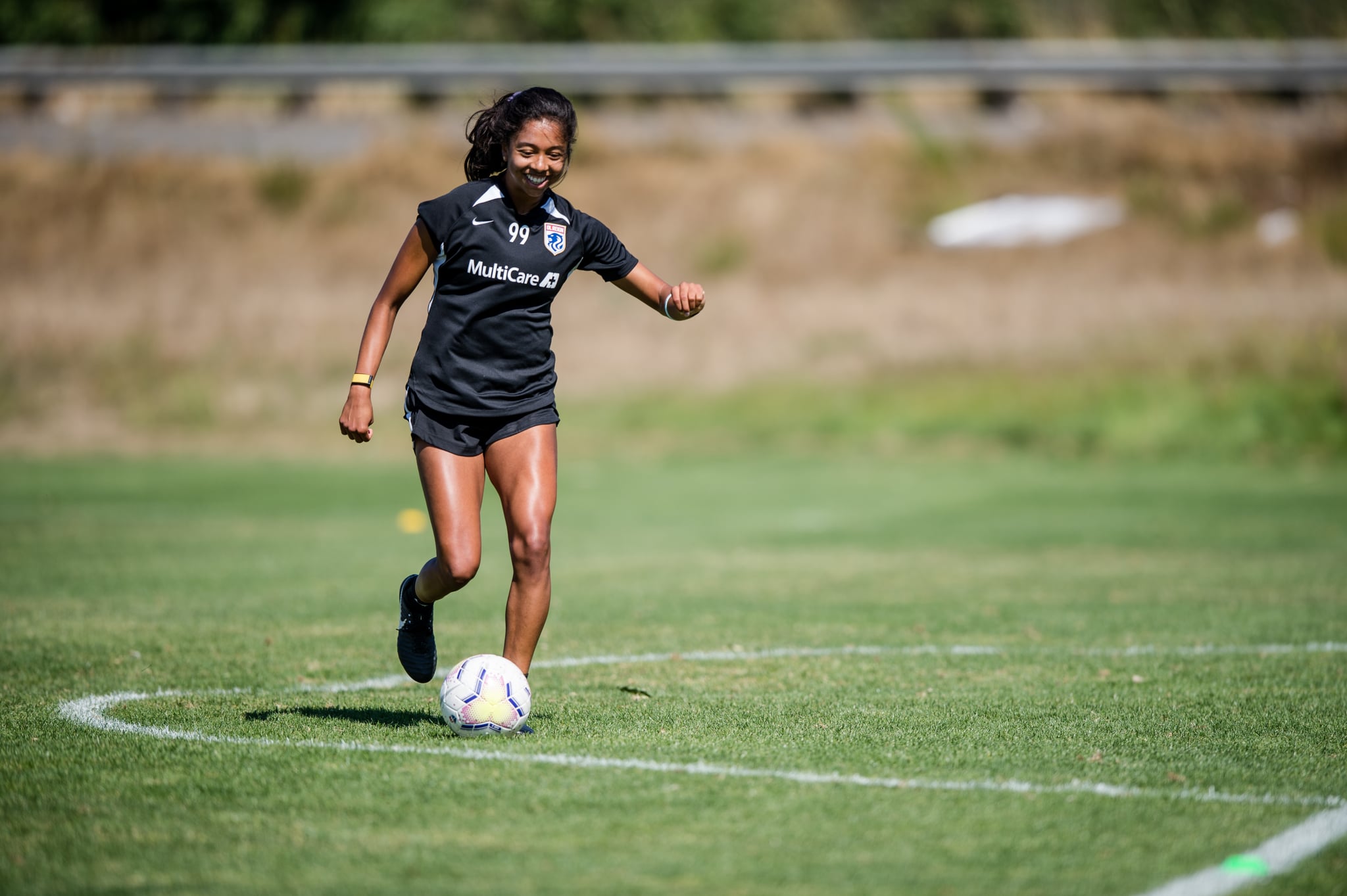 In June, Madison Hammond became the first Native American to sign a professional contract with the National Women's Soccer League (NWSL) — she signed a two-year deal with a club option for a third year — and on Saturday, Sept. 26, she went on to become the first player of Native American descent to take the field in the league. The defender with OL Reign subbed for Kristen McNabb during the last 14 minutes of play in a match against Utah Royals FC.
Hammond wrote on Instagram after the fact: "A whoooooole lotta firsts. First professional game. First Native American to play in the league. First time @billiejeanking tweeted about me. I am so grateful for this beginning, but looking forward to all that I have left to do!" Yes, American tennis legend Billie Jean King did in fact tweet about Hammond, saying "cheers" on her history-making OL Reign debut. "You have to see it to be it!" King wrote.
Hammond, who is Navajo and San Felipe Pueblo, was born in Phoenix, AZ, but grew up in Albuquerque, NM, where she learned to play soccer, according to the Navajo Times. She relocated to Virginia when she was 9 years old. In a Men in Blazers segment, Hammond said that moving across the country made her lose immediate ties to her culture "because being Native is very involved." She continued: "Our tribe, we don't have a written language. It's more of a lived experience, and so it's hard when you're not there."
"I'm really excited to be the first Native American to play in the NWSL, but I'm more excited to not be the last."
Later, Hammond played Division I soccer for Wake Forest University in Winston-Salem, NC, and was a four-year starter. (Fun fact: Hammond actually has played violin for most of her life and was also a member of the Wake Forest orchestra.) She said that she used her time in college to lean back into Native culture and acted on those beliefs in her day-to-day.
"I had never experienced going to a predominately white school where people don't understand what it meant to be black or Native," Hammond told the Navajo Times. "It was really important to me because I learned to be able to talk about it more." She added: "Not a lot of Native kids get to pursue my dream. . . . I hope to have a voice that's big enough to encourage, to influence some kind of real change."
Hammond also said on Men in Blazers: "I'm really excited to be the first Native American to play in the NWSL, but I'm more excited to not be the last. The only way that happens is if you see people that look like you doing what you want to do." For her, it's a big opportunity that she wants to run with — and she won't stop running "until things actually change and there's more representation."
Image Source: Courtesy of Jane Gershovich / OL Reign