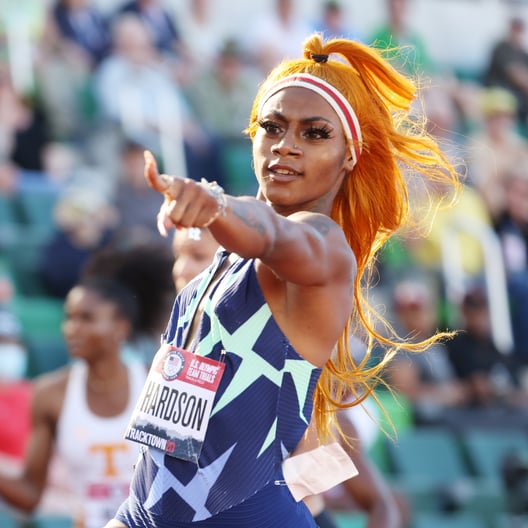 Sha'Carri Richardson blasted through her 100-meter sprint final at the Olympic Trials, finished first, and ran straight to the stands to celebrate with family as she made her first Olympic team. Now officially America's fastest woman, Richardson has been opening eyes for some time (her performance at the USA Track and Field Golden Games in May had fans comparing her speed and flair to a superhero), and she's primed for a global breakout in Tokyo this summer. So what should you know about Team USA's newest Olympic track star? Keep reading for seven fun facts about the 21-year-old phenom before she dons red, white, and blue in Tokyo.
To learn more about all the Olympic hopefuls, visit TeamUSA.org. The Tokyo Olympics begin July 23 on NBC.
01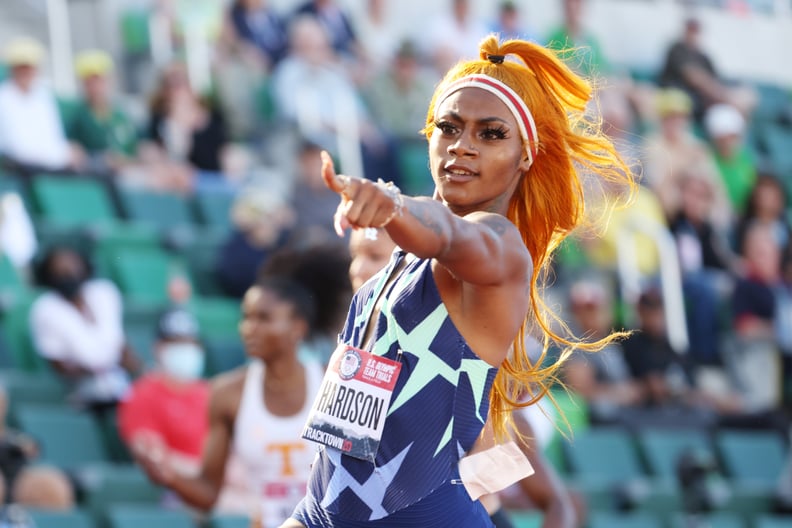 Sha'Carri Richardson Ran the Second-Fastest Time of 2021
At the 2021 Miramar Invitational in April, Sha'Carri Richardson posted a blazing time of 10.75 for the 100-meter sprint, good for the fastest mark in the world at the time. Sprinting legend Shelly-Anne Fraser-Pryce of Jamaica has since surpassed her with a personal best 10.63, setting up what could be a fierce rivalry at the Olympics this summer.
02
Sha'Carri Richardson Is a Favorite For the Olympic 100-Meter Sprint
With her commanding win at the Olympic Trials, Richardson cemented her status as a favorite for the 100-meter sprint not only within the US, but also at the Olympics. "Being happy is an understatement," Richardson told NBC after the race. "Excited, nervous, all of those feelings piled in one. I'm highly blessed and grateful." An American woman has not won gold in the 100-meter sprint since Gail Devers in 1996, although three American women (Lauryn Williams, Carmelita Jeter, and Tori Bowie) have since placed second.
03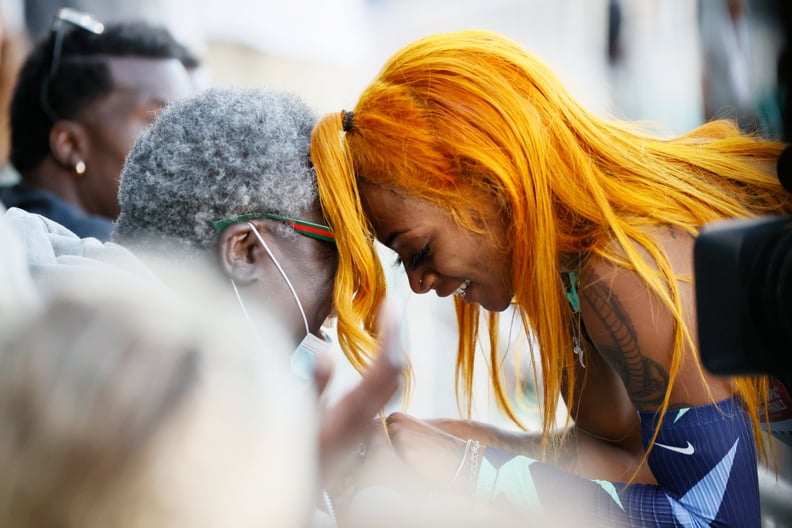 Sha'Carri Richardson's Grandmother Is Her "Superhero"
After winning her final at the Trials, Richardson dashed up into the stands to celebrate with her grandmother, Betty Harp. "Without my grandmother, there would be no Sha'Carri Richardson," she said in a post-race interview, later adding, "My grandmother is my heart. My grandmother is my superwoman." She said her grandmother has always been there for her, through her childhood in Dallas and the thick and thin of her track career. "From day one up until now," Richardson explained, "always being in my corner, no matter what I did, no matter if it was good, no matter if it was bad."
04
Sha'Carri Richardson Ran Track For Louisiana State University
Sha'Carri Richardson ran track at LSU in 2019, winning a national title and breaking the NCAA record for the 100-meter sprint with an incredible 10.75. She opted to go pro after her freshman year, calling it the culmination of a "lifelong dream."
05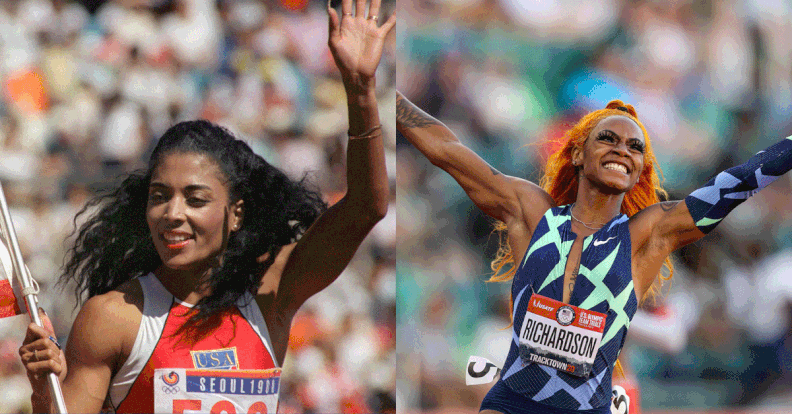 Sha'Carri Richardson Looks Up to Sprinting Icon Florence Griffith Joyner
Richardson's flair, style, and blazing speed calls to mind another US track icon: Florence Griffith Joyner, aka Flo-Jo, who tore up the track in the 80s and 90s while sporting long nails and hair. "Flo-Jo came to the track and knew she was going to dominate," Richardson told the Associated Press. "The way she did that was graceful. I always liked that. If the amazing Flo-Jo had long nails, there was no excuse why I couldn't have long nails."
It also goes beyond style. Richardson has faced her fair share of haters who bash her look and fearless confidence. Griffith Joyner, the 100-meter world record holder, was criticized for similar things and never let it affect her, Richardson found out. "Y'all love talking about my hair & my nails like the greatest woman to ever enter the game didn't run in style," she posted on Instagram in 2019. "She was the greatest of them all," Richardson said in a 2019 interview, according to the Washington Post. "People talked about her . . . People are going to say what they're going to say . . . Do what you want to do because, at the end of the day, people are going to talk. So make sure while they're talking, give them something to talk about."
06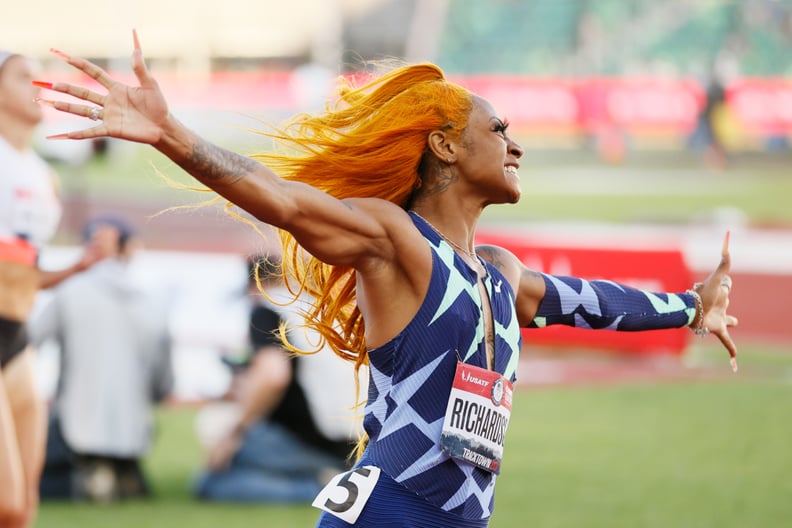 Sha'Carri Richardson's Girlfriend Picked Her Hair Color For the Olympic Trials
You can't miss Sha'Carri Richardson's vibrant hair and nails when she steps onto the track. After going with bright blue hair at the USATF Golden Games in May, Richardson went with golden-orange for the Trials, a color she said was suggested by her girlfriend. "She said it just spoke to her, the fact that it was just so loud and vibrant," Richardson told the Washington Post. "That's who I am. She just wanted me to be able to make a statement — let's continue to show the world I'm a force to be reckoned with."
07
Sha'Carri Richardson Is Known For Her Fierce Confidence
Richardson has already dropped some iconic quotes, one of them coming after a dominant semi-final win at the Olympic Trials. "I just want the world to know that I'm that girl," she told NBC. "Every time I step on the track, I'm gonna try to do what it is that me, my coach, my support team believe I can do . . . I'm never gonna take an opportunity to perform in vain." She stands up for herself on the track, in the press, and on social media. "I just use the haters, shake them off and use them as motivation," she told Flo Track. We think it's working for her.