Paid Content For

Quilted Styles Are Our Winter Activewear Staples
Paid Content For

As POPSUGAR editors, we independently select and write about stuff we love and think you'll like too. If you buy a product we have recommended, we may receive affiliate commission, which in turn supports our work.
While I'm a big fan of winter, I must admit it pains me just a bit to pack away my favorite bike shorts and crop tops for the next few months. And sure, while perfect running weather and a crisp breeze sure beats the dog days of summer, I'm still mourning the loss of my summer workout program.
However, one trend in particular is making it easier and more fun for me to make the summer-to-winter transition. Quilted styles are popping up everywhere, from run-ready jackets to post-workout slides to yoga-friendly joggers.
Although we've seen quilted fashion before, it's typically been reserved for winter puffers or ski apparel. But now the trend is easier than ever to wear. While I'll miss my bike shorts, I'm beyond excited to incorporate some soft and puffy quilted styles into my rotation for the season. Check out eight ways I'm looking to add the quilted style into my winter activewear wardrobe.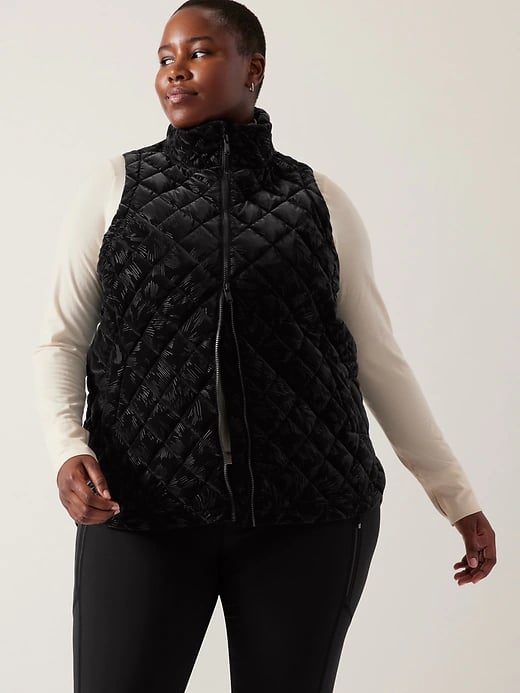 Athleta Whisper Featherless Velvet Vest
Layering is key as the temps start to drop, so naturally one of my winter favorites is a vest. The Athleta Whisper Featherless Velvet Vest ($169) blends the quilted trend with another seasonal favorite: velvet. This snug piece pairs well over any sweatshirt or long sleeve for an added layer of warmth while hiking, walking, or hitting the trails. Plus, you skip the bulk of regular vests thanks to lightweight 3M™ Recycled Thinsulate fabric.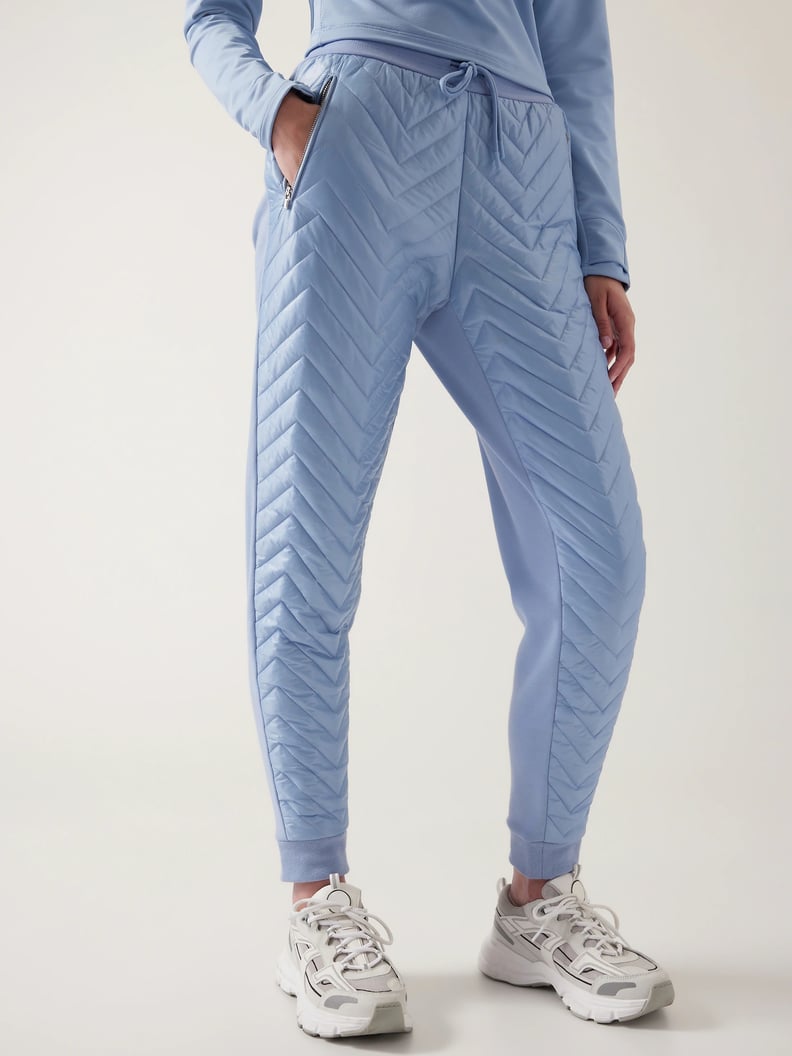 Athleta Apres Ski Down Jogger
One of my favorite ways to incorporate the quilted look into my activewear wardrobe is actually an unexpected one. The Athleta Apres Ski Down Jogger ($149) maximizes winter cozy while still being performance ready. These wind-resistant, water-repellant joggers are perfect for staying warm on hikes, jogs, climbs, and even post-activity lounging.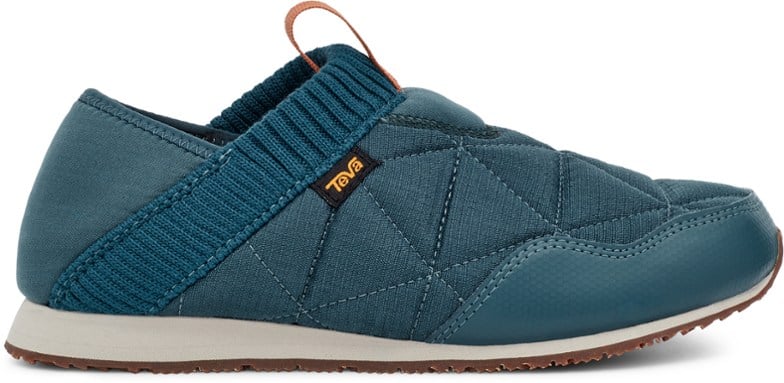 Teva ReEmber Slip-Ons
They might be polarizing, but these sleeping-bag-inspired slip-ons from Teva ($79) are one of my favorite ways to get a touch of the quilt trend without going all out. These simple shoes are great for moderate activities thanks to protective outer coating and a lightweight, cushiony sole.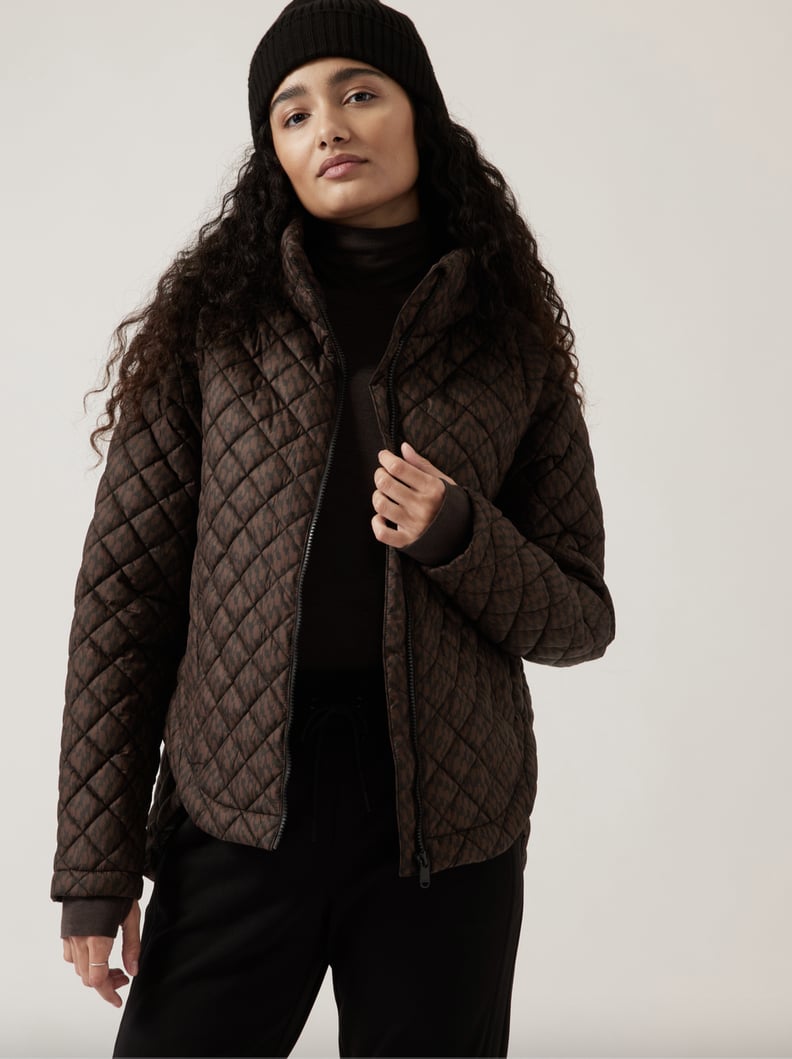 Athleta Whisper Featherless Jacket
The Athleta Whisper Featherless Jacket ($199) delivers extra insulation and warmth while keeping air flowing, so you stay comfortable and dry during activities. And anyone who, like me, loves to trail run and hike during winter knows breathability is key.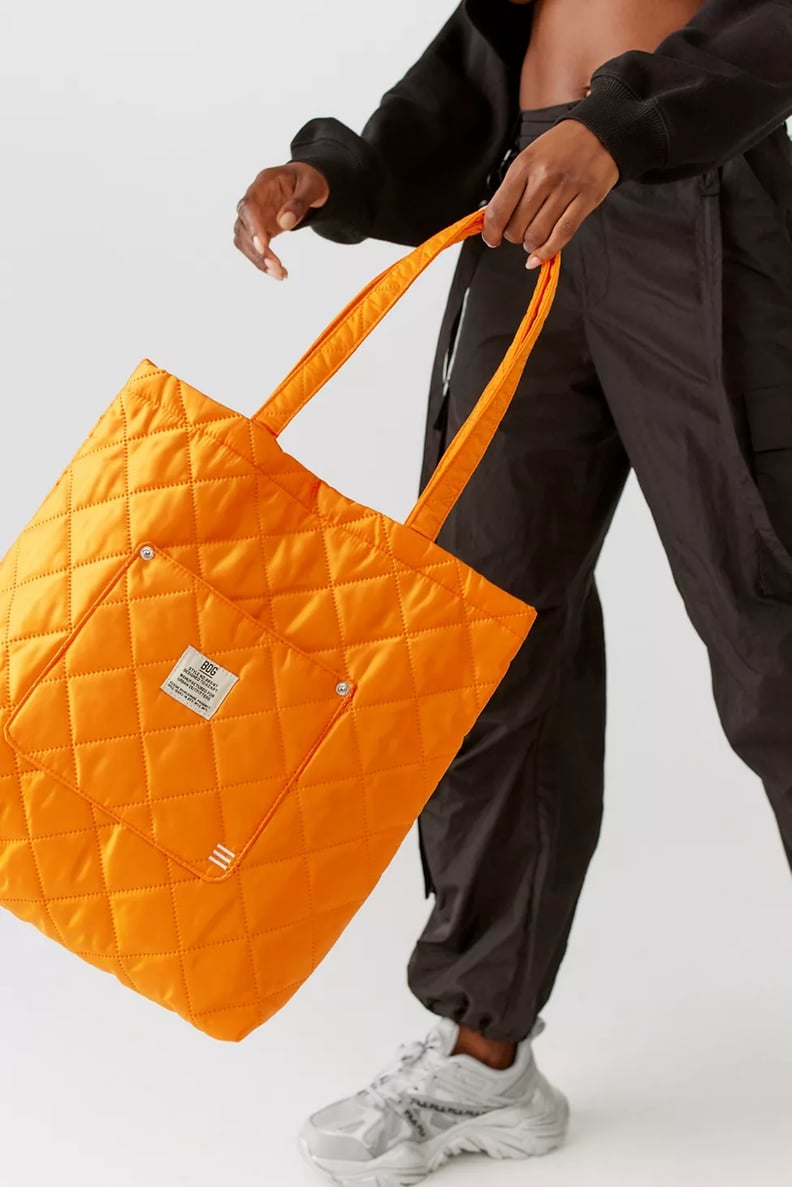 BDG Quilted Tote Bag
Heading to and from the studio or trail can also be stylish with the BDG Quilted Tote Bag ($39). This take on a classic tote is a great way to test the quilted waters without diving in headfirst. I'm personally loving how minimalistic this bag is in design but how vibrant the color choice is. And with orange already trending for winter, I'm counting this as a must shop.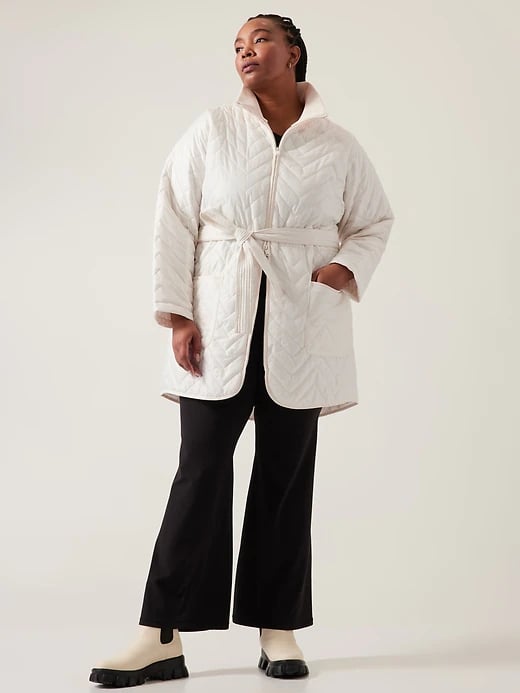 Athleta Mendocino Coat
Ideal for that post-yoga hang is the Athleta Mendocino Coat ($229). I love this tunic-style wrap coat for its longer length and lighter, more layering-friendly style. I'm calling this style the perfect fit for that post-studio jaunt. Plus, the zigzag quilt pattern breaks the standard patchwork mold.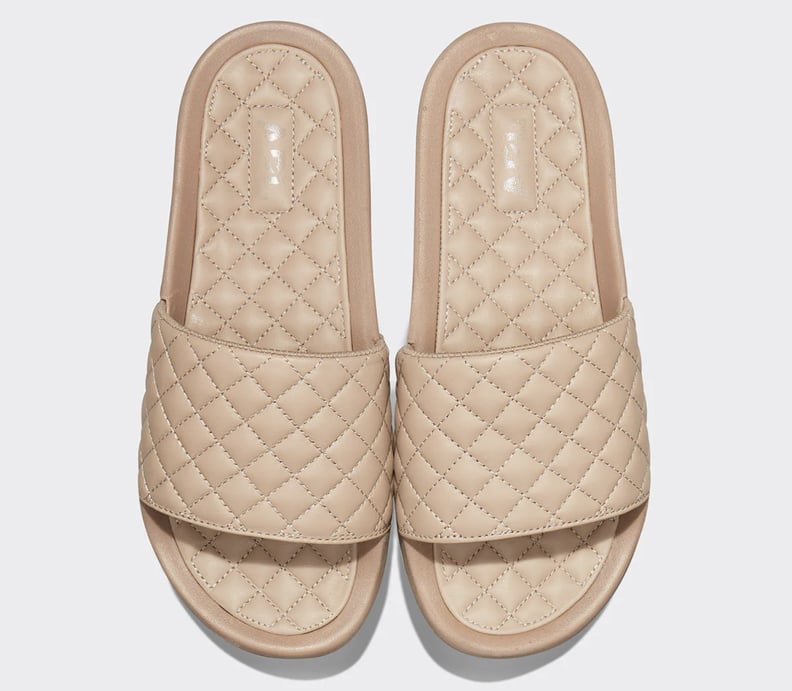 APL Lusso Slide Almond
After a hard workout, nothing helps speed up my recovery more than a nice foam roll and stretch. For those recovery moments, I always kick off my sneakers and opt for a nice slide sandal like the APL Lusso Slide ($195). The neutral almond color allows this piece to easily transition outfits, too.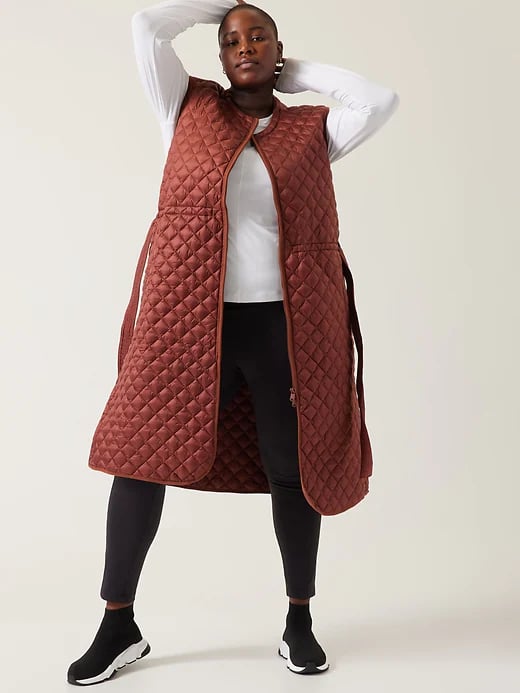 Athleta Whisper Featherless Long Vest
One of the keys to selecting winter-friendly activewear is to look for pieces that allow for warmth but leave the bulk at home. The Athleta Whisper Featherless Long Vest ($229) is a great example, with its lightweight, thermoregulated design that keeps the insulation without excess fabric or bulkiness. I'm already imagining this piece layered over my favorite tights and hoodie for winter hiking adventures.