Asian Tomato Salad Recipe
This Bright Salad Recipe Is the Perfect Way to End Your Summer
If you're wanting to end your Summer on the right note, look no further than this sweet and spicy recipe. The Kitchy Kitchen shows us how to make this colorful option.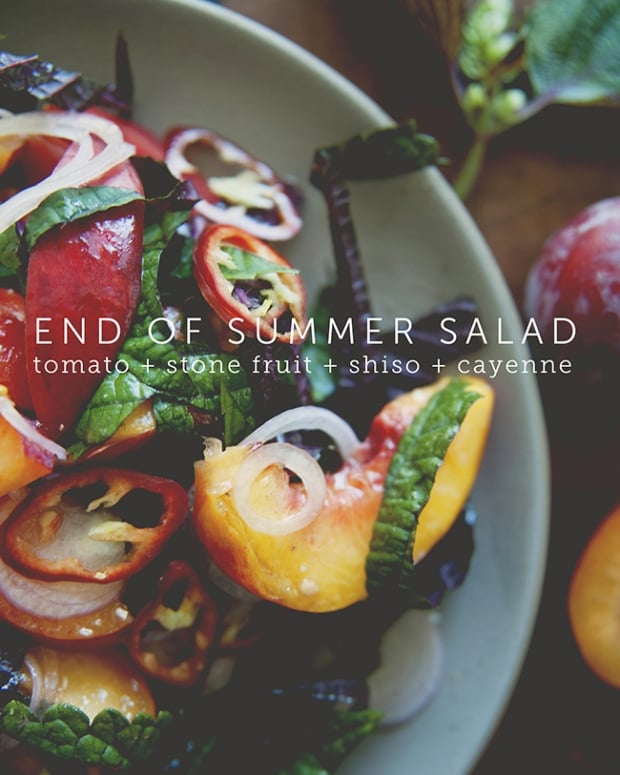 Well, it's here. Or I guess we're a little past it. It's the end of Summer. Not that you can tell. The afternoon sun still turns my car into an incubator, and the backs of my knees and small of my back are still uncomfortably damp after sitting at my desk all morning. But, the sun is setting almost imperceptibly earlier, and the world seems to know that Fall is around the corner, with the farmers markets overcompensating for one last week before butternut squash starts to make an appearance in the stalls.
This salad is a celebration of that last sonorous gasp of warm nights, the satisfaction of a cold pillow and sheets, and me caring about shaving my legs. Filled with ripe stone fruit and juicy tomatoes, it's bright and fresh, with a delicious balance of sweet and tart. Thinly sliced shiso, (which, if you're not familiar, tastes like basil and mint rolled into one), shallot, and fresh cayenne pepper give a savory note to this fruit salad. It's sexy and vibrant, just like Summer should be.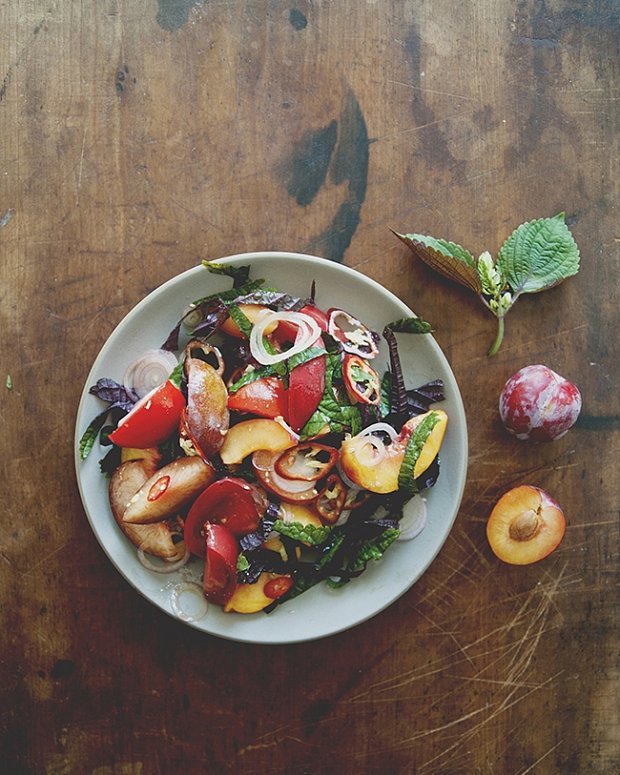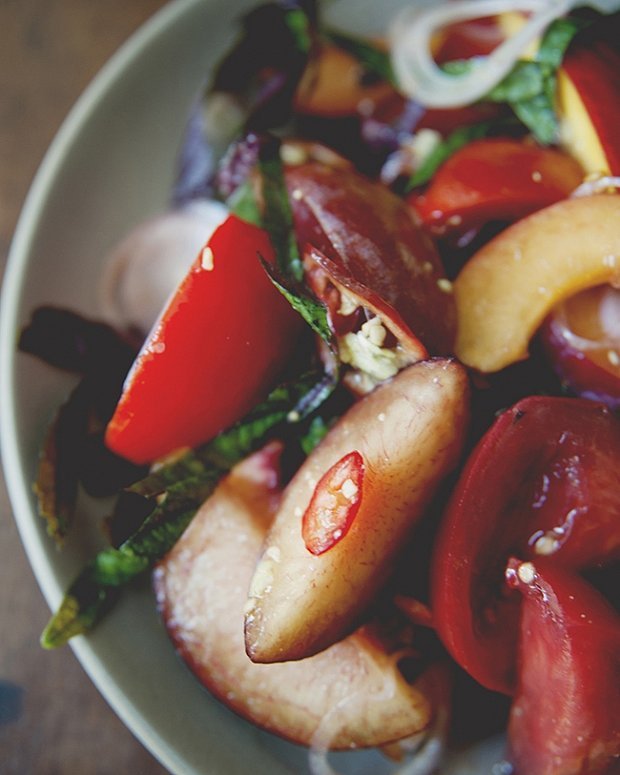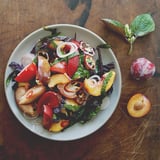 Ingredients
1 1/2 cups sliced yellow nectarines
1 1/2 cups wedged tomatoes
1 1/2 cups sliced plums
1 cup shiso, chiffonade, lightly packed
1 cayenne pepper (or red jalapeño), thinly sliced
1 small shallot, peeled and thinly sliced
Salt and pepper
1 tablespoon rice wine vinegar
1 tablespoon fish sauce
3 tablespoons olive oil
Directions
Combine all of the ingredients in a large bowl. To make the vinaigrette, combine the ingredients in a jar or container, put the lid on, and shake until combined. Pour over the salad. Toss and season with salt and pepper.
Information
Category

Salads, Main Dishes

Cuisine

North American

Yield

Serves 1-2