Baked Goat Cheese With Cranberries and Pumpkin Seeds
An Appetizer So Wonderfully Cheesy, You'll Be Scraping the Edges of the Dish
POPSUGAR is bringing you an exclusive look at Thanksgiving recipes from famous lifestyle influencers. We're excited to present the first online look at this baked goat cheese recipe from Luci Petlack, the blogger behind Luci's Morsels.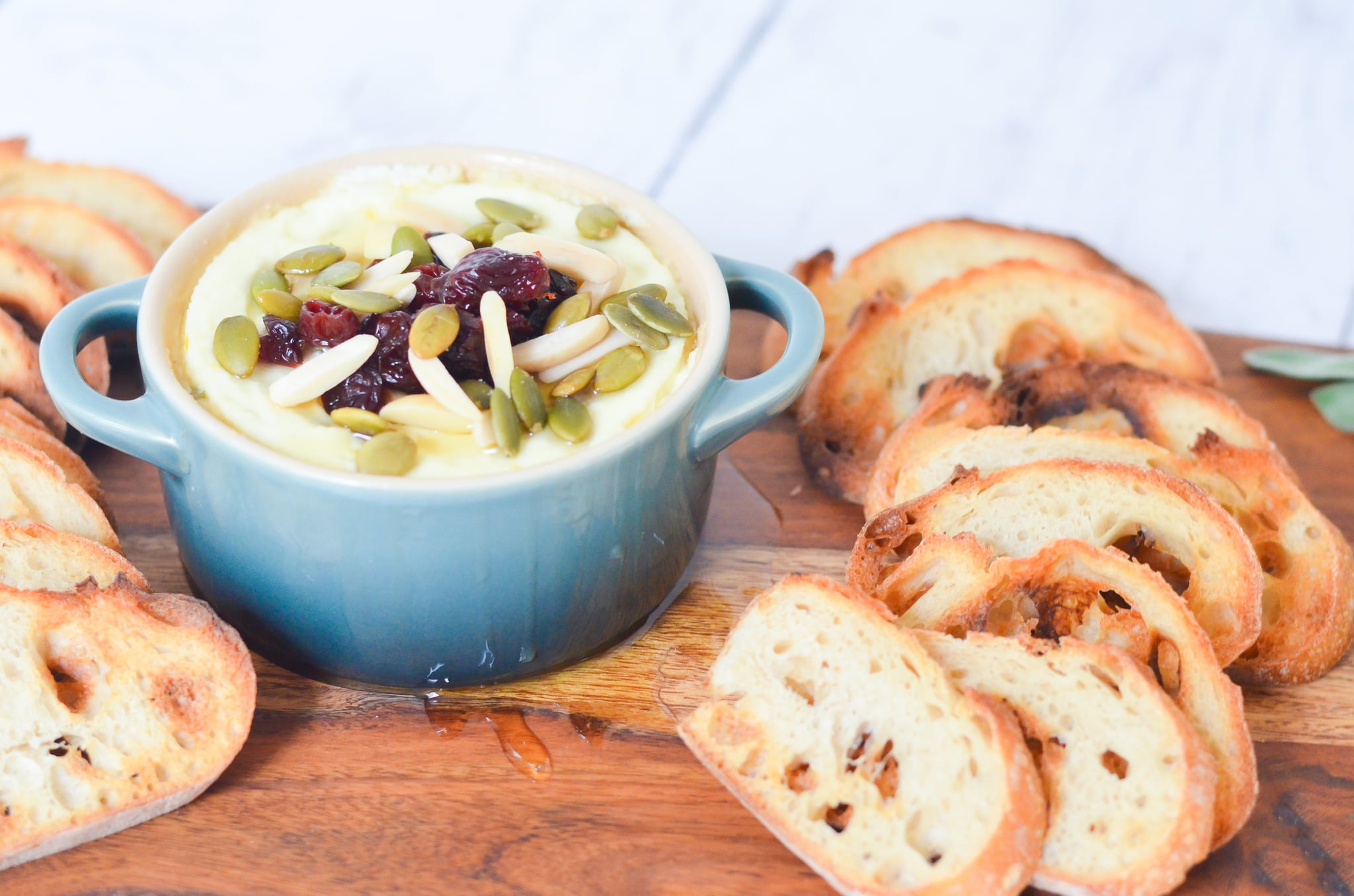 This baked goat cheese dip is a sure win for any occasion. On a recent trip to Victoria, British Columbia, Canada, my husband and I opted for dinner at a Scottish pub one night, looking for tasty comfort food. Trying to be good, we ordered salads and healthier options but decided to splurge on its goat cheese appetizer. Though the rest of the food was fine, the starter took us quite by surprise. The dish was served with honey and topped with dried fruit, and we scraped the edges of the dish to get every bite possible.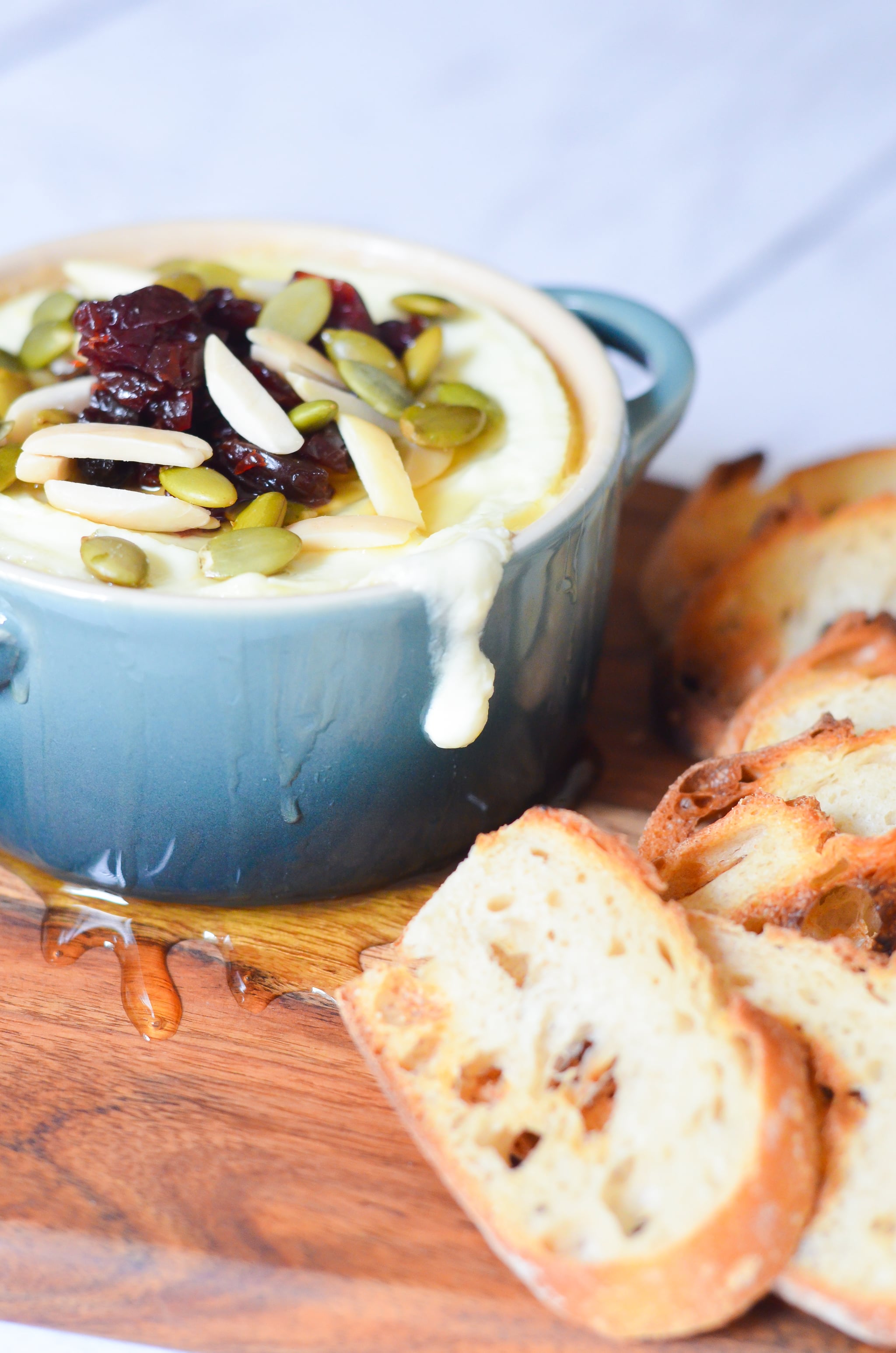 Goat cheese is an easy choice for your Thanksgiving spread since so many people love it. This recipe adds sour cream and lemon zest to add a tart flavor that counters all the sweetness in the toppings. I love using these mini croquette dishes for baking and serving, but you can use any oven-safe dish you have on hand. Feel free to get creative with the toppings. I used dried tart cherries, salted pepitas (pumpkin seeds), and toasted, slivered almonds. You can easily substitute dried cranberries or apricots, sunflower seeds, and your favorite chopped nut!
Baked Goat Cheese Dip
Original Recipe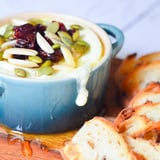 Ingredients
10 ounces goat cheese
1/2 cup sour cream
Zest of 1 lemon (about 1 1/2 teaspoons)
3 teaspoons julienned fresh sage (can substitute 1 teaspoon dried sage leaves)
1/4 teaspoon salt
1/4 cup honey
1/4 cup dried tart cherries or cranberries, roughly chopped
1/4 cup salted pepitas
1/4 cup slivered almonds, toasted
Crackers or baguette slices, to serve
Directions
Preheat oven to 400°F.
Meanwhile, thoroughly combine goat cheese, sour cream, lemon zest, sage, and salt in medium bowl.
Place goat cheese mixture in small baking dishes, leaving at least 1/4 inch at top.
Bake for 20 minutes.
Remove from oven.
Top with honey, cherries, pepitas, and almonds.
Serve with crackers or baguette slices.
Information
Category

Dips, Appetizers

Cuisine

North American

Yield

Serves 6

Total Time

39 minutes, 59 seconds
Image Source: POPSUGAR Photography / Luci Petlack