Bean and Spinach Stuffed Sweet Potato
1 Sheet Pan Is All You Need For a Fab Vegan Dinner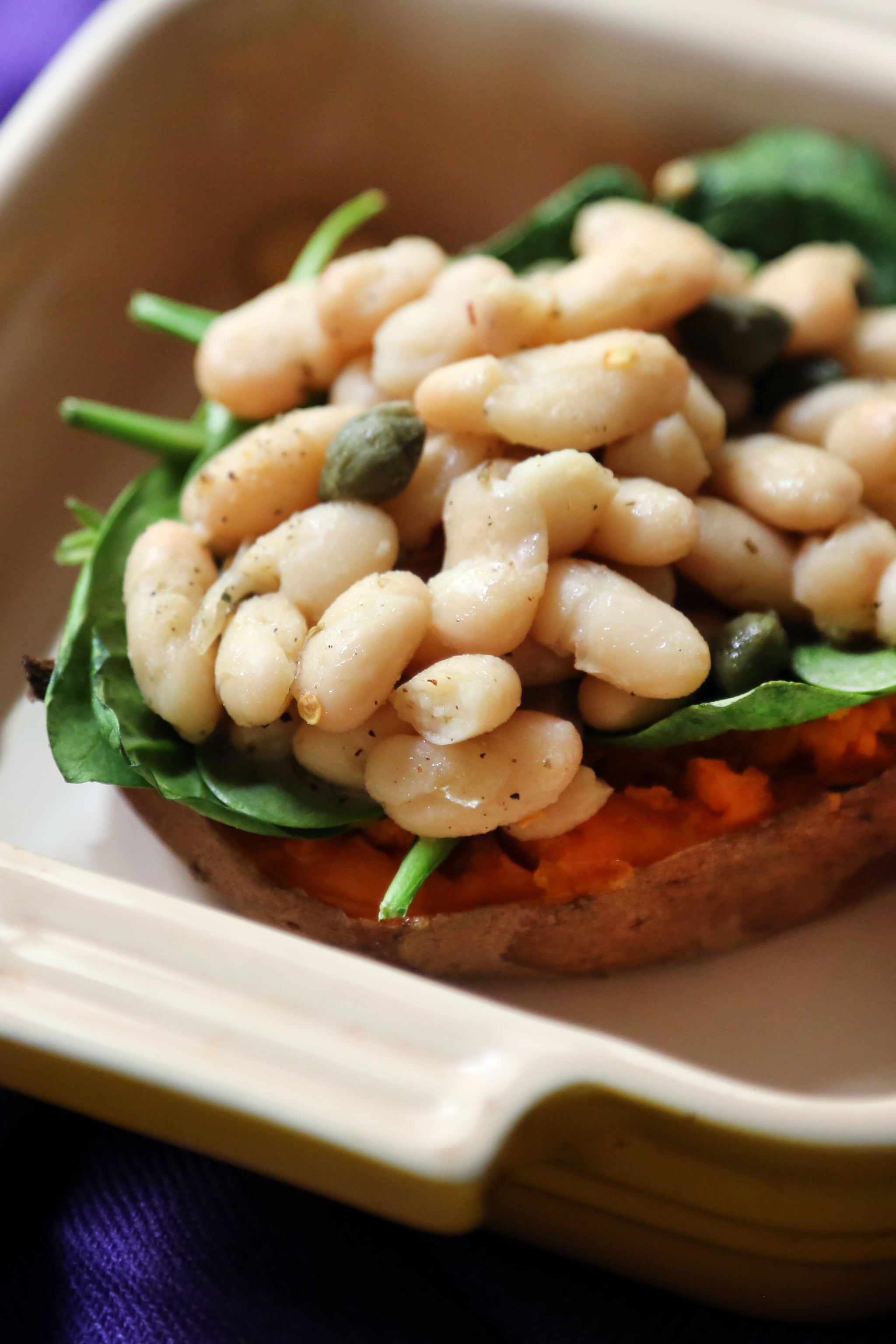 Molly Gilbert, I'd like to personally thank you for writing Sheet Pan Suppers. Living in a studio by myself, it can be a challenge to muster up the strength to cook for one . . . and do all the dishes by hand. But your cookbook is a game changer. First of all, it's better than one-pot cooking, which is fancy talk for steaming everything together. Roasting food on a sheet pan allows for amazing caramelization. And second of all, can we talk about the beans in this stuffed sweet potato recipe? They are so perfectly seasoned. Who knew capers, golden raisins, and herbes de Provence are the flavor trifecta for beans? I'm looking forward to cracking the spine of my Sheet Pan Suppers and staining many a page with oil and other food remnants, because everyone knows that a well-loved cookbook is well-worn.
Baked Sweet Potatoes With Cannellinis and Baby Spinach
From Sheet Pan Suppers by Molly Gilbert
Notes
This is a simple yet flavorful and satisfying meal in a bright and healthful package. Tender roasted sweet potatoes are filled with creamy white cannellini beans, a sweet and briny mix of raisins, capers, and herbs, then topped with a gently wilted baby spinach salad. If you have the foresight to roast the potatoes ahead of time, all it takes is a quick reheat in the oven or microwave and a piling on of toppings, and dinner can be ready in less time than it takes to decide what to eat for dessert. (May I suggest chocolate?)
To "quick-bake" a baked sweet potato: Don't have an hour to wait for those potatoes to roast? Just nuke 'em! Scrub the potatoes, prick them all over with a fork, place them on a microwave-safe dish, and cover them with a damp paper towel. Microwave the potatoes on high in 5-minute increments, until cooked through (they will take 15 to 20 minutes total). Cool, slice open, and continue with the rest of the recipe.
Ingredients
4 medium-size sweet potatoes, unpeeled, scrubbed, and pricked all over with a fork
1 can (15 ounces) cannellini beans, rinsed and drained
1/4 cup capers, drained
1/4 cup golden raisins
1 tablespoon freshly squeezed lemon juice (about 1/2 lemon)
1/2 teaspoon herbes de Provence
1 teaspoon kosher salt
1/2 teaspoon freshly ground black pepper
Pinch of crushed red pepper flakes, or to taste
1 tablespoon plus 1 teaspoon extra-virgin olive oil
4 cups packed fresh baby spinach
Directions
Preheat the oven to 400°F with a rack in the center position. Line a sheet pan with aluminum foil or parchment paper.
Place the sweet potatoes on the prepared sheet pan and bake until soft enough to pierce easily with a paring knife, about 1 hour. Set aside on the sheet pan to cool to the touch.
Meanwhile, stir together the beans, capers, raisins, lemon juice, herbes de Provence, salt, pepper, red pepper flakes, and 1 teaspoon of the olive oil in a medium-size bowl.
When the sweet potatoes are cool enough to handle, use a paring knife to split each one open lengthwise, taking care not to cut all the way through. (We're going to fill them like loaded baked potatoes.) Gently press the short ends of each potato together to expose the soft flesh and create a nice crater for the filling.
Use a spoon to distribute the bean mixture among the potatoes. Toss the spinach with the remaining tablespoon olive oil in the same bowl you used for the beans. (The bowl will have some delicious "dressing" still clinging to it.)
Stuff a big handful of spinach (about 1 cup) inside and on top of each bean-filled potato (they'll be overfilled and the spinach will overflow onto the baking sheet — that's OK).
Return the sheet pan to the oven and bake the potatoes until the spinach has wilted and everything is warmed through, 5 to 10 minutes. Serve the loaded potatoes hot from the oven.
Information
Category

Main Dishes, Beans

Cuisine

North American

Yield

Serves 4