The Best Electric Kettle
I Splurged on a $100 Electric Kettle, and It Was Worth Every Cent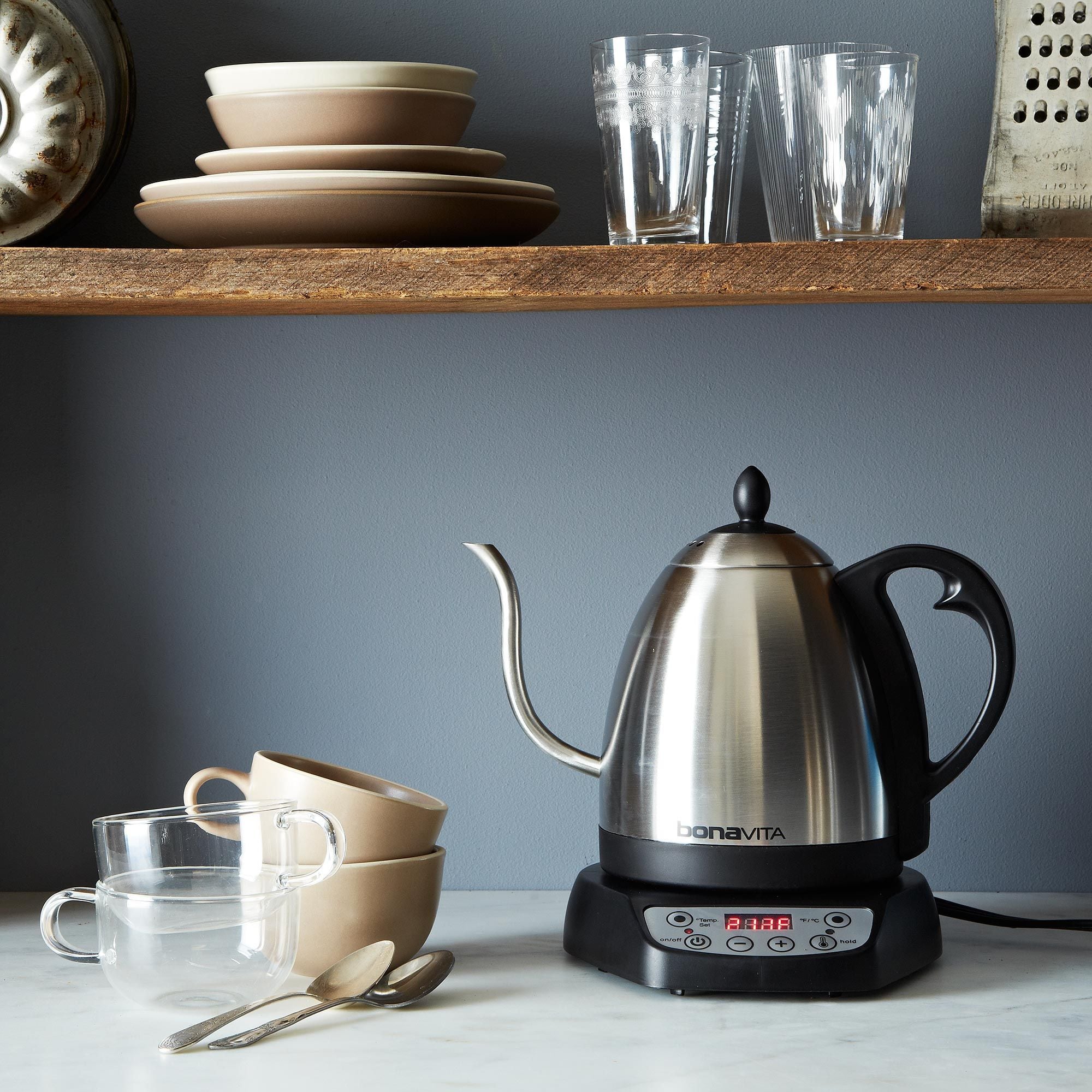 I'm a full-fledged tea and pour-over coffee addict. The first thing I do every morning after turning off my alarm is plug in my electric kettle to caffeinate pronto. For years, I adored my $30 Hamilton Beach Electric Kettle that looks like a classic stovetop kettle — but it met its demise when my friend accidentally put it over the stovetop and melted the bottom. I was in the market for a new kettle and serendipitously, Oprah released her list of her favorite things. The $100 tea kettle she vouched for could heat water to specific temperatures — a game changer for a fanatic like me who brews my tea and coffee to the -nth degree.
Sadly but not surprisingly, the kettle sold out before I could get my hands on one — yet I couldn't wait. After searching for "products related to this item," I was able to discover the kettle I would then purchase and love for years: the Bonavita Gooseneck Electric Variable Temperature Kettle ($100). Unlike the kettle Oprah's all about, Bonavita's design looks more like a stovetop kettle and features a gooseneck, a key component when making pour-over coffee. While Oprah's kettle is limited to six temperature buttons, the Bonavita kettle can be set to any temperature (use this tea-steeping guide for specific numbers).
Even after three years of near-constant use, the kettle still reliably and quickly heats the water to the desired temperature and, with the push of one button, holds the temperature for refills. Unlike clunky plastic kettles, this one looks sleek and fashionable on my counter top. I appreciate every detail that went into the design, including the ergonomic handle that features a cozy divot for my index finger. I bought my boyfriend one of these kettles, because I can't go a day without using it, and now he can't either. I've recommended it to countless friends, and it's my go-to wedding gift. Is $100 extravagant for a tea kettle? Yes, but its practicality and longevity make it worth every penny. Try it for yourself, and don't be surprised if this item finds a prime spot on your countertop too.
Lastly and most importantly, search for deals on this kettle. Amazon sometimes sells the kettle for a reduced price of $71, and other stores like Sur La Table will price match in stores.