Bloomin' Onion Pull-Apart Bread Recipe
You'll Fall to Pieces Over This Bloomin' Pull-Apart Onion Bread
Gear up for the next time you host game day with this insane bloomin' pull-apart onion bread. Or, really, for the next time you go anywhere with humans that like food. No one will be able to resist the combination of garlic, butter, onions, and cheese when you bring this bad boy through the door!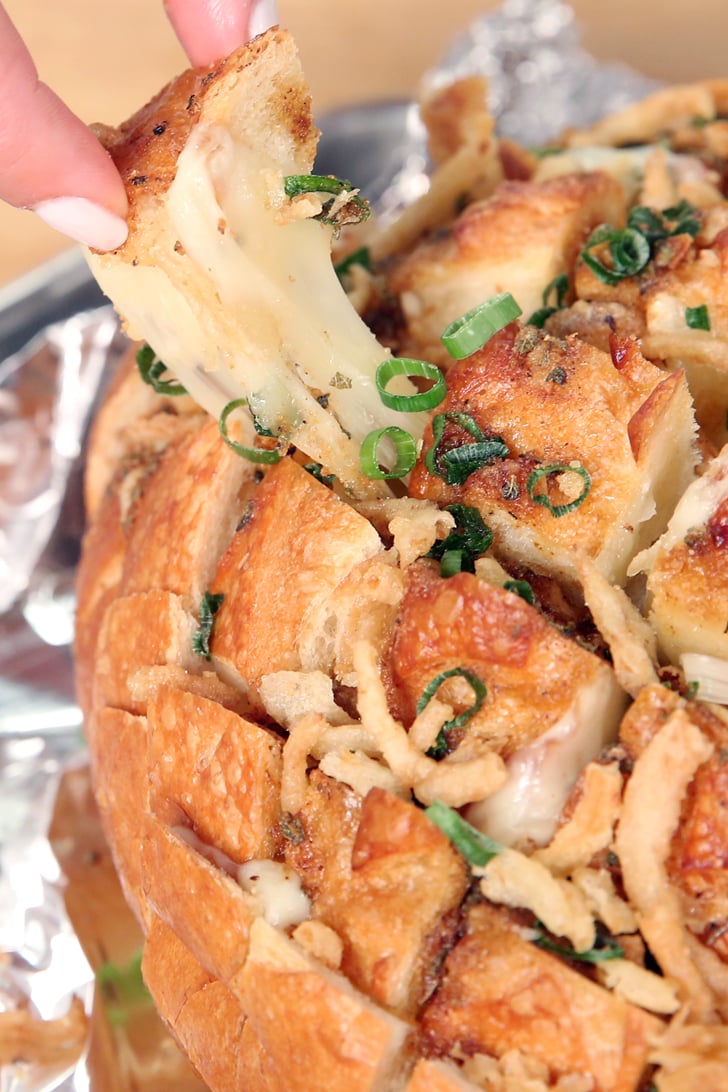 Bloomin' Onion Pull-Apart Bread
From Alyssa Noui, POPSUGAR Food
Ingredients
22-ounce bread boule
16-ounce Monterey jack cheese, sliced
1/2 cup crispy onions, lightly crushed
1 stick of butter, melted
1 teaspoon paprika
1 teaspoon garlic powder
1 teaspoon onion powder
1 teaspoon oregano
1/2 teaspoon black pepper
1/2 teaspoon salt
1/4 cup crispy onions, whole
1/4 cup green onion, sliced
Directions
Preheat oven to 350ºF.
Slice the bread boule lengthwise and widthwise in 1 to 1 1/2 inch slices, stopping 1/4 inch from the bottom to create a cross-hatch design, and place the bread on a foil-lined baking sheet.
Insert slices of cheese into each of the cuts, breaking off the excess cheese so it's not sticking out. Sprinkle crushed crispy onions into the nooks and crannies.
Add spices to melted butter, and drizzle spiced butter evenly over the bread.
Add half of the green onions and loosely cover with foil and bake for 20 to 25 minutes.
Remove foil cover, add remaining crispy onions, and bake uncovered for an additional 10 minutes, until the cheese is melted.
Garnish with remaining green onions.
Information
Category

Appetizers, Breads/Crackers

Cuisine

North American

Yield

8 to 10 Servings