Chocolate Marshmallow Crinkle Cookies
Hacking the Box Mix: Homemade Chocolate Marshmallow Crinkle Cookies
This holiday season, treat your friends, family, and loved ones to a homemade edible gift. We've compiled 30 of our favorite edible gifts — including this recipe — so you can deliciously DIY.
Chocolate crinkle cookies are a holiday favorite. Gooey and fudgy, with plenty of powdered sugar to go around, a package of these cookies is sure to please anyone on your gift list. The recipe is inspired by a chocolate crinkle cookie mix from Williams-Sonoma. Unfortunately, the mix is no longer available. Determined to see if I could hack the recipe myself, I got out my trusty scale and started weighing out all the ingredients on the package. I felt like a modernist cook, breaking down the recipe bit by bit.
My experimental hack was a success, and tasters loved the crumbliness of the cookies and the brownie-like interior. Do these taste exactly like the Williams-Sonoma brand? Not exactly, but that is to be expected since I used different cocoa powder, chocolate, and vanilla. Next time, I do plan to splurge on all of Williams-Sonoma's baking ingredients, so I can get even closer to the flavor of the original mix.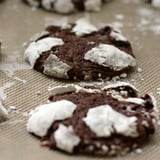 Ingredients
3/4 cup whole wheat pastry flour
2 tablespoons cocoa powder
2 teaspoons baking powder
1/2 teaspoon salt
3 tablespoons milk
1/2 cup (4 1/2 ounces) high-quality dark chocolate
4 tablespoons (1/2 stick) butter, at room temperature
2/3 cup brown sugar
1 teaspoon vanilla extract
1 egg
1/2 cup Jet-Puffed Vanilla Mallow Bits
1/2 cup powdered sugar, sifted
Directions
In a small bowl, sift the flour, cocoa powder, baking powder, and salt together. Set aside. Melt the chocolate and milk in a double boiler; be careful not to overheat as the milk can curdle. Remove and stir until the mixture is smooth. Set aside.
In a bowl of an electric mixer, beat the butter on medium speed until creamy, about one minute. Add the sugar and vanilla and beat until fluffy, about four minutes. Stop the mixer and scrape down sides of the bowl if necessary. Add the egg and beat until well-combined, about one minute. Reduce speed to medium-low, add the melted chocolate mixture, and beat until well-combined, about 30 seconds. Reduce speed to low, add the flour mixture, and beat until just incorporated, about one minute. Stir in the Mallow Bits. Do not overmix. Cover the mixing bowl with plastic wrap and refrigerate for one hour.
Preheat to 350°F. Line two baking sheets with parchment paper. Remove the dough from the refrigerator and use a small scooper (or two spoons) to divide dough into 18 equal balls (about two tablespoons per cookie). Roll each dough ball in powdered sugar until coated. Place the cookies on prepared baking sheets, spacing them two inches apart.
Bake until the cookies have flattened out and the tops look crinkled, about 12 minutes. The centers will look underdone. Halfway through the baking time, rotate the sheets from top to bottom and 180 degrees. Transfer the parchment paper with cookies to cooling racks and let the cookies cool completely.
Information
Category

Desserts, Cookies

Cuisine

North American

Yield

Makes 18 cookies

Total Time

1 hour, 59 minutes, 59 seconds