Cobb Salad Wrap
At Last! A Salad Wrap You'll Love Eating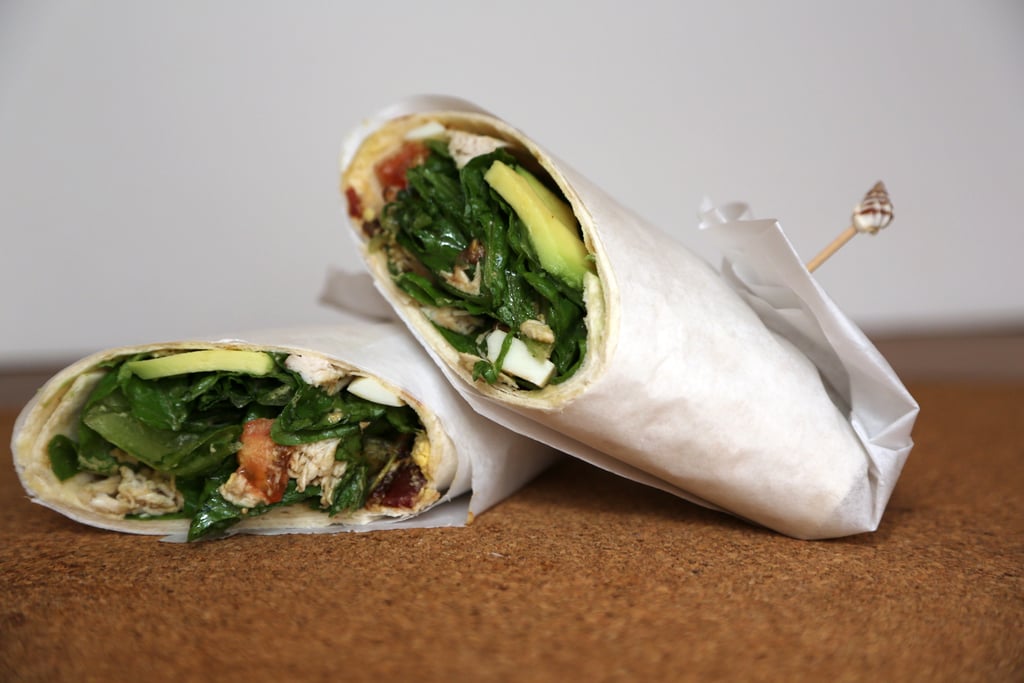 When you're on the go yet looking for a filling, protein-packed lunch, the Cobb salad wrap has you covered.
In case you aren't familiar with a Cobb salad, it's a classic American salad that is typically loaded with bacon, chicken, blue cheese, egg, and avocado. This recipe isn't about reinventing the wheel — we're just trying to wrap it!
Once the salad is tossed in dressing, wrap it tightly inside a piece of flatbread for an easy way to eat on the go.
The beauty of this salad is that so many interesting and unusual ingredients come together. You may get a bite that's loaded with salty, smoky bacon, while the next will have a large hunk of funky blue cheese. I salivate just conjuring up memories of sinking my teeth into the flavor-filled wrap.
Cobb Salad Wrap
From Anna Monette Roberts, POPSUGAR Food
Notes
Prefer more bacon and less blue cheese? Adjust the toppings' measurements to your liking, but try to stay within about 1 cup total worth of toppings so the wrap doesn't explode.
Ingredients
6 romaine lettuce leaves, torn into bite-size pieces
2 slices of bacon, cooled and crumbled
1/2 cup shredded chicken, cooled
1/4 cup tomato, medium diced
2 tablespoons blue cheese crumbles
1 hard-boiled egg, roughly chopped
Balsamic vinaigrette, homemade or storebought, to taste
2 large rectangular pieces of flatbread
1/2 ripe avocado, thinly sliced
Directions
In a large bowl, toss romaine lettuce, bacon crumbles, shredded chicken, diced tomato, blue cheese crumbles, and chopped egg together. Toss in balsamic vinaigrette, 1 tablespoon at a time, until salad is evenly coated.
Set a piece of parchment paper down on a flat surface and lay a piece of flatbread on top. Place half of the mixed salad along the edges of the flatbread closest to you. Spread half of the avocado slices along the top of the salad.
Starting with the edge of the flatbread closest to you, firmly tuck the salad into the flatbread and roll it away from your body. Once the flatbread is completely wrapped, grab the parchment paper with your fingertips and roll the wrap into the paper. Fold the ends of the parchment toward the center of the wrap and secure them with toothpicks. Using a serrated knife, cut the wrap in half. Repeat the wrap-making process with the other piece of flatbread, remaining salad, and avocado. Serve wraps immediately or store in an airtight container and eat within 8 hours.
Information
Category

Main Dishes, Sandwiches

Cuisine

North American

Yield

Makes 2 wraps
Image Source: POPSUGAR Photography / Anna Monette Roberts