Confetti Cookie Dough Brownie Cake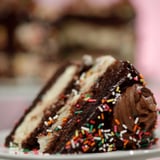 Ingredients
For the brownies:
2 boxes brownie mix
1 cup oil
1/2 cup water
2 large eggs
For the cookie dough:
1 1/2 cups butter, at room temperature
1 cup granulated sugar
1 1/2 teaspoons vanilla extract
1 box plus 1 1/2 cups confetti cake mix
1 1/3 cups all-purpose flour
4 tablespoons milk
5 teaspoons rainbow sprinkles
3/4 cup semisweet chocolate chips
3/4 cup white chocolate chips
For the chocolate ganache:
12 ounces semisweet chocolate chips
1 cup heavy whipping cream
To decorate the cake:
Chocolate buttercream
Rainbow sprinkles
Directions
To make the brownie layer: Preheat oven to 350ºF and spray 3 8-inch cake pans with nonstick cooking spray.
Make the brownie batter according to the box directions by mixing in oil, water, and eggs. Evenly divide the batter between the 3 pans and bake for 35 to 40 minutes or until a toothpick inserted in the center comes out clean. Once the brownies have cooled, carefully remove from the pans.
To make the cookie dough: In a large bowl, mix together room-temperature butter with sugar and vanilla until combined. Add in confetti cake mix, flour, milk, and sprinkles. Continue mixing until a dough has formed. Add semisweet and white chocolate chips and keep mixing. The dough should be thick.
To make the ganache: Divide the chocolate chips evenly between 2 bowls. Microwave the heavy whipping cream until it just starts to boil, about 2 minutes, and then pour half into each bowl of chocolate chips. Cover each bowl with plastic wrap to melt the chocolate and then stir until smooth.
To assemble the cake: Line 1of the 8-inch cake pans with plastic wrap. This will make it easier to transfer the layers to the cake stand. Place 1 brownie layer in the bottom of the cake pan. Cover with 3 tablespoons of chocolate ganache and then half of the cookie dough mixture. Press down to form an even layer.
Carefully remove the layer from the cake pan and place on a cake board or cake stand. Repeat with another layer of plastic wrap, brownie, ganache, and cookie dough. To seal the 2 layers together, top the cookie dough on the first layer with more ganache before placing the second set of layers on top. Finish with another layer of ganache and the last layer of brownie.
Pour the second bowl of chocolate ganache on top of the cake, letting it drip down the sides. Decorate with swirls of chocolate buttercream and sprinkles. Refrigerate until ready to serve.
Information
Category

Desserts, Cake

Cuisine

North American

Yield

1 cake