Coolhaus French's Mustard Ice Cream Review
French's Mustard Ice Cream Is Blindingly Yellow and Upsettingly Good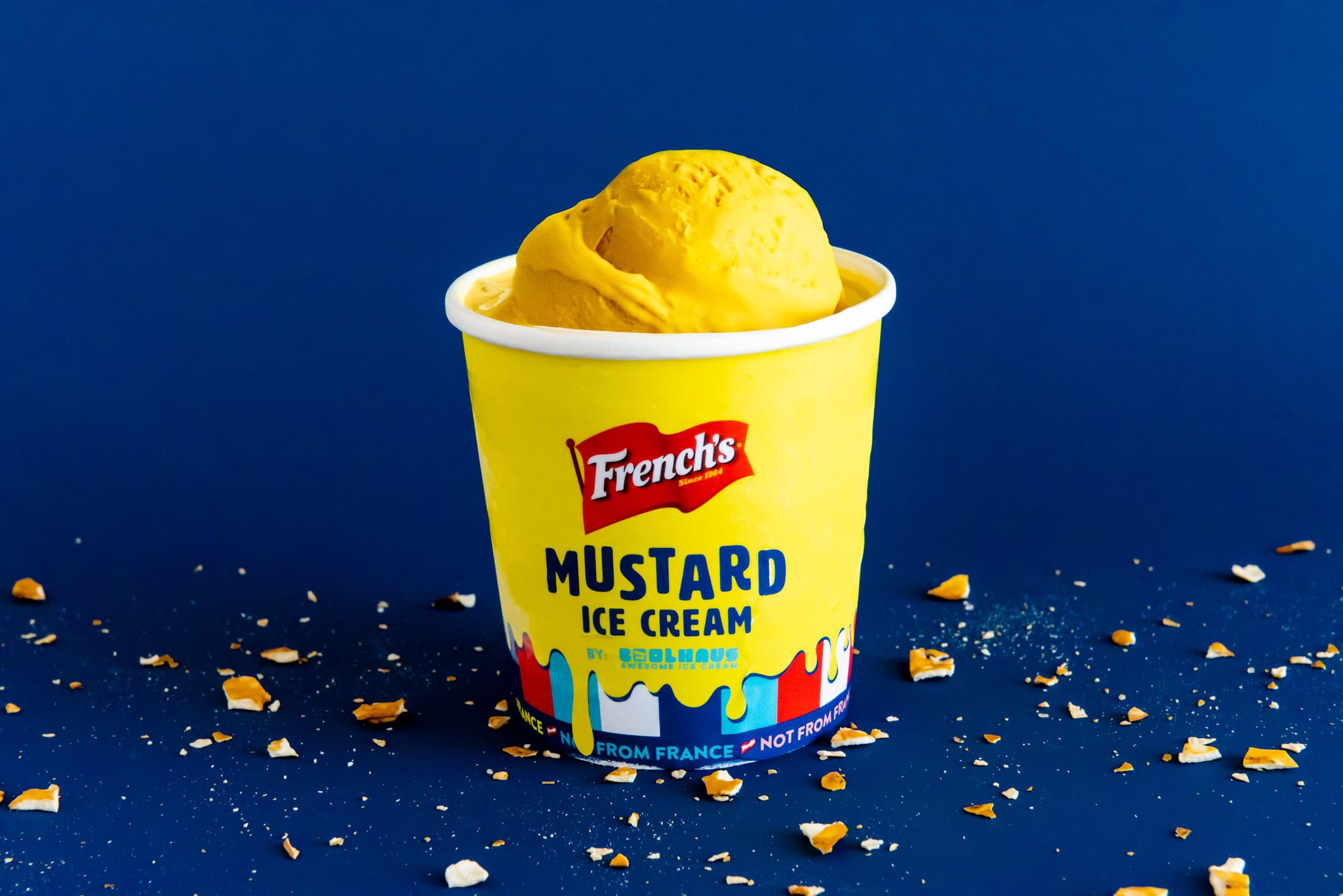 I'm walking home when my boyfriend texts me: "You got this horror show." He attaches a photo of a navy blue cooler, inside which is nestled a pint of French's Mustard Ice Cream. In honor — or defiance? — of National Mustard Day on Aug. 3, LA-based ice creamery Coolhaus is joining forces with the brand-name condiment. When I got the press release promising their questionable concoction would "have Americans enjoying mustard in a way it's never been seen before," I knew I couldn't shirk my responsibility as a journalist deeply committed to serving the public interest. I had to try it.
To be clear: I'm not a person who's into trendy foods that seem devised solely to elicit equal parts revulsion and curiosity on social media. Like, I have no intention of ever tasting Flamin' Hot Cheetos funnel cake. But this time I was intrigued. Coolhaus is a reliably delicious artisinal ice cream maker, and the whole French's experiment struck me as fiercely, almost petulantly American. Combining two defining foods of our cuisine into one superfood was defiant, ill-advised, and gleefully unsophisticated. Maybe even slightly evil. It just felt so very . . . USA 2019. (French's may be named French's, but as the brand is apt to remind you in phrasing that feels cheerful but also slightly unhinged, "there's nothing French about it!") In the era of Donald Trump, French's Mustard Ice Cream may not be the ice cream we want, but is it the ice cream we deserve?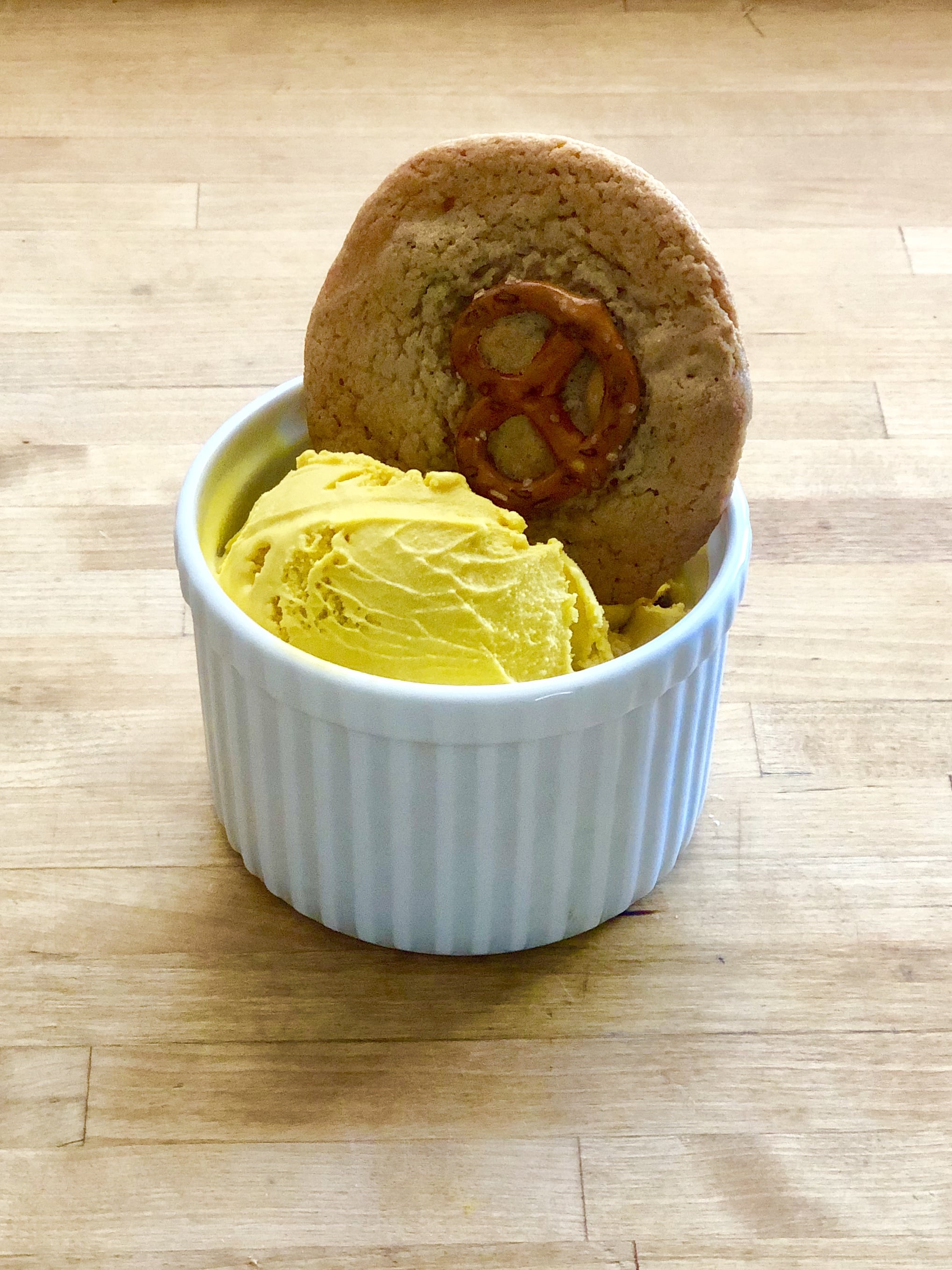 The first thing I notice upon removing the lid is that the ice cream is blindingly, unnaturally yellow. It is like I am staring directly into the sun. But I move past the offputting shade — this is reporting, damn it! — and take a bite. My first impression is that the flavor is reliably creamy and sweet. It's definitely ice cream! And while there's an overt French's flavor, its sharper tang is only revealed after an initial wave of caramelized sugar and cotton candy notes. (Birthday cake flavoring, I see, is listed as an ingredient on the label.) The pungent, mustard-y aspect isn't any more overwhelming than a bite of tart Pinkberry's frozen yogurt — which I know can be polarizing, but if you like that, you'll probably like this.
I mean, look: there's definitely mustard. Mustard! In your ice cream. What a world! But after my initial taste test, I find myself going back to the freezer for one more spoonful a frightening number of times. Partly because I can't believe I'm enjoying ice cream made out of hot-dog toppings, but mostly because I am really enjoying ice cream made out of hot-dog toppings. It's especially good paired with a bite of the salty pretzel cookie they included in the cooler they sent. Each time I scoop out another radioactive helping, my boyfriend's face registers deep disturbance. I hate myself, just slightly, but I love French's Mustard Ice Cream far more. I never was able to convince him to try it.
If you want to try this unholy and delectable creation for yourself, there are a few ways to get your hands on it. You can find it at Coolhaus in Culver City for a limited time, and a French's Ice Cream truck will be hitting the streets in NYC and the Hamptons from Aug. 1-3 serving up free scoops. Check the Coolhaus and French's Twitter accounts to find a stop near you. You will and won't regret it.
Image Source: Photos courtesy of French's