Copycat Trader Joe's Mexicali Chicken Salad
This Copycat Trader Joe's Salad Recipe Is Way Better Than the Original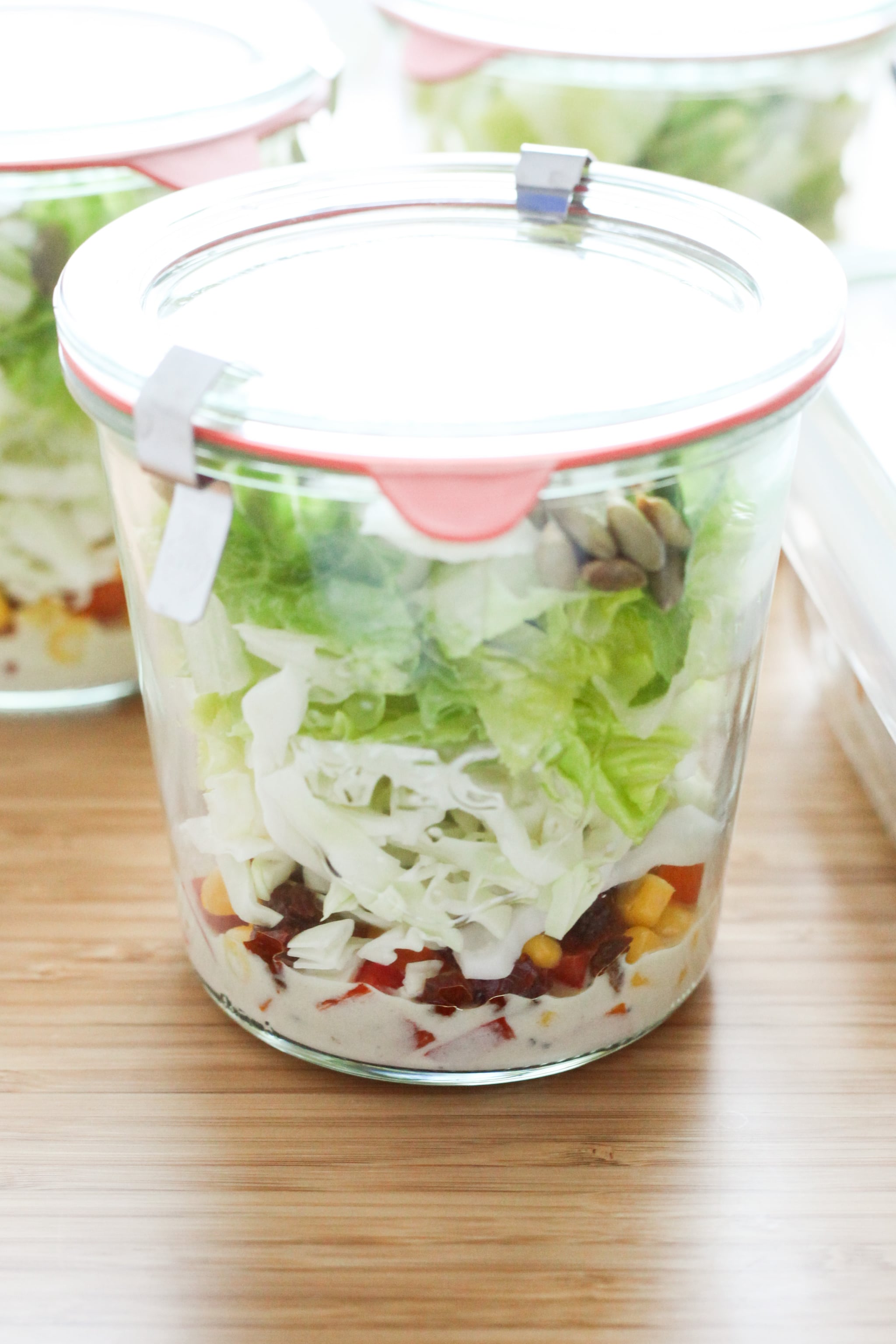 Shopping at Trader Joe's in NYC is practically a bloodsport. Bustling, chaotic, and insanely crowded, with a line that frequently wraps around half of the store's perimeter, the experience is hardly one that I'd recommend. So while the wildly popular grocery chain does stock a few items I love (and can't find elsewhere) — namely dried mandarin oranges, the super seed and ancient grains mix, vanilla meringues, and rosemary marcona almonds — I am at best an occasional customer. That said, I am sometimes lured in by the promise of these goodies, and when I'm there, I also inevitably spend some time hemming and hawing over purchasing a clamshell container of the Mexicali chicken salad.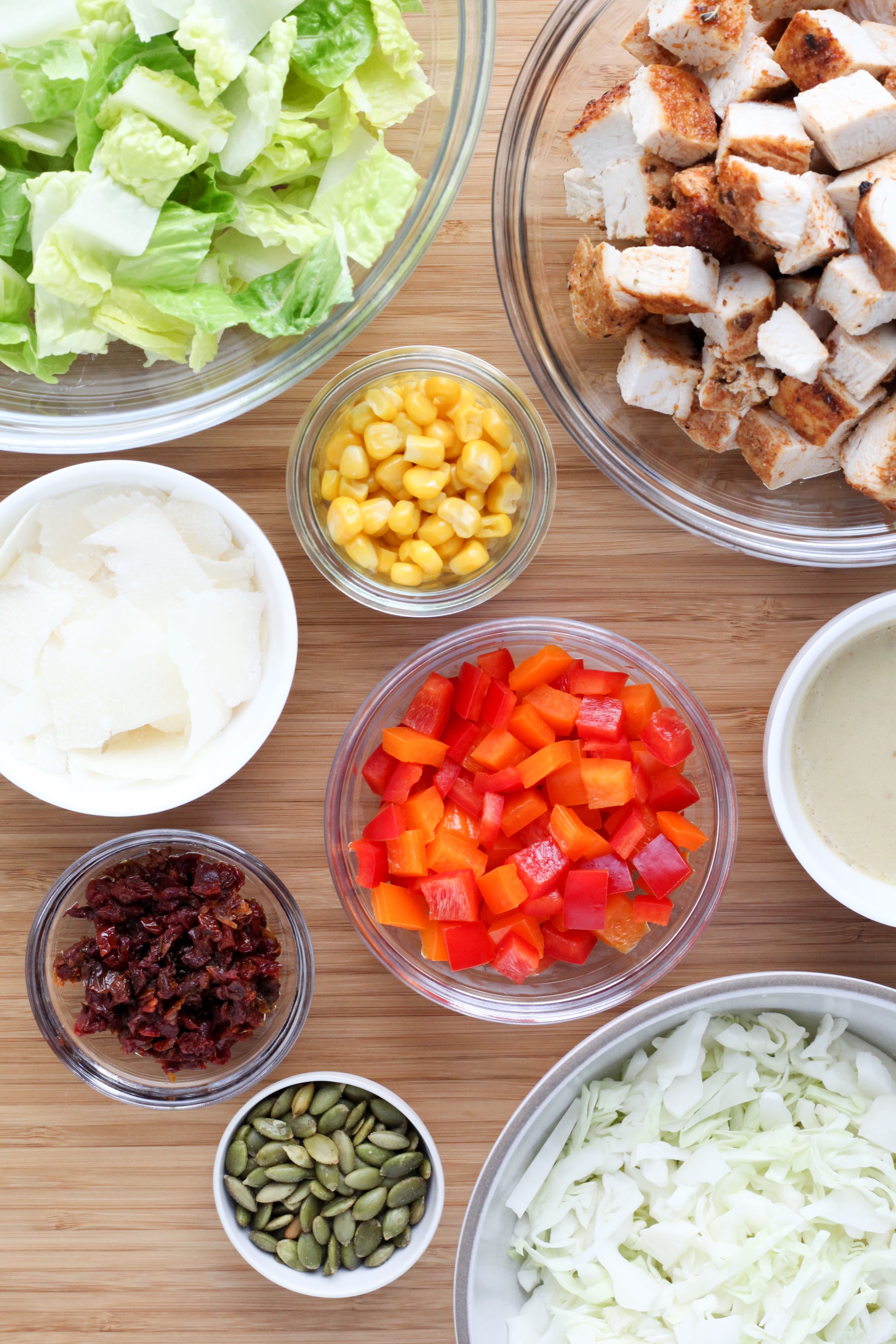 Conceptually, I'm into the salad. I wouldn't think to combine a spiced-up caesar dressing with corn, chicken, bell peppers, sun-dried tomatoes, greens, pepitas, cabbage, and parmesan, but it works. My hesitation has more to do with the quality of the ingredients. Nearly every time, I'm disappointed to find that the greens are far from fresh, the parmesan is mild and meh, and the dressing has a funky aftertaste. So, to remedy that, I've taken matters into my own hands, creating this copycat take on the clever concept using better ingredients and some meal prep know-how to keep things fresh longer.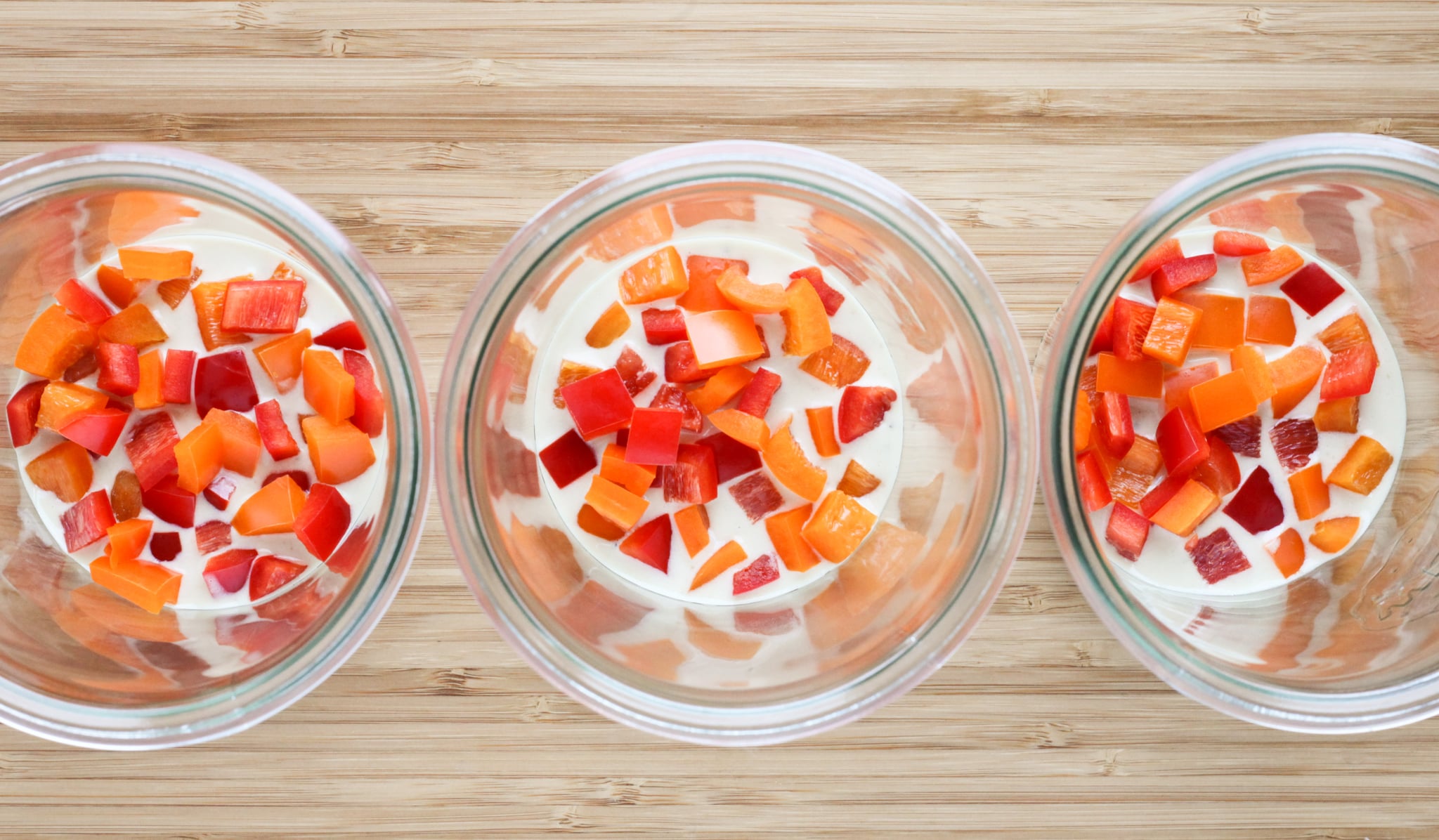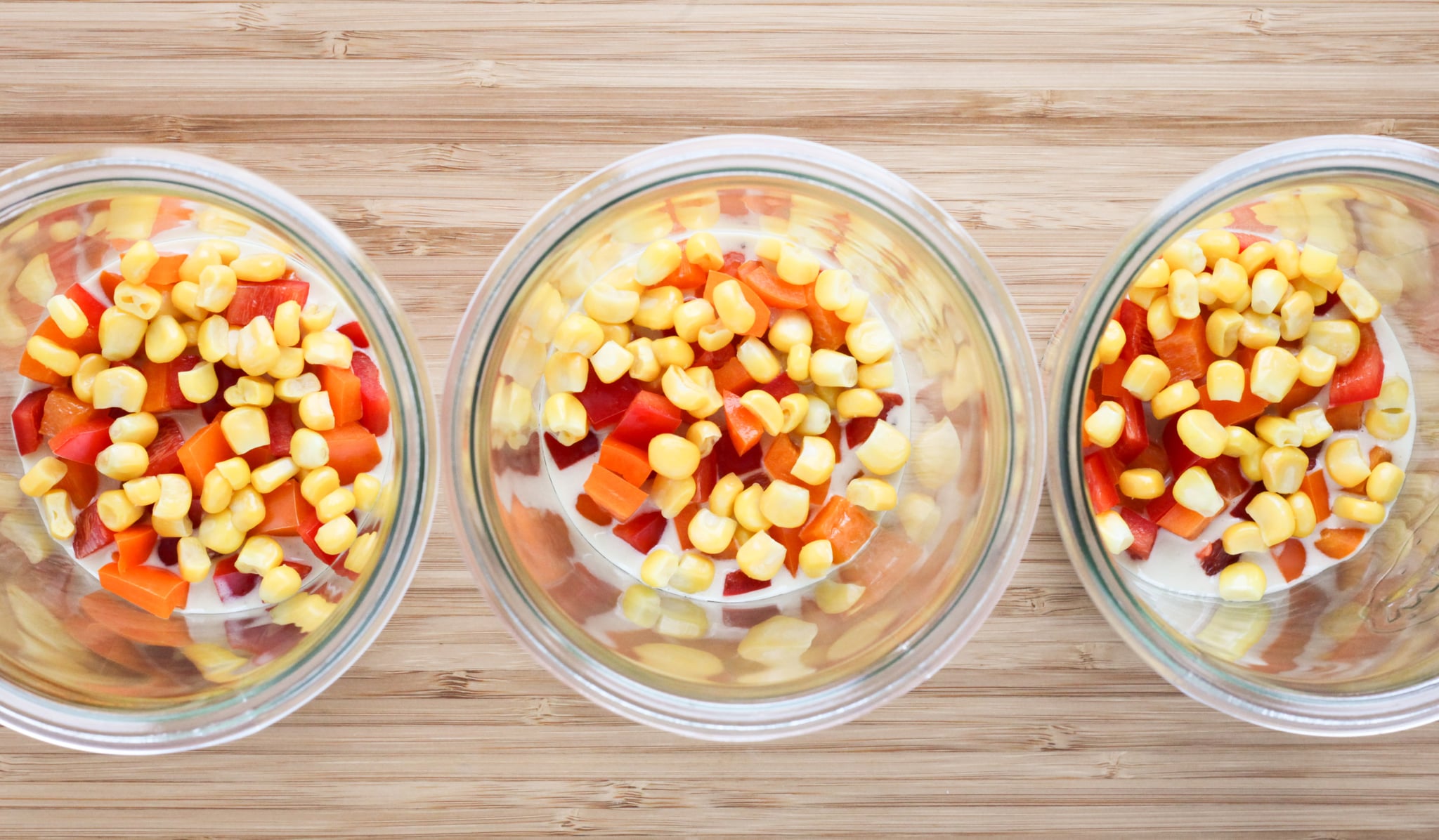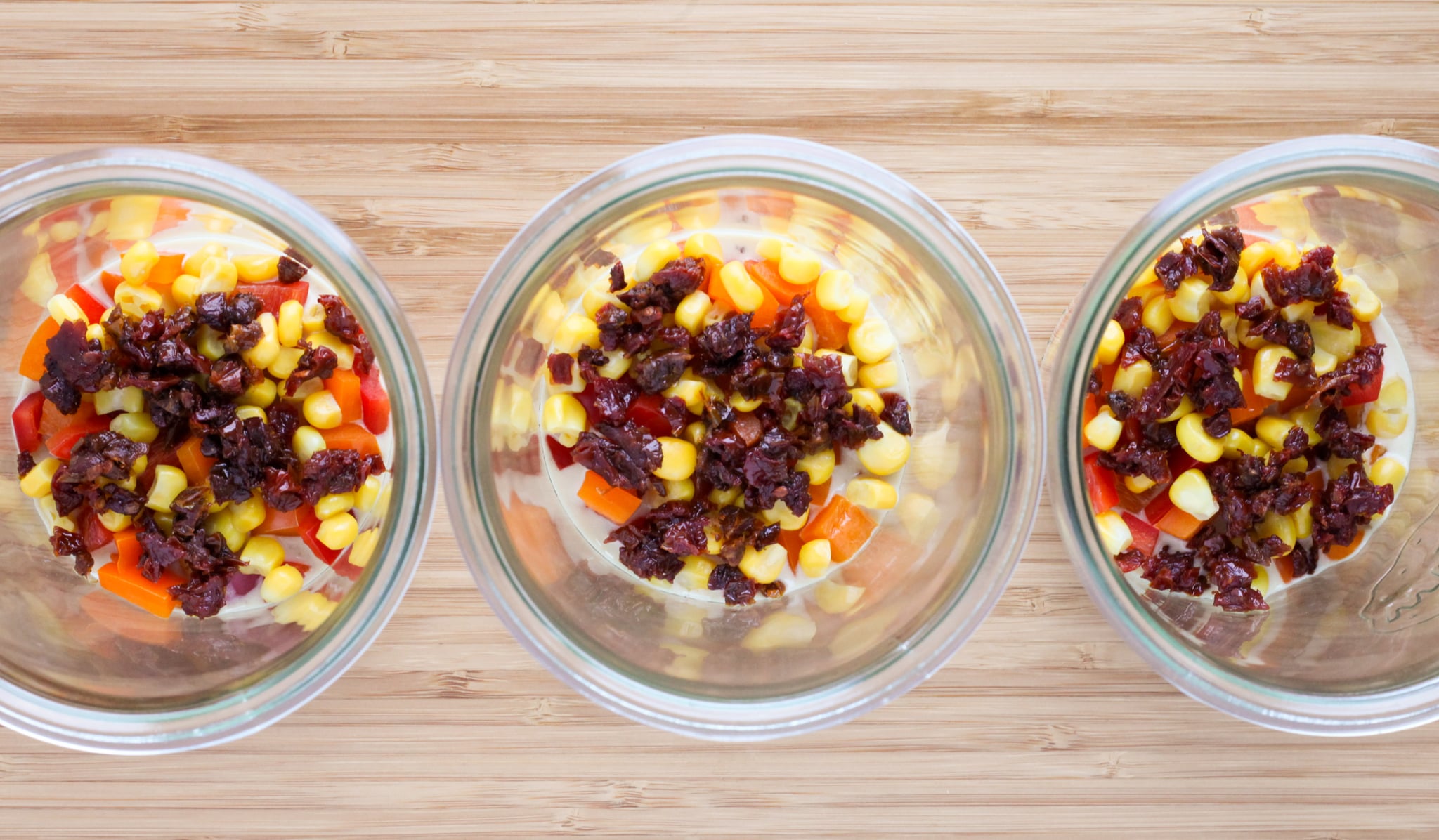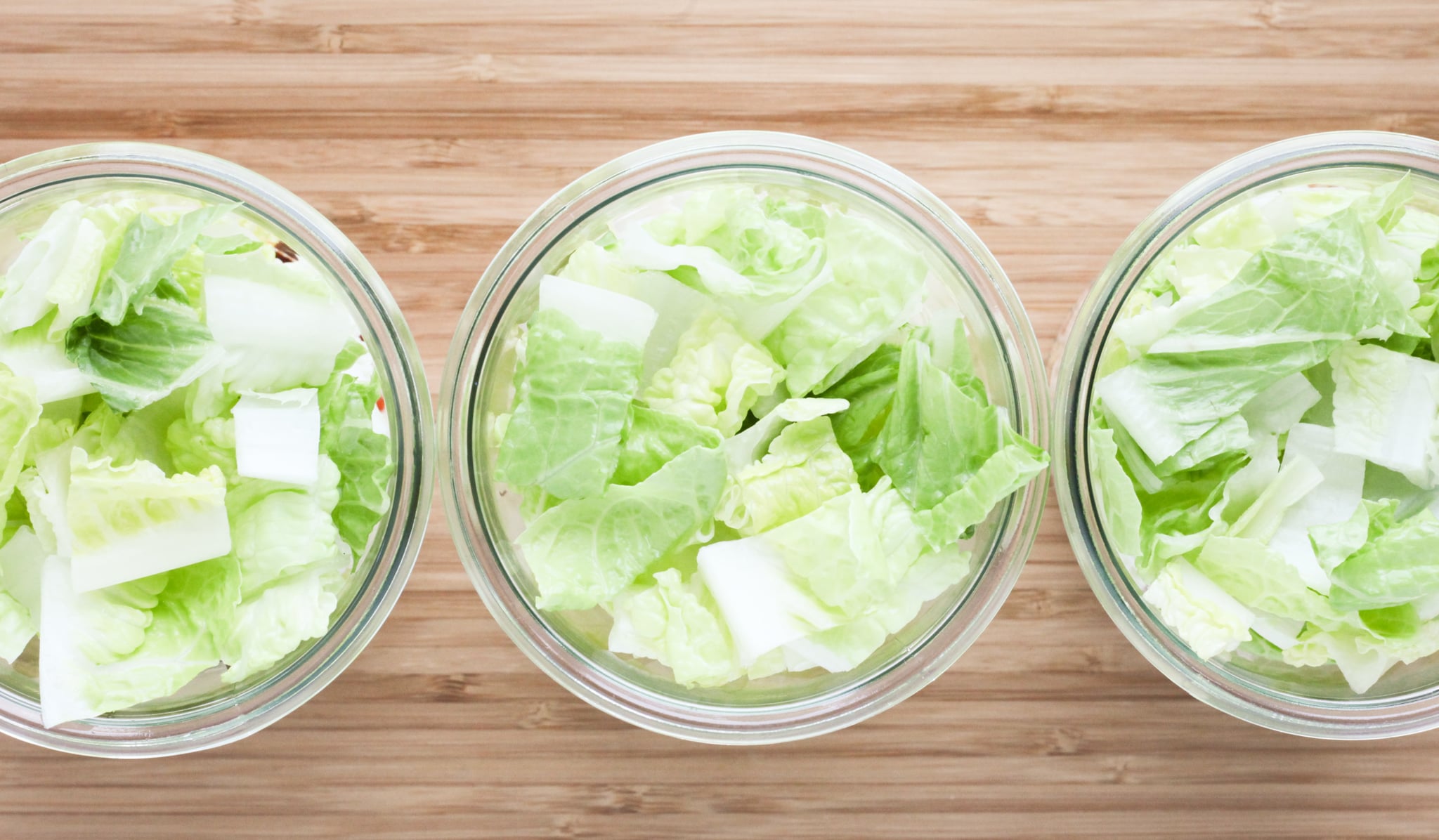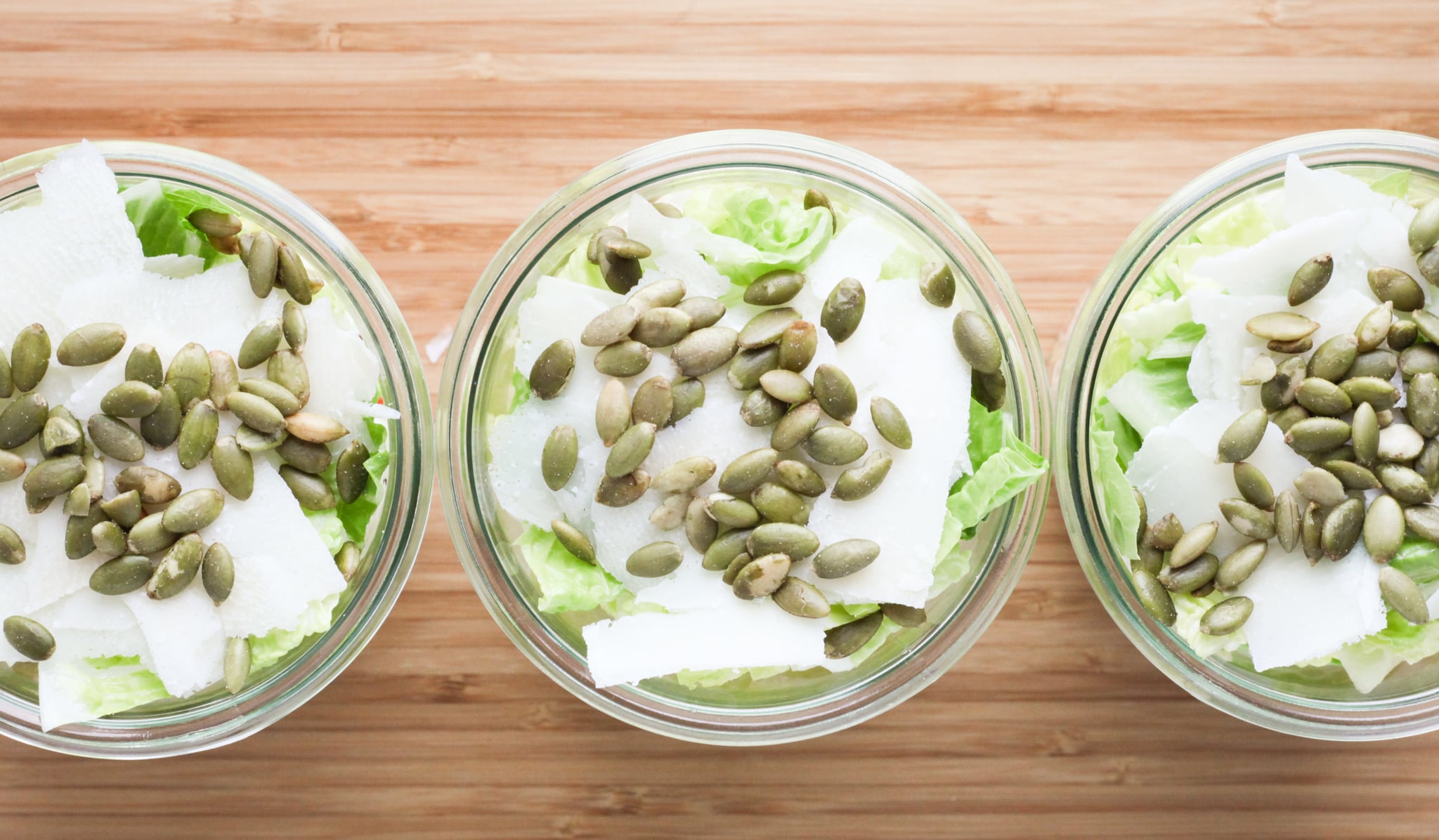 As you'll see here, instead of packing the salad in a box-shaped package, like how it's done at Trader Joe's, I've transformed it into a mason jar salad. By strategically layering the elements, starting with the dressing and bell peppers and ending with parmesan shavings and pepitas (using this clever strategy), everything keeps its integrity much longer, making your weekday lunch situation tastier than it would be if you tossed a few packages in your shopping cart. Yes, it's more work, but to my mind, it's very much worth it, and personally, I'll take a little kitchen time over braving those long lines.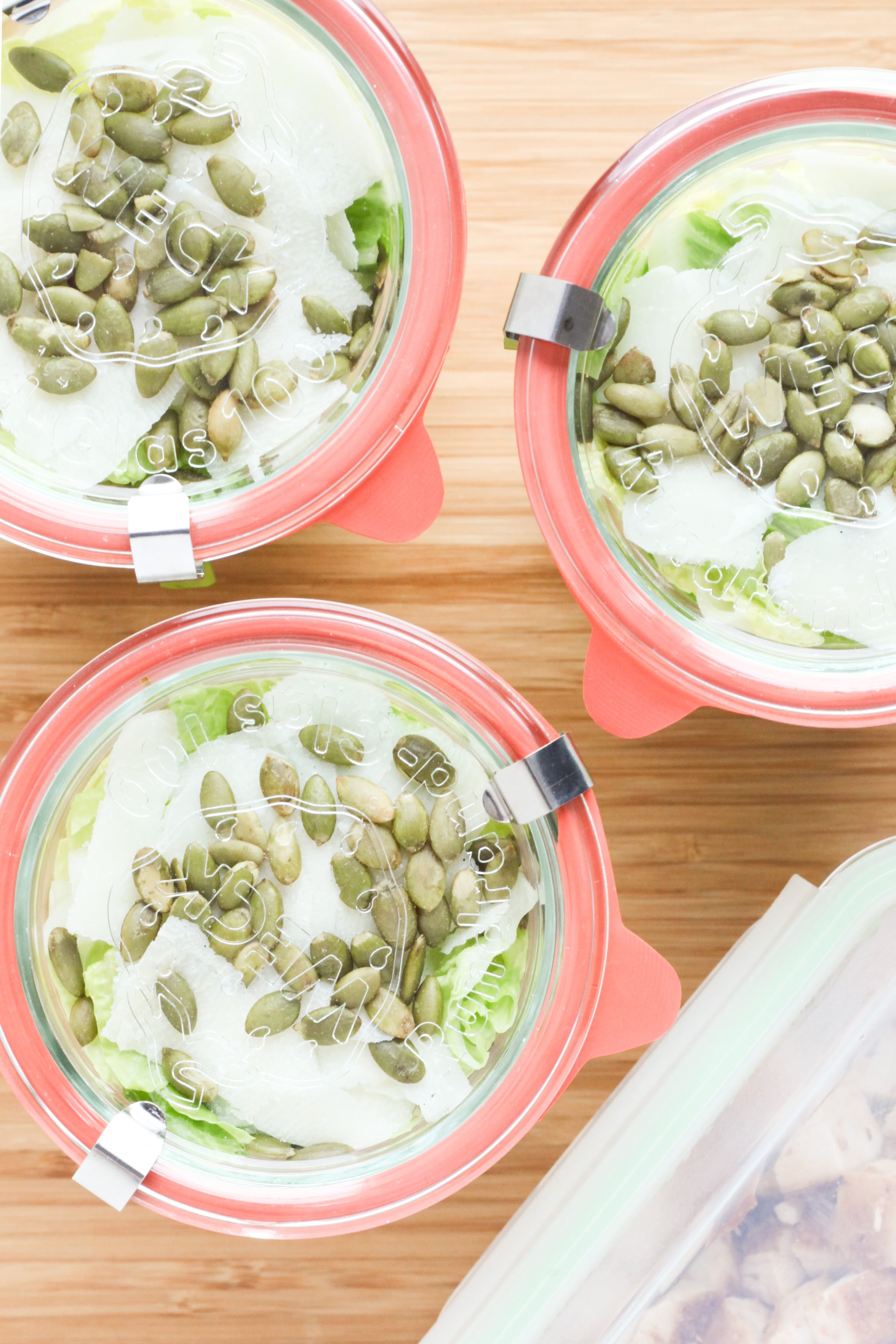 Copycat Trader Joe's Mexicali Chicken Salad
From Nicole Perry, POPSUGAR Food
Notes
Because this is a particularly voluminous salad, I suggest packing the chicken in its own container and just pulling out 1/3 of its contents for each salad. If you'd like to pack the chicken in the mason jar salad, use a quart-sized mason jar and add it in between the sun-dried tomato and cabbage layers. This recipe makes three servings, so if you don't eat the salad for lunch on one of the weekdays, it will still be fresh on the fourth day.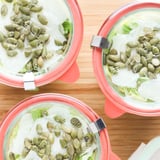 Ingredients
For the chili-lime chicken:
1 1/2 tablespoons neutral oil, such as melted refined coconut oil or avocado oil
1 1/2 teaspoons chili powder
1 1/2 teaspoons kosher salt
1 teaspoon dark brown sugar
1/2 teaspoon ground cumin
1/2 teaspoon ground coriander
1/4 teaspoon hot paprika
1/4 teaspoon oregano, crumbled
2 boneless skinless chicken breasts (about 1 pound), pounded to an even thickness
Juice of half a lime
For the dressing:
3 tablespoons caesar salad dressing, such as Newman's Own Creamy Caesar Dressing
1 tablespoon neutral oil
1-1 1/2 teaspoons Green Jalapeño Tabasco Sauce
For the salad:
1/2 red bell pepper, small diced
1/4 cup frozen corn, thawed
6 small or 4 large sun-dried tomato halves (in oil), finely chopped
1/4 small head of green cabbage, tough outer leaves discarded and cored, very thinly sliced
1 medium head romaine lettuce, damaged outer leaves removed, roughly chopped
1/4 cup parmesan shavings
2 tablespoons salted roasted pepitas
Directions
Preheat the broiler to high with the rack 6-8 inches from the heating element. Line a quarter sheet pan with tinfoil.
Whisk together the oil, chili powder, salt, sugar, cumin, coriander, paprika, and oregano in a medium mixing bowl. Add the chicken breasts and rub the spice mixture all over.
Transfer the chicken breasts to the prepped sheet pan and broil until an instant-read thermometer reads 150-155°F, about 10 minutes, rotating the pan halfway through.
Let the chicken breasts cool completely before cutting into cubes. Sprinkle the lime juice on the cubed chicken.
Meanwhile, whisk together the dressing ingredients until emulsified.
Divide the prepped ingredients equally between 3 pint-sized or 1/2-liter mason jars in this order: dressing, bell peppers, corn, sun-dried tomatoes, cabbage, romaine, parmesan, and pepitas. Pack the chicken in its own separate container.
To eat, toss together all of the ingredients in a large bowl, using a spoon to scrape out all of the dressing first.
Information
Category

Salads, Main Dishes

Cuisine

North American

Yield

3 mason jar salads
Image Source: POPSUGAR Photography / Nicole Perry